Alright, this may get a lot of scrutiny, but this is a friendly space; I am just brainstorming.  When I saw the Celtics take on the Knicks this past Saturday, early on, they reminded me of the Celtics of last season.  The starting lineup was Irving-Brown-Tatum-Horford-Baynes, and they were up 26-10.  Obviously the game ended a bit closer (103-101), but it made me think of something discussed during the offseason: should Gordon Hayward come off the bench?
Well, lets compare Hayward's current situation to Andre Iguodala in 2014.
Sacrifices by Iguodala
In the summer of 2013, the big fish in free agency was Dwight Howard.  He was tied to the five following teams: the Los Angeles Lakers, Dallas Mavericks, Houston Rockets, Atlanta Hawks, and… the Golden State Warriors.  The Warriors, coming off of their first playoff appearance since 2007, looked like a team on the rise with Steph Curry, Klay Thompson, and Harrison Barnes.  Not considered a serious contender for Howard (Houston and LA were at the top of that list), Golden State was at best a wild card.
And then they cleared about $24 million off of their books by trading Richard Jefferson, Andre Biedrins, and Brandon Rush to Utah.  Suddenly, Dwight to Golden State seemed legit.
However, Golden State had a different target for that money: Andre Iguodala.
What soon became a three-team trade between Golden State, Utah, and the Denver Nuggets (Iguodala's home in 2012-2013), Andre joined the Warriors under a 4-year/$48 million contract.  The versatile Iguodala filled out a starting lineup consisting of Curry and Thompson, as well as David Lee and Andrew Bogut.  Starting in all 63 games he played, the new look Warriors finished 51-31 (4-win improvement), good for 6th in the Western Conference (same as 2012-2013).  The Warriors lost to the Los Angeles Clippers in 7 games in the first round, ending their season (and Mark Jackson's tenure as coach).
Weeks later, Steve Kerr became the head coach, an he quickly began making changes to the talented core.
Andre Iguodala, a starter the first 10 years of his career, was asked to come off of the bench so Harrison Barnes could start.  Iguodala was willing to make the sacrifice, and it was one that ended up being extremely beneficial for the Warriors.  As we know, 2014-2015 was the year the Warriors took the NBA by storm, winning 67 games, and an NBA title.  One of the biggest sacrifices that year was benching Iggy in favor of young forward Harrison Barnes.  Just as noteworthy, two-time All-Star David Lee, a mainstay in the Warriors starting lineup since reaching the Bay Area in 2010, was benched in favor of Draymond Green.  Lee suffered an injury prior to the season, and missed a lot of time, time that Green filled in admirably.  Once healthy, Kerr liked what he saw out of Green, and decided to keep the veteran Lee on the bench.
These moves paid off due to two veterans (and All-Stars) sacrificing for the greater good of the team.
Iguodala, who was making over $12 million that season (~17 percent of Golden State's team salary), could not have signed up for a bench role when he got to Golden State the year prior.  He was an All-Star in 2012, and after being traded to Denver, he led the post-Melo Nuggets to the third best record in the West (57-25) before being upset by the Warriors.  But entering 2014-2015 at the age of 30, maybe winning meant more than individual goals.
We know it paid off (and in the playoffs too), as Iguodala stepped into the starting lineup against the Cavs in 2015, jolting the team back from a 2-1 deficit in the series to help win a championship; for his efforts, Iguodala won the Finals MVP.
Since then, Iguodala has played 205 games (not including 2018-2019), and has only started 8 games for the Warriors.
Should Brad Stevens consider a similar move with Gordon Hayward?
Why it makes sense
We know Brad Stevens knows Gordon Hayward quite well.  Having recruited Hayward to play at Butler back in 2008, it was Stevens that first told Hayward he believed the wing could make it in the pros.  Nine years later, the two met again, as Hayward signed a 4-year/$128 million contract to join Stevens and the Boston Celtics.
However, Hayward did not get a chance to show his talents last season due to a devastating leg injury.
Fast forward to this season, and Hayward has recovered, and is back in the fold.  After two games (both starts), the Celtics sat Hayward against the Knicks, the second game in as many nights.  It may have been an indicator of the plan moving forward for Hayward in these situations, preserving his body early on in the season as he gets back to his All-Star self.
Hayward is also on a minutes restriction, as it appears he'll play around 25 MPG as the season begins.
With these restrictions, my question is, why not have Hayward come off the bench?
---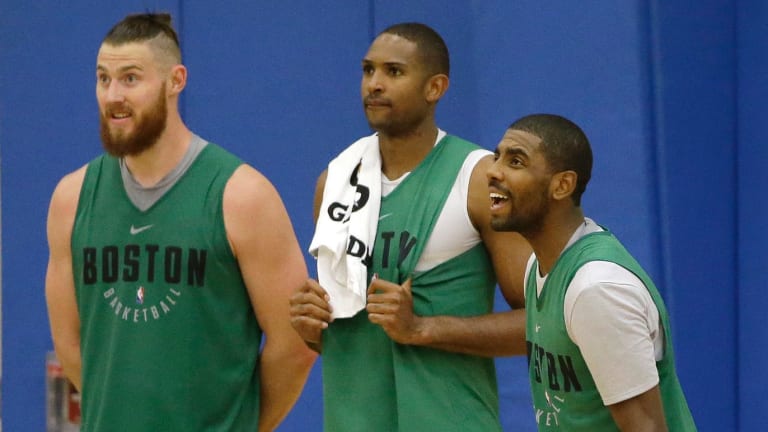 Last season, the Irving-Brown-Tatum-Horford-Baynes lineup had a net rating of 12.5, the third best net rating in the NBA of any lineup that played at least 350 minutes together (and an OKC lineup ahead of this group that featured Carmelo Anthony will not be back this year).  Used in 38 games, the lineup clearly has some familiarity (and success) with each other.  Baynes proved to be a huge boost to the Celtics with the interior defense he provided, matching up well against bigs such as Joel Embiid.  Having Baynes (as with any big center) in the lineup also allows Horford to play minutes at the four, and gives his body a break against some of the bigger players in the league (and that break becomes valuable in the postseason).
But you're probably asking why Boston would have a max contract player come off the bench.
Well Gordon Hayward is a terrific ball-handler.  Only 5'11" when he was a freshman in high school, Hayward developed as a point guard.  However, he hit a massive growth spurt, reaching 6'8″ by the time he was a senior.  He learned to play at that height, but the foundations of his game where never far behind, and the ball-handling aspect gives Hayward the ability to play point-forward.
This is a skill that could be really unlocked with the bench unit.
As we know, the Celtics bench features some real tough, defensive-minded players in Marcus Morris and Marcus Smart, as well as fourth year point guard Terry Rozier.  But as we saw in the postseason, as those three saw starting minutes with Baynes, Horford, Tatum and Brown, offense was not the strong suit.  Although they played smothering defense, the Celtics offense often stagnated, which led to some brutal stretches.
With Irving back, that problem decreases right away.  When Irving was healthy last season, the Celtics had a record of 40-19 (excluding a game he played 2 minutes), and featured a top defense in the league behind his 24.4 PPG.  That can be expected again as Irving is arguably the healthiest he has been since 2015.  But now the Celtics have Hayward to add to that team from a year ago.
If Hayward is to slide to the bench (even temporarily), the Celtics could run a lineup like this:
PG: Terry Rozier
SG: Marcus Smart
SF: Gordon Hayward
PF: Marcus Morris
C: Daniel Theis/Aron Baynes
Depending on how they would stagger players, this would be the Doc Rivers method of benching all your starters (outdated if you ask me).  You could insert a Tatum or Brown in here as well to spice things up, but nevertheless, the lineup could allow Hayward to bring the ball up and facilitate the offense.  It would be a defensive-oriented lineup, but it would give Hayward a break on that end of the ball, as he could be face second units across the league, ones that do not feature perennial 20 PPG stars.
This is something I remember being a possiblity last year, and something that has been discussed for this season, and I do not see the harm early on.
It allows a starting lineup that played remarkably well with each other last season to continue doing so.  It allows Hayward to play a style he is probably more familiar doing so against some more lax competition as he tries to get back into rhythm after the injury.  And maybe long term, having him there for stretches of time is something that becomes beneficial to the Celtics as they attempt to allocate the assortment of riches they have.
But once again (you may ask), why would you not play a lineup that could feature five viable floor spacers, multiple wings, and multiple creators?
Well, that's what the end of the game is for.
---
The Death Lineup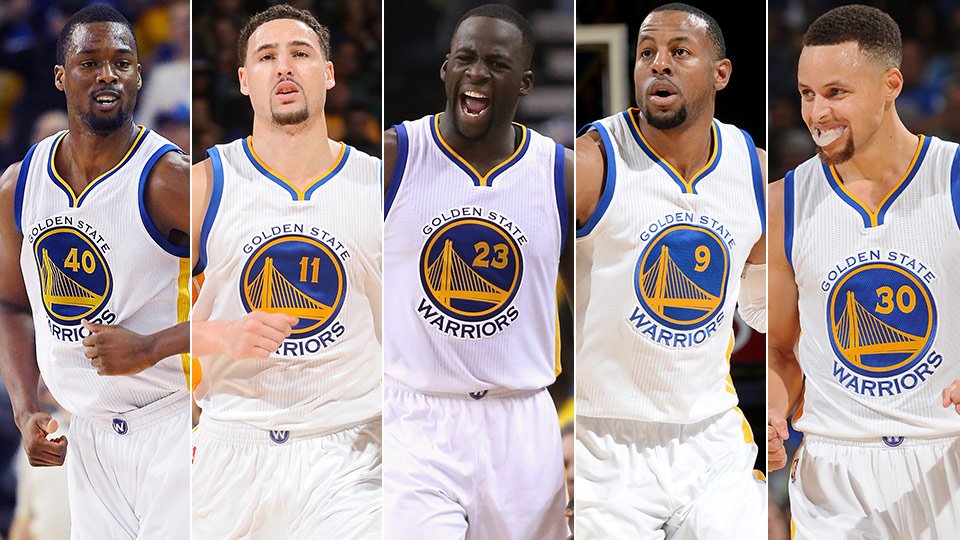 Lets go back to the Andre Iguodala analogy.  Iguodala may not have been starting games in Golden State, but that does not mean he was not being used with the other starters.  As it became know during the 2015 NBA Finals, as Iguodala would fill in for Andrew Bogut, forming a 5-man lineup of Steph Curry, Klay Thompson, Iguodala, Harrison Barnes, and Draymond Green, better known as the Death Lineup.
That lineup went on to have glorious success the rest of the series, as well as 2016.  During the 2015-2016 season, the Death Lineup had a net rating of 47.0(!) in the 172 minutes it was used in the regular season.
Although that lineup (and team) did not win a title in 2016, it was upgraded, as the Warriors replaced Harrison Barnes with Kevin Durant (get that "Hamptons' 5" crap out of here)
To this day, the Warriors still do not start Iggy, but they use him often around the other four, especially in crucial moments (including Game 4 of the Western Conference Semifinals).
Hayward can just as easily come in to play with Irving, Brown, Tatum and Horford when the game matters most.
---
Death Lineup 2.0?
To me, I think the Celtics will ultimately need to consider benching one of Brown, Tatum and Hayward as a way to get Baynes playing to start games.  Horford has stated in the past his preference for playing minutes at the 4, and although he has backed off of it as of late, I think preserving his body by having Baynes alongside him to guard the Embiids of the world is best.
"Well, the way that the game keeps changing, playing the 5 works to my advantage," Horford said. "And with the lineup that we have and all the guys that we have, I feel like we're most explosive if I play more 5."

-Al Horford, via CelticsWire
It is nothing against Brown, Tatum, or Hayward, as I think those three can easily play with Irving and Horford in today's NBA, but I think to start games, the Celtics calling card (defense) should be prioritized.  The Celtics have the ability to have a top performing offense this season, and with that, defense will most likely take a bit of slip.  I think it will (or should) lead to Stevens having to allocate his players accordingly in order to get the best of both worlds.
If Baynes can start over Hayward, the Celtics get a better interior defense that proved itself last season, and the bench gets an added boost of offense, taking pressure off of Rozier to create everything around Marucs Smart and ISO-Mook.  I also think Hayward would be the best fit for that bench lineup compared to Brown and Tatum.
I love Jaylen Brown, but out of Irving, Tatum, Hayward and Horford, he is probably the worst playmaker of the group.  Now trust me, that does not mean he's a slouch.  If last postseason showed anything, he can lead the charge, scoring when it matters most.  But as someone tasked with leading the second unit by getting everyone involved and making plays, that's not where Brown's strengths lay.
Just watching the preseason, it was obvious Brown will have to play differently with Hayward in the fold, relying on less touches to make his mark.  This may lead to more of a Klay Thompson-type player in closing time (something I think Brown is more than capable of), but I would like to see Brown get a chance to get his own in the starting lineup, playing off of playmakers, but still getting more touches than if Hayward were in said lineup.
As for Jayson Tatum, I do not want to cut into his playing time one bit.  Jayson Tatum could absolutely come off the bench and do well, but he still has some of those same playmaking concerns as Brown.  I think Tatum ultimately benefits playing alongside Irving-Brown-Horford-Baynes as much as anyone.
For the majority of his first season, Jayson Tatum was one of the top three point shooters in the NBA.  As his game progresses, this is something I want to see continue.  If he's playing with the starters, the space created by others will only benefit him, versus if he were on the bench, he may revert to what master Kobe Bryant taught him during the summer.  Not to say that is bad, but I want Tatum to develop the right habits, and I think his strengths are best highlighted with the starters, where he does not have the responsibility of being the alpha (although, as Saturday showed us, he can be).
---
I think it takes a veteran to accept this responsibility, and if Gordon Hayward wants to win a title, this may be what is best for the team.  Gordon Hayward is only 28, and the last season he was healthy, he was an All-Star for the first time in his career.  He has only gotten better with age, and has said he wants to continue to get better.
You do not sign a max contract to come off the bench.
However, since he signed that contract, things have changed.  Isaiah Thomas, the man he was tasked with playing alongside, is gone.  This is Kyrie Irving's team.
Jaylen Brown and Jayson Tatum developed remarkably in the void left by Hayward last season, and are now legitimate players in this league warranting as much playing time as possible.
If done like in Golden State, Hayward may be asked to play 26 MPG, as opposed to the 35 MPG he was averaging his last 4 seasons in Utah.  Now maybe it will not be that drastic, but a reduction in minutes would more than likely be seen.
I think this is something the Celtics should consider in the short-term as a way of finding their groove from last season, and as a way of working Gordon Hayward back into the fold.  The team did so well last year with a defensive mentality, and I am not sure they should give it up right away.  If the Irving-Brown-Tatum-Horford-Baynes lineup of last year is not as productive, and Hayward looks better in place of Baynes, then switch it back up.  The goal is to do what is best for the team.
The Celtics have an unreal amount of talent, possibly nine players that could start on teams across the league.  Winning takes sacrifices, and unlocking the best version of the team will be challenging.  If David Lee had not gotten hurt, we may have never seen Draymond Green develop into an All-Star in Golden State.  If Iguodala insisted on starting, the Warriors may not have embarked on this historic stretch of basketball we have seen since 2014.  They would have been good, but great?  Maybe not.
The Celtics have more than enough talent to be a top team in the East and challenge for a title, but could starting Gordon Hayward right now be the thing that holds them back from reaching their potential.  As the second (and arguably the) best player on this team, you may think I am crazy for even proposing he is (and I feel crazy thinking about it), but he may change the ideal identity of the team (although I think he is a more than capable defender).
This is just a brainstorming activity, but I think the best version of the Celtics (and the one that can challenge the Warriors) is one of a defensive-first mindset, and I think the way to unlock that team may be using Hayward off the bench.  I do not think the Celtics have the personnel to play the game the way the Warriors do and come out on top, but rather (as their success against Golden State since 2016 has shown), they should slow the game down, and play on the back of their defense.
As Kyire Irving said, there's 79 games left, which is a lifetime to figure out what is best.  Maybe I am overreacting, maybe I just need to see this Celtics team develop its own identity over the next few months, and figure out what is best in 2018-2019.
But if you want to change the calculus and use Hayward in a way that makes the team you saw last season (one with a healthy Kyrie Irving) even better, using him as a playmaker with the second unit, then in closing lineups with the starters, is worth considering.
---
Follow Nick on Twitter (@Nick_Collins14)