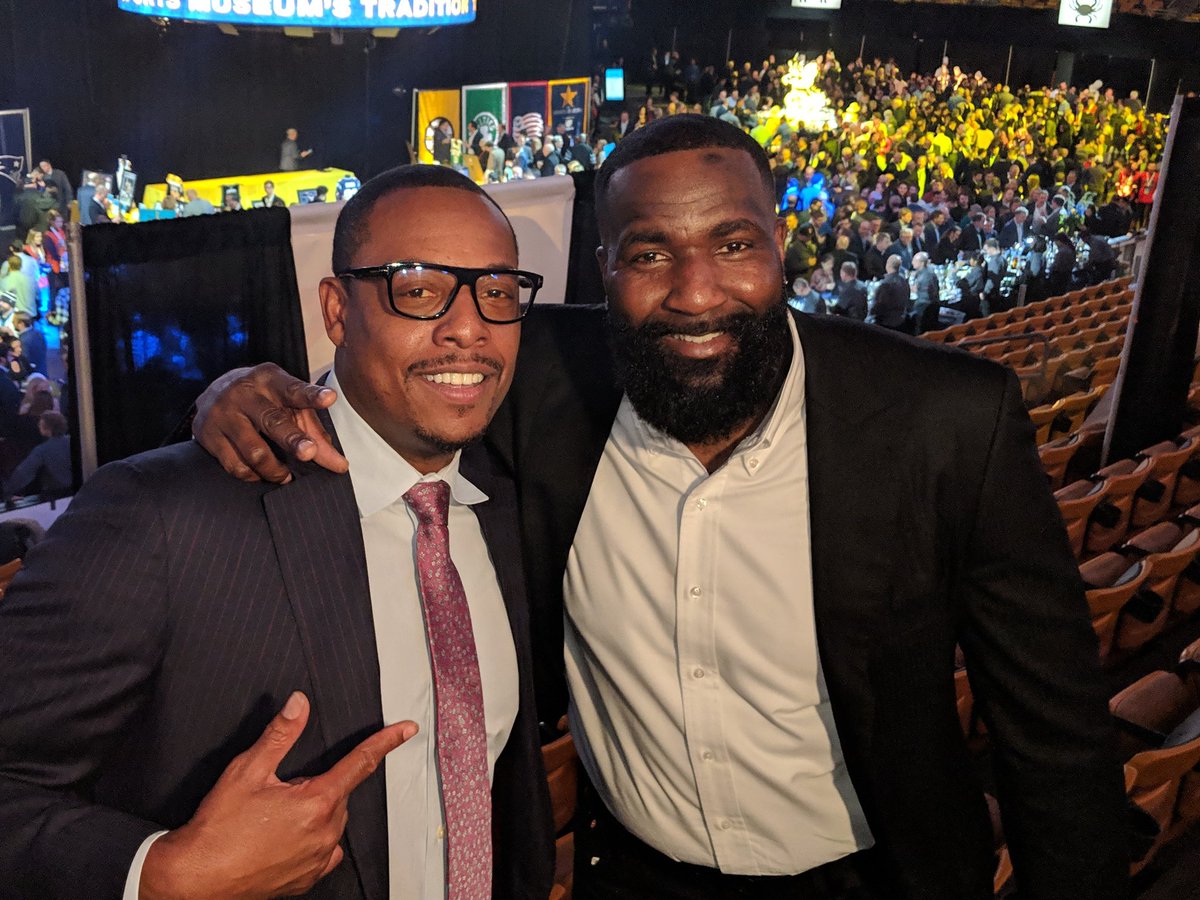 Around 5 PM on Wednesday, after having helped set up, I rolled out dressed all fancy for an event at the TD Garden hosted by the Sports Museum of New England (where I work) called "The Tradition."
The person receiving the Lifetime Achievement Award at the reception this year was Paul Pierce (because duh), and the person presenting him the award was going to be his former teammate of 7+ seasons: Kendrick Perkins.
As we were preparing to register guests, I got a notification from Bleacher Report that stated Perkins was interested in returning to the Celtics, and had reached out to Danny Ainge about the possibility.
I just wish it was me who had gotten that scoop (I kid you not, I had joked with a co-worker while setting up about asking Perk if he would ever go to the Lakers to serve as the "mentor/bouncer" as he had last postseason for the Cavs; hey, if Rondo went to the enemy, anything is possible). I did see Perk backstage a few times (can confirm he is VERY tall), but I wanted him to enjoy his evening, so I did not disturb him.
If I had the chance, I would have told him this: you'd be a great addition to this team, and I hope you get a chance to join the squad.
Kyrie's "Mystery" Veteran
"Right now I think it would be nice if we had someone that was a 15-year vet… a 14-year vet that could kind of help us race along the regular season and understand it's a long marathon rather than just a full-on sprint."

Kyrie Irving
Hey, you know who's a 14- to 15-year vet? Kendrick Perkins.
While the media went on to talk about Melo or Vince Carter coming to Boston, maybe Kyrie was talking about his old teammate!
I doubt it.
Nevertheless, when Kyrie first made these comments, I thought it was intentionally misdirecting. However, given the continued inability for the Celtics to show urgency in close games, as well as the countless slow starts, maybe the culture does need re-examining.
One way to bring a voice of leadership into the locker room would be by signing Perk.
Team Identity
I have been pretty consistent on my concerns with this team's identity. I understand having to integrate Gordon Hayward into the fold, as well as Kyrie Irving (to a certain extent), was inevitably going to change how this team looked from a year ago, but the identity the 2017-2018 Boston Celtics had is the one that should be desired.
They were a defensive-oriented team with a chip on their shoulders. Although this Celtics team ranks high in defensive rating, the urgency and ability to finish strongly has not been there thus far (Dan Greenberg of Barstool Sports wrote a great piece on this).
In a macro sense, maybe this team was too full of itself.
Kendrick Perkins has been to 5 NBA Finals since the 2007-2008 season, and has seen what it takes to succeed at the highest level.  He has reached the championship round with KG, Paul Pierce, and Ray Allen in Boston, Kevin Durant, Russell Westbrook, and James Harden in OKC, and LeBron James, Kyrie Irving, and Kevin Love in Cleveland.  Three different settings, three different examples of success, but nevertheless, tons of practical experience in the most important part of sports: winning.
Sit the man!
Kendrick Perkins has played 15 minutes of NBA basketball since the beginning of the 2016-2017 season, and all of those minutes were in one game last season.  He was signed to the Cavaliers roster for their postseason run with one intention in mind: be an experienced veteran for a group who lacks it.
You may think it's counter-intuitive to sign a player with zero intention of playing him, but I see no harm.  NBA teams can have 15 players on their roster, and then 2 additional players on two-way contracts (although a two-way player can only be on the NBA team for 45 days of the regular season, and is not eligible for the postseason).  For the game, 13 players must be active.  At this point, it is up to the discretion of the coach on who plays and who doesn't.  You might see a close game where only 10 players play, or a blowout where guys 11-13 get some run in the 4th quarter.
Case and point: Perk will not need to be on the court.
Conclusion
Kendrick Perkins is an NBA Champion, and that ring was won in this city just a decade ago.  He would fill the leadership void for this team, helping mentor a youthful group with long-term championship aspirations.  Perkins is lauded by fellow NBA players, and even if he has played sparingly the past 2.5 years, guys love having him around.
Unfortunately, Danny Ainge has expressed Perkins would not be a fit for Boston at this time, but lets remember the current circumstances of this team.  The Celtics roster is at full capacity, but there is one roster flux in spot: that of Jabari Bird.  Until the NBA announces a decision. Bird will continue to stay on the team indefinitely (even if he's not playing).
Assuming Bird is eventually released, a roster spot would open up.  Maybe Boston would like to save room for someone who is bought out (as they did with Greg Monroe last season), or maybe they have a trade in mind where they can acquire an extra player in return for player(s) on the current roster (Terry Rozier?)
For me, the ideal route would be to bring along Perk and go with the current group you have.  Danny Ainge needs to learn what this group can be, because if it's not what it's cracked up to be, he needs to figure out a core who can win Banner 18.  I would rather bring in Perkins to aid the chemistry of this group than make a drastic move in hopes of winning it all this season (see: Bradley Beal).
… and did I mention Perkins was teammates with Anthony Davis for a season!?  How can you say no!?
---
Folks, I will leave you with the undeniable, backed by science, logic of The Riffs Man
Do the right thing, Danny.
---
Follow Nick on Twitter (@Nick_Collins14)