Reports are surfacing this week that Tom Brady has a knee injury that is significantly setting him back.  Brady was listed on the injury report prior to the Jets game last month, and reporters are citing certain film as evidence that the injury is effecting his gameplay.  Brady has played throughout injuries his entire career, and as much as we joke about the TB12 method, we have to acknowledge that he is one tough SOB.  I do not expect Brady to sit due to this injury, but at 41, can we expect him to play around it to the level the Pats need to make a playoff run?
I won't go down that road quite yet.
Nevertheless, lets look back at some past injuries Brady has played through, and how he did.
Super Bowl XLII: Ankle Injury
During the 2007 AFC Championship game, Tom Brady suffered a right ankle injury against the San Diego Chargers.  It created a lot of speculation in the lead-up to Super Bowl XLII, as the Patriots were trying to cap off a perfect season.  As we know, the game did not end the way Patriots fans wanted, as the Giants upset New England 17-14.  Brady went 29 for 48 (60.4%) with 266 yards and 1 TD (82.6 passer rating).  Brady did leave the field with a 14-10 lead after his only TD pass (to Randy Moss) with 5:12 left on the clock, but it was not enough.
2010: Stress Fracture in Right Foot
Following a 28-21 loss (did not feel that close) to the New York Jets in the AFC Divisional Round, Albert Breer reported that Tom Brady played the entire 2010 season with a stress fracture in his right foot.
Breer reported Brady began to miss Wednesday practices (the day the playbook for the next game is implemented) starting November 7, which suggests the injury began to worsen following that date.  November 7, 2010 happens to be the day the Patriots lost to the Cleveland Browns (and Eric Mangini) 34-14 in the Peyton Hillis game.
Assuming Breer means Brady missed these practices FOLLOWING this game, here is how his regular season finished:
158 for 231 (68.4%)
2074 yards (259.25 y/game)
22 TDs
0 INTs
127.99 passer rating
8-0 record
2010 NFL MVP
In the Jets game, he was 29 for 45, with 299 yards, 2 TDs and an interception (89.0 passer rating)
2017 AFC Championship Game & Super Bowl LII
During the week of practice leading up to the 2017 AFC Championship Game versus the Jacksonville Jaguars, Tom Brady suffered a pretty significant cut around his right thumb.  It was significant enough that initial thoughts from Brady were that he was done.
Brady required stitches, and he played through the injury as he led the Patriots to a 4th quarter comeback against the Jags, clinching an 8th trip to the Super Bowl.  Just days after the injury, Brady was 26 for 38 (68.4%) with 290 passing yards and 2 TDs (108.4 passer rating).
GRAPHIC IMAGE BELOW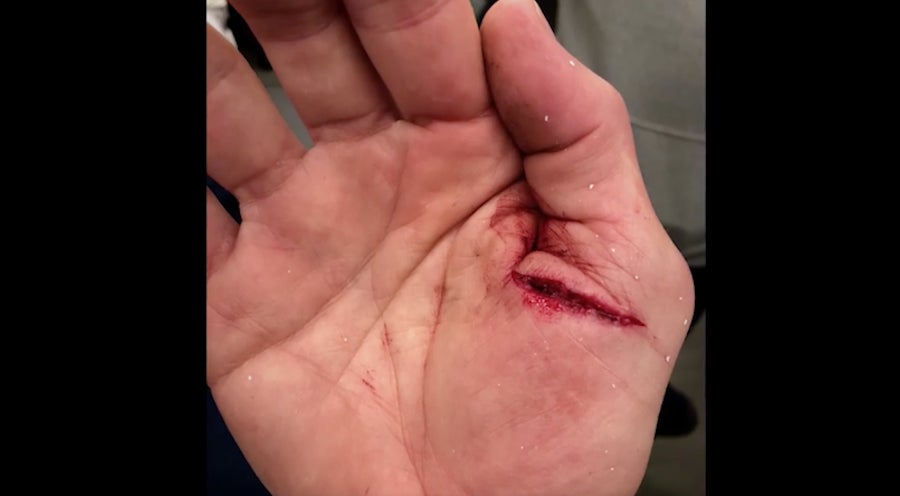 In Super Bowl LII, in defeat, Brady very well had the greatest statistical game in the history of the Super Bowl, going 28 for 48 (58.3%) with 505 passing yards and 3 TDs (115.4 passer rating)
The rest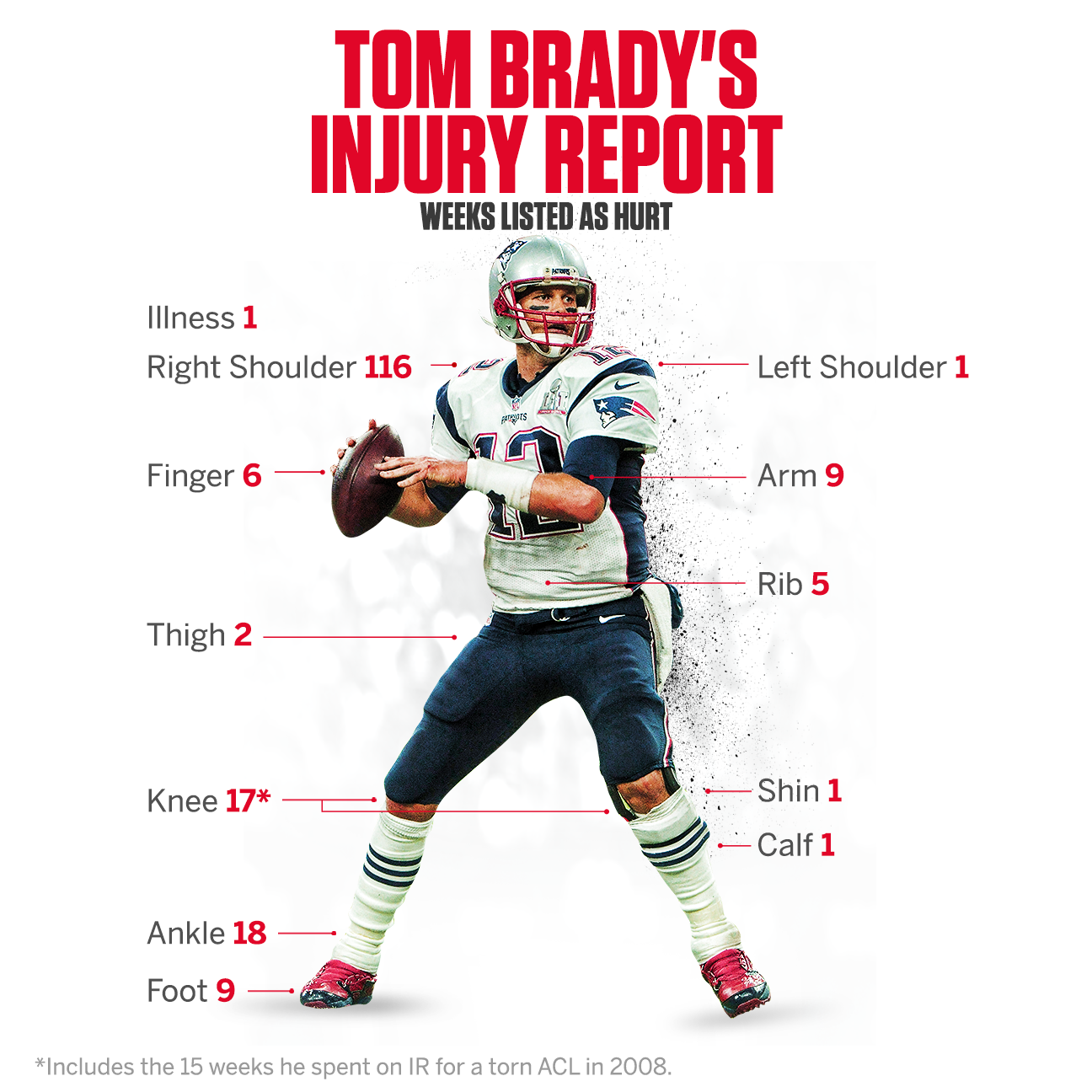 ESPN made an infographic during the 2017 offseason showing the various times Brady was placed on the injury report with injuries.  Now we can 3+ weeks due to his left knee, as well as 2 weeks from his hand injury during the playoffs last season.
The only time Tom Brady has ever missed time due to injury is 2008, after tearing his ACL.  Prior to that injury, Brady made 127 consecutive starts in the regular season and playoffs.  Once he came back in 2009, between Week 1 versus Buffalo and the 2015 AFC Championship Game, Brady made 125 consecutive starts (regular season and playoffs).
After a month off in 2016 due to a witch hunt by Mr. Goodell, Brady has made 48 straight starts.
Part of his legacy will be this: tough as nails.
---
Follow Nick on Twitter (@Nick_Collins14)