The QB is too old
The coach is past his prime
Gronk is done
Not enough weapons
The defense is AWFUL
Sony Michel? "He sucks! He blows!" (link)
Kyle Van Noy? "You suck. And if it wasn't for this team you'd be covering punts in Detroit. You suck!" (link)
2018 Draft? "Bill Belichick's moves could pay off down the line, but it's hard to get excited now." (link)
Well folks, those are just a few of the superlatives used to describe your 2018 AFC Champions.
What a game, huh.
Now listen, there were plenty of times I sat there once the game got going and thought "this is the 2006 AFC Championship all over again," meaning something was just bound to go wrong at the end, but you know what? I was wrong.
I picked the Patriots in a close one, citing Belichick and Brady as the reason, and that's exactly what happened.  This game was not pretty, the Patriots made some bad plays, and they'll be the first ones to admit it to you… but you know what? When the game came down to the line, that 41-year-old quarterback, his broken down tight end, as well as the receiver who's inability to catch a pass gave KC the ball in the 4th, the running back who could not get a yard on 4th & 1, the running back that was picked too high, the receiver who was angry on the bench and people thought was a bad teammate (I could go on about every single player) helped win this game.
I'll get to the ending, but lets talk about the beginning first, and everything in-between.
Patriots First Drive
Shout out to @ftbeard_17, who does an amazing job making these clips
The Patriots lost the coin toss, at which point the Chiefs deferred, choosing to kick the ball to New England to start the game.
You thought the first drive against the Chargers last week was amazing? TRY THIS ONE.
15 plays, 75 yards, 8 minutes and 5 seconds.
Now if you want stop an offense that scored 35.3 PPG in the regular season (and 31 a week ago), the easiest thing you can do is keep them off the field, and for a LONG time.
That's exactly what New England did to start this game.
During the first drive, Brady was 4 for 5 with 38 passing yards.  Sony Michel had 32 rushing yards on 7 carries, and he scored on the 15th play of the drive.
Statement made.
Chiefs First Drive
Not gonna show anything here, because there was not much to show.
5 plays, -6 yards, and the Chiefs were forced to punt.
Brady INT
Gonna power through this.  Portnoy said it best at halftime, "worst throw of his career."
After KC punted, the Pats were in great field position, and were driving again.  With a 3rd & goal at the 1, New England knew the Chiefs were preparing to stop the run, and Tommy was going for the kill.  He tossed a ball that was way to low (or low enough I should say) given the context of the situation, and it went right into Reggie Ragland.
Now maybe Brady never saw Ragland, maybe he thought Gronk was wide open, but he needed to put some air on that ball; if Gronk can't go up and get that, NO ONE should be able to.  Nevertheless, this play gave the momentum right back to the Chiefs, and kept the game close.
Patriots Defense
I have to acknowledge New England's defense.  Here's a few big plays from the first half… man, they were BALLING.
After the Brady INT, they held the Chiefs, forcing them to punt on a three and out, and later on, after Mahomes found Tyreek Hill for 42 yards and it looked like the walls would cave in, the defense was able to push KC out of field goal range with a HUGE sack.
During the first half, the Chiefs ran 16 plays for a total of 37 yards (you read that right), scoring zero (0) points.  The team that averaged 425.6 yards per game in the regular season was held to 37 yards in the first half.
Spectacular gameplan by Brian Flores early on.
Closing Strong
New England's drives were taking extremely long early on (which they needed to), but to finish the half, they picked up the pace.  On two huge plays, the Patriots gained a total of 59 yards.
First, James White ran with a screen to the 29-yard line, and then with 33 seconds left, Philip Dorsett made a great catch on a pass from Brady to take a 14-0 lead.
Second Half: New Game
It wasn't gonna be perfect all night.
On a 3rd and 2, Mahomes scrambled long enough to give Sammy Watkins time to create separation, and he caught a 54-yard pass deep in New England territory.
Mahomes found Travis Kelce for a 12-yard TD on the next play, and suddenly, the game was 14-7 with 12:56 to go in the third.
After a 47-yard field goal by Stephen Gostkowski to make the game 17-7 with 4:02 in the third, the Chiefs responded with their best drive of the game.
Going down the field in 9 plays, a drive that extended into the fourth quarter was capped off by Damian Williams (not the last time you heard his name in the quarter), who brought the game to 17-14.
Chaos
On 4th & inches on the Chiefs 25, knowing Mahomes and the Chiefs were beginning to find success, New England decided to go for it as opposed to kicking a field goal.  The decision was to hand it off to Rex Burkhead (not my favorite call), who was stopped, giving the Chiefs the ball back.
However… KC went three and out, punting from their own 27…
Julian Edelman, who is one of the best punt returners EVER, looked to have made the most costly mistakes of his career… only he didn't.
I've read (part of) Ian O'Conner's book about Bill Belichick, and in there it is talked about how punt returners should always try to catch the punt(as opposed to letting the ball bounce/roll), and how doing so ends up saving a ton of yards. Edelman has absolutely been taught this his whole career as a Patriot, and he probably thought that if he could make a play on the bouncing ball, he could give his team better field position.
Too close to the fire, but crisis averted….
Yeah, yeah, yeah, get your "ball don't lie" jokes in here now.
Just two plays after the "muffed punt" was revered, Tom Brady attempted a pass to Julian Edelman, but it went through his hands, instead landing in the hands of Daniel Sorensen, giving the Chiefs magnificent field position with 7:55 remaining.
Suddenly, they looked ready to take their first lead of the game.
Back and Forth
The first 52 minutes and 5 seconds of this game, a total of 31 points had been scored.
That total would be matched by the end of regulation
Just two plays later, a Mahomes pass resulted in a 23-yard touchdown for Damien Williams (his second of the game), and with 7:45 to go, the Chiefs took their first lead of the game, going ahead 21-17.
The Patriots responded to the Chiefs taking the lead with a touchdown of their own.  Now this is the drive where a roughing the passer call was made on Tom Brady which led to Michae Felger losing his mind, but oh well, not as bad as the non-call in the Rams-Saints game (sorry Drew).
On another 4th & inches, New England, who needed a touchdown to keep up with the Chiefs, went for it at the 9-yard line.  As Tony Romo called it, Brady saw something, killed the original play, made an audible, and set up an outside run for Sony Michel, who broke through the Chiefs front, dancing into the endzone.
24-21 Patriots
It did not take long for the Chiefs to respond.
Two J.C. Jackson penalties helped Kansas City move down the field, and they were able to score a touchdown on a Damien Williams run (his third touchdown of the game) to take a 28-24 lead with 2:03 to go.
If you're keeping track, that's 21 points that have been scored in 5 minutes and 52 seconds.
WARNING: GOAT at work
Tom Brady walked on the field with a minute and 57 seconds to go, and for a season where it was deemed he was too old, he had fallen off the cliff, and was no longer the same QB of old, he had a chance, yet again, to silence his critics and walk the Patriots down the field in the AFC Championship Game.
Well, what do you think happened?
First play: Brady to Edelman, 20 yards
Second play: Brady to Hogan, 11 yards
Just like that, the Patriots are at the Chiefs 34
Third play: Incomplete to Dorsett
Fourth play: Brady to Hogan for 13 yards (overturned, ruled incomplete)
Now it is 3rd & 10, and suddenly I'm thinking "Steelers game all over again"
The next play the ball went through the hands of Rob Gronkowski, and was INTERCEPTED, GAME OVER, CHIEFS WIN…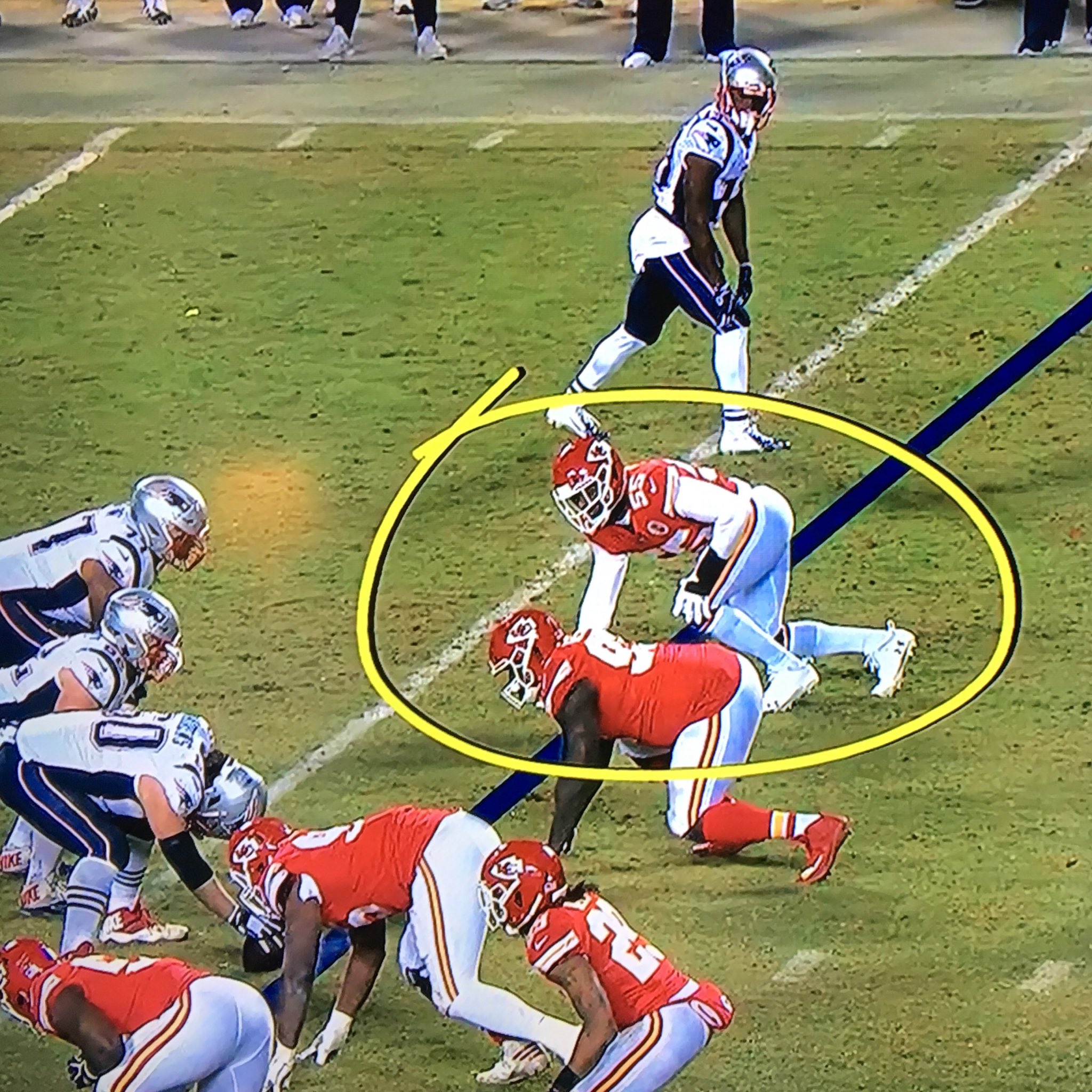 Oh wait, Dee Ford was offside (Patriots haters proceed to get their tin hats on)
REAL fifth play: Brady to Gronk for 25 yards
Sixth play: Four yard run by Rex Burkhead, touchdown Patriots
On that drive, Brady was 3 for 5 with 56 passing yards, Gronk made his best play of the season, and the Patriots regained the lead with 39 seconds to go.
The GOAT still has it.
Not so Fast
When the Patriots scored that touchdown, I immediately thought, "39 seconds is too much time"
I had my initial 0.027 seconds of euphoria when Burkhead scored, but the reality was that there was time on the clock, and Mahomes and the Chiefs had reached the "we can do anything" stage they so often did in the regular season.
Following a 26-yard kick return, KC got the ball at their 31 with 32 second to go
First play: Mahomes to Spencer Ware, 27 yards
Second play: Mahomes to Demarcus Robinson, 21 yards
Suddenly there are 16 seconds left, and the Chiefs are on the other side of the field (21-yard line), but with zero timeouts (called their final two after each play this drive).
Third play: Mahomes looks like he's going for it all, but simply threw it away deep, leaving 11 seconds on the clock.
At this point, the Chiefs decide to play it safe, going for the field goal
Fourth play: 39-yard field goal by Harrison Butker (love that name)
Patriots 31, Chiefs 31
Overtime
Another fun thing I said following regulation, "whoever wins the coin toss is going to win this game"
Matthew Slater calls heads, it's heads, the Patriots opt to receive the kickoff.
Here we go.
Now Brady was only 4 for 9 during overtime, however, he was 3 for 3 on third down.
Completion 1: Brady to Hogan for 10 yards (0:03)
Completion 2: Brady to Edelman for 20 yards (0:33)
Completion 3: Brady to Edelman for 15 yards (1:09)
Completion 4: Brady to Gronk for 15 yards (1:42)
This got New England down to the 15, and from there it was all Rex Burkhead.  Following Gronk's catch, Rex ran for 10 yards (1:50).  He then ran for 3 yards on 1st & goal (2:00), and on the final play of the game, Burkhead scored on a 2-yard touchdown (2:12).
Patriots 37, Chiefs 31
Thoughts
In the 4th quarter and overtime, Tom Brady was 14 for 25 with 180 passing yards, and an INT.
On the last two drives of the game for New England (excluding a kneel by Brady to send the game to OT), he was 7 for 14 with 116 passing yards.
On THIRD DOWN those two drives, he was 4 for 4 with 75 passing yards… if that is not clutch, I do not know what is.
Now for the game itself, Brady was 30/46 (65.2%), with 348 passing yards, a touchdown, and two interceptions, but with the game on the line, he willed his team to victory.
(Excluding the kneel down), the final 3 drives of the day for the Patriots, they scored touchdowns.  Each time, they were either trailing or tied, and getting a touchdown was paramount.  Brady was not alone here; Hogan made a phenomenal catch during the first of these three drives to save the drive; Sony Michel scored on 4th & inches to save the game, making it 21-17; on 3rd & 5 with 54 seconds left, Gronk made his best play of the year, saving New England's season on a spectacular 25-yard catch; Rex Burkhead iced the game, scoring the final two touchdowns for the Pats.
Although Mahomes eventually found his footing, going 16/31 with 295 passing yards and 3 TD during the game, New England did an amazing job (especially in the first half) containing the Chiefs high-octane offense.
He had a passer rating of 117, but his 16 completions were his third lowest output this season, and his 31 attempts was his fifth lowest of the season (all out of 18).  His two best targets, Tyreek Hill and Travis Kelce, had 4 catches for 65 yards between them.
New England kept their best DB, Stephon Gilmore, on Sammy Watkins most of the game, while choosing to double team Tyreek Hill with JONATHAN JONES and KEION CROSSEN, then having J.C. Jackson on Travis Kelce (thanks to Phil Perry for these tidbits).
For those keeping track at home, Tyreek Hill was covered by a 2016 undrafted rookie, and a 2018 7th round pick, while Kelce was covered by a 2018 undrafted rookie.
(Felger voice): BLEH, GM BILL SUCKS, BLEH!
Kyle Van Noy had a great game, notching 2 sacks (including one to take away any hope of KC scoring before halftime).
The run game was non-existent for KC (simply not enough time to establish it), as they only had 12 carries for 41 yards (3.42 yards per rush).
Throughout the game, the Chiefs only had the ball for 20 minutes and 53 seconds (roughly 31.25% of the game).  Now they scored 31 points in the second half (just like Week 6), but keeping them off the field early on was the reason the Pats got out to such a strong start, and were able to go into the half leading 14-0.  Adjustments were made, KC responded, but it was a helluva game called by Belichick, McDaniels and Flores, and it deserves praise.
---
You cannot make 9 Super Bowls in 18 seasons without luck.  For as good as a game that New England played early, they needed luck to come out on top.  If the punt went a centimeter closer to Jules, KC gets the ball there.  The roughing the passer call on Chris Jones was probably wrong, but it was called in real time, and you cannot review that (I still would not call it egregious for those two reasons).  Dee Ford was offsides, but man, when do you ever see that type of play called; it ended up negating an INT that was thrown by Brady after going through the hands of Gronk.  Chris Hogan made the catch of his life in the 4th quarter, as New England needed every yard to regain the lead; any less control there, it's incomplete.  Gronk, who had a rough year, was trusted with the game on the line, and proved it was warranted.
I'm probably missing more (sorry, it's late as I write this), but those were not the only plays in the game.  Kansas City could've scored to end the first half, or put up more than 7 points the first 45 minutes of the game, but they didn't.  Although it seems like a game comes down to 1 or 2 plays, everything before that leads to those plays, and without everything else, the opportunity to be in the game will not exist.  The Pats came out strong, weathered KC's comeback, and willed their way to victory.
As they go on to face the 13-3 Los Angeles Rams, Tom Brady and Bill Belichick will be appearing in their 9th Super Bowl since 2001.  That is more than any team in NFL history,
Unfortunately this is not yet the most for a player/coach duo in town, as Bill Russell and Red Auerbach made the NBA Finals 10 straight times between 1957 and 1966 (Red resigned as the coach following 1966).
Tom Brady is now 29-10 (74.36%) in the playoffs during his career; if you stacked up his postseason winning percentage against every other QB all-time in the regular season (min. 32 games started), he would be second, only behind Tom Brady… the regular season QB (207-60; 77.53%).
Bill Belichick will now appear in his 11th Super Bowl (2 with the Giants, 9 with the Patriots); this means he will have appeared in 20.75% of Super Bowls to ever be played.
Since purchasing the New England Patriots in 1994, Robert Kraft's team will have now reached the big game 10 times in 25 opportunities.
The Patriots have been in the AFC Championship Game 14 times since 1996; in other words, they have been a game within the Super Bowl 60.88% of the time since then.
Isn't winning fun?
The Pats will face off against the Los Angeles Rams on February 3 in Atlanta.
---
Follow Nick on Twitter (@Nick_Collins14)