Here we are folks, the Super Bowl!
The New England Patriots and Los Angeles Rams will face off against each other in Super Bowl LIII, vying for the Vince Lombardi Trophy.
For the Rams, they are attempting to win their first Super Bowl since 1999, and their first NFL championship in Los Angeles since the franchise won the NFL Championship in 1951.
On the other side of the ball, New England is appearing in their 11th Super Bowl as a franchise, and their 9th since Tom Brady became the starting QB of the team.  The Patriots have won 5 Super Bowls with Tom Brady and head coach Bill Belichick, and the two are attempting to win their 6th Super Bowl together.
Before we get into predictions, here are some key players to watch for the Patriots and Rams.
Tom Brady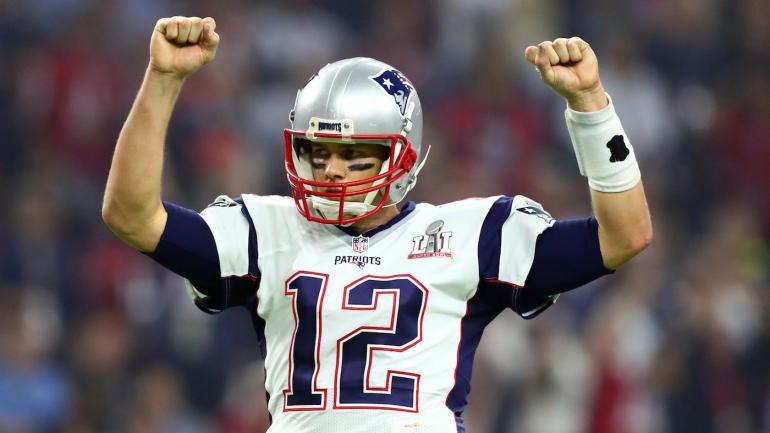 How could it be a Super Bowl without Tom Brady? Brady is looking for his 6th ring, and by and far has the most experience in the Super Bowl of any player in NFL history.  Brady seemed to flip a switch for the playoffs, having his best game of 2018 against the Chargers, and a week later in Kansas City he helped lead three scoring drives in the 4th/OT, putting New England in the Super Bowl for a third straight season.  With another championship on the line, and a chance to redeem the loss to Philadelphia a year ago, Brady will be ready to go.
Julian Edelman
Right before our eyes, Julian Edelman is becoming one of the most accomplished postseason receivers in the history of the NFL.  His 105 postseason receptions rank second to Jerry Rice, and when you're second to Jerry Rice on any list, you're doing something right.  Since Edelman's role increased in the Patriots offense in 2013, he has played 12 games (11 starts) in the postseason, and has 96 catches for 1196 yards, and 3 TD.  That equates to a per game average of 8 catches and roughly 100 yards.  If that is not clutch, I don't know what is.
Trey Flowers
Quietly having a great postseason is 4th-year defensive end Trey Flowers.  Flowers has had a sack in each game this postseason, and has 5.5 sacks in 8 career postseason games.  He does not get a lot of glory due to his low sack numbers during the regular season (he has never eclipsed 8), but Flowers is one of the best at rushing the passer.  He is in his last year under contract, and is set for a big payday this offseason.  If Flowers can wreak some havoc in this game, the biggest stage in the sport (and in front of over 100 million viewers), he'd be able to increase his asking price even more.  Patriots fans love him, and the rest of the league should get ready to learn his name.
Kyle Van Noy
Michael Felger's favorite player, Van Noy is truly a good player.  Against KC, he had 2 sacks and 10 tackles (1 TFL), his best game of the season.  He gets a bad rep, but he is an extremely productive player, and had the best season of his career in 2018.  The Patriots defense was not bad this year, and Van Noy was a quiet part of that strong group.  He's going to need to have another strong game, especially as the Rams have increased their reliance on the run, but if his last game was any indication, he's finding his own at the perfect time.
Stephon Gilmore
For all intensive purposes, he was the best CB in the NFL this season, and was a key cog in what became a strong secondary.  We know Gilmore was not perfect his first season in New England, but in Year 2, the Gilly Lock was elite.  He ranked number 1 at his position according to Pro Football Focus this season, earning every cent he was paid.  Although he was not put on Tyreek Hill during the AFC Championship Game, his success in defending whatever assignment he is given for the Super Bowl will be vital to the Patriots success against the Rams offense.
Aaron Donald
For the Rams, we have, for all intensive purposes, the best defensive player in the entire sport.  Donald is a freak of nature, and signed a lucrative extension prior to this season.  The Rams got a return on this investment rather quickly, as Donald had 20.5 sacks this year, well above his previous career high of 11, make opposing QBs fear the worst at every turn.  The Patriots offensive line has already dubbed Donald "unblockable," and limiting his impact during this game will be a top priority.  There have only been 3 games all season where Donald has not hit the QB, so Brady should just expect to be on the ground thanks to the Rams stud at least one.
Jared Goff
The third year QB came up big against the Saints in the NFC Championship Game, and has continued to prove a lot of doubters about his ability to play on the big stage.  Well he sometimes gives off that Eli Manning vibe of not realizing the magnitude of the moment, and possibly being prone to a big mistake, he is extremely talented, and when he is on his game (which, to his credit, is becoming more and more often), he has shown all the skills to be a great QB in this league.  If the Rams have to win in-spite of Goff, their job will become a lot harder, but if they win because of Goff, that means everything will be clicking, and the Patriots are in for a challenging day.
Todd Gurley
What is going on with the best RB in the NFL? He has earned that title after having another great season, but since C.J. Anderson has come to town, his workload has been reduced.  Now that is not the end of the world, as having good teammates is great, but in the NFC Championship Game, it seemed like the stud RB was benched in favor of Anderson, something you could not have told anyone with a straight face would happen just an hour before the game.  Coming off of 4 rushes for 10 yards in the biggest game of the season, can Gurley be trusted to find his former self, and turn in a Gurley-like performance in the biggest game of his life? Or could we be saying the other Georgia RB in this game (Sony Michel) does more to help his team win? Imagine saying that a month ago…
Aqib Talib
The former Patriots, and big game CB, Talib is back, and he is looking for a second ring.  He has played 11 out of a possible 18 games this season, and for his work in the regular season, he was considered to have had a good year by Pro Football Focus.  He held Saints star WR Michael Thomas to 4 catches and 36 yards in the NFC Championship Game, so clearly he is still up to the challenge of stopping the best players in the game.  He will be a key piece to helping the Rams against an offense that has put up 41 and 37 points respectively this postseason.
Nickell Robey-Coleman
You remember him from the NFC Championship game for the worst non-call in NFL history, and then for his comments about Tom Brady earlier this week.  If you had never heard of this guy until all of this, you are not alone.  A quick background: Coleman was an undrafted rookie in 2013, and signed with the Bills, where he played with the team for 4 seasons.  In 2017, he signed with the Rams on a 3-year, $15.675 million contract.  Robey-Coleman ranked very highly on Pro Football Focus this season, and the "slot god" looks like he'll be matched up against Julian Edelman in the Super Bowl.  The funny thing is Robey-Coleman has faced the Patriots 8 times, and in his last game, he got torched by Gronk.  For Patriots fans, hopefully that happens again.
---
Predictions
Alright, here we are, prediction time.  Who will be the winner of Super Bowl LIII?  Lets cut to the chase.  Here are Fredy and Nick's picks for who will win.
Fredy: Patriots 34, Rams 24
The Patriots owe Pats nation a blowout. Or something not within 6 points. I think I'm 47 right now because the Patriots took so many years off my life with thriller after thriller.
Tom Brady and the Patriots are here and they mean business. Yes, by business I mean Gronk humping the air. But in all seriousness, flying out a day earlier than they're required to, vets who've seen at least 2 SB loses while playing with the Patriots, and no distractions. Last year's drama with Brady and Belichick is long gone and a thing of the past. Edelman and Gronk look like they're 4 years younger, the defense is playing well, and Tom Brady doesn't seem bothered by his knee. What more could we ask for?
The Rams aren't some pushover team. They've spent a lot of money to get to this point in the season and if you say they didn't earn it, you're on some shit. Aqib Talib probably knows a thing or two about Brady after being his teammate, so that could become a factor. Speed of the entire Rams team as well. But none of that worries me as much as Goff does. Is he really stupid enough to pull this off? Can he out-duel Brady? My king!?
If Goff just gets in a roll like Foles did last year and doesn't get out of his comfort zone, the Patriots will get smacked. But, I think Belichick learned from last year's mistakes and is finally at Ultra Instinct level (shoutout to my Dragon Ball Z people)! But the Rams need to compliment each other or else they will hear Brady roar!
P.S., Suh doesn't even worry me. The guy doesn't even care for schemes and all he cares about is killing the QB. OVERRATED!
Nick: Patriots 31, Rams 27
I was on a long car drive a few days before the game against the Chargers, and was thinking about how I had picked the Patriots to win the Super Bowl (spoiler: I always think about the Patriots).  I told myself that I would not be owned by the pick, and round by round I would change my mind if necessary, and if the Patriots were to win in crappy fashion, I would pick their opponent (based on how that team did) in the AFC Championship Game.  Well, the Patriots had their best game of the year.  Although the Chiefs did good too, the Pats made such a statement, and the way they had adopted the underdog mantra, I thought they were focused in a way I had not seen in previous years, I had to pick them; I was right.
Coming into this game, I saw a Patriots team control a game against the (likely) NFL MVP in a way no had all year, holding KC to 7 points in three quarters.  Although Kansas City finished with 31, the way the Patriots played that game (and the Chargers game) on their terms stood out to me, and it began to create a trend for this postseason.
The Rams also won a conference championship game on the road, but to me, it was far less impressive.  That might sound harsh, but lets be honest, the Saints had so many opportunities early in that game, that the fact it was only 13-0 at the end of the first quarter was pathetic.  They let the Rams stick around, and just like in the regular season, the Rams came back from double digits to tie the game.  Then of course we had the worst non-call ever.  I will not call that the reason the Saints lost, because they should have had the game in hand two hours before it happened, but nevertheless, it gave the Rams a historic break.
Nevertheless, the Rams, who were trailing 13-0 and 20-10, came back to tie the game, intercepted Brees in overtime, and won 26-23; that deserves credit.  Their run defense has been elite this postseason, and with a healthy Aqib Talib, their secondary looks like its finding it's groove when it matters.
When the game initially ended, I thought "perfect, this is the team we want to face," but as the days went on, I realized the Rams would be a worthy foe… plus, what Super Bowl involving the Patriots is ever close?  However, if you do not want to believe the underdog narrative with this Patriots team, that is your problem (see: evidence of the contrary).  They were doubted compared to past years, they were a trendy upset pick in the game against the Chargers, many said Brady was low on the list of the best QBs left… and you know what, they heard the noise.  Brady and the Patriots made a statement against the Chargers, and then became only the third team since 2005 to win the AFC Championship on the road (the previous two proceeded to win the Super Bowl).  I think they're trying to accomplish something historic, redeem themselves for their loss last year, and shut everyone up.  Brady is out for blood, this team is out for glory, and you know what, they're gonna get it.
Make room for banner number 6, because it's coming to Gillette!
---
Follow Hold My Take Sports on Twitter (@holdmysporttake)