Welcome back to WHO. TO. WATCH.
This past week we saw Steph Curry make an amazing bounce pass to Giannis, as well as D-Wade lob it up to LeBron James one last time.  Jayson Tatum threw up a half court heave to steal the Skills Challenge from Trae Young; Joe Harris won a competitive three-point contest, and Hamidou Diallo won the dunk contest with a great performance that included dunking over Shaq and jamming the ball (and his elbow) in the hoop.  In baseball, we FINALLY saw some action, as Manny Machado signed with the San Diego Padres (more on that shortly).  Barack Obama went to see UNC-Duke, and the Bruins continue to be on a torrid point streak, having won 7 straight games.  And finally… Robert Kraft finds himself in a sticky situation.
With basketball back, hockey in full swing, and baseball and March Madness around the corner, things are about to pick up… soon my friends.
Onto the last week of February.
Buy
Andy: Charlie Coyle
Bruins fans are a little torn by the trade that brought Charlie Coyle to Boston. On one hand, they get a nice compliment to Bergeron and Krejčí at Center, but on the other hand they have lost a growing prospect in Ryan Donato. Coyle has been on the Wild for 7 years averaging 34 points a season. He has been expected to be somewhat of a star in a Minnesota for awhile, which has led to the dissatisfaction, and eventually this trade. Now this information might not be selling you on Charlie Coyle, but I say he is exactly what fits in the Bruins system. With the young talent around him and the veterans like Chara and Bergeron showing him the ropes, Coyle will shine. He's got 28 points this year filling his role and I'm sure we'll see him make an impact for this playoff bound team.
When to Watch:
Boston Bruins vs. St. Louis Blues (2/23; 4:00pm)
San Jose Sharks vs. Boston Bruins (2/26; 7:00pm)
Tampa Bay Lightning vs. Boston Bruins (2/28; 7:00pm)
Mike: Jake Debrusk
The Boston Bruins are in the midst of a 7-game winning streak and Jake DeBrusk has stepped up big time in that stretch. There was cause for worry after star winger David Pastrnak went down with a thumb injury on Feb. 10, but the B's haven't missed a beat so far. DeBrusk has been a big part of that, having scored a goal in each of Boston's past 5 games. Not only has DeBrusk been putting pucks in the net, but he's been helping his teammates too, tallying 5 assists over the past 5 games as well. All season long the Bruins have needed production outside of their stellar first line of Bergeron, Pastrnak, and Marchand, and now it's finally coming consistently. With Pastrnak coming back soon, Charlie Coyle coming in from Minnesota, and DeBrusk heating up, Boston is well on its way to making noise in this year's NHL playoffs.
When to Watch:
Boston Bruins vs. St. Louis Blues (2/23; 4:00pm)
San Jose Sharks vs. Boston Bruins (2/26; 7:00pm)
Tampa Bay Lightning vs. Boston Bruins (2/28; 7:00pm)
Nick: Gordon Hayward
I know, Hayward did not play last night because he rolled his (good) ankle during the All-Star break, but this is just a hiccup.  The media will try to tell you Hayward has made no progress, and is not there yet, which isn't true.  Each month this season, he has put up better numbers than the last.  So far this month, Hayward is averaging 14.6 PPG, 4.6 RPG, and 4 APG, and is shooting 57.1% from the field, and 42.3% from three.  As slow as his recovery has been, we have to remember Hayward suffered a setback during the summer with his surgically repaired ankle, and was not playing 5-on-5 until September.  The Celtics have definitely sacrificed a game or two this season in the hope that giving Hayward time on the court will mean he is (close to) the player he was his last year in Utah.  It's a big bet, and if Hayward does reach those heights, the Celtics, even if they only have home court advantage for just one round in the playoffs, will become even deeper for a long playoff run.  He's close, and I'm buying on Gordon to be a key contributor the rest of the regular season, and in the playoffs
When to Watch: 
Boston Celtics vs. Chicago Bulls (2/23; 8:00 PM)
Boston Celtics vs. Toronto Raptors (2/26; 8:00 PM)
Portland Trail Blazers vs. Boston Celtics (2/27; 8:00 PM)
---
Sell
Andy: Khris Middleton
Khris Middleton is a glorified 6th man. There I said it! Sure he has been having a decent season, but he's averaging 17 PPG, which is 1 point more than Jason Tatum and I sold on him last week too. As the clear number 2 behind Giannis, and might I add that's a big gap between their 1 and 2, he isn't putting up big numbers. Khris Middleton is busting his behind to grab a big contract, only to be lost in the sauce and forgotten. I just don't see him being the star people think he is. Come the playoffs I want to see him take over. I do like the Bucks as Kings of the East over my Celtics. I think they have what it takes to go 7 with Houston or Golden State. However, until Middleton proves he can put up 20+ with games that matter, I am selling on him!
When to Watch: 
Minnesota Timberwolves vs. Milwaukee Bucks (2/23; 8:30 PM)
Milwaukee Bucks vs. Chicago Bulls (2/25; 8:00 PM)
Milwaukee Bucks vs. Sacramento Kings (2/27;10:00 PM)
Mike: Manny Machado's contract
On the eve of the start of spring training games, a team finally signed Manny Machado, and that team turned out to be… the San Diego Padres. The eye-popping contract of $300 million dollars over 10 years that San Diego has agreed to Machado in full is ridiculous in my mind. Now I'm all for players getting as much money as they possibly can, they're well within their rights to do so. However, why any team would agree to fork over that much money over that many years is beyond me. I suppose a team like the Padres have little to lose, having not made the playoffs since 2006 and needing every bit of talent they can get. Still, paying any player $30 million in their age-36 season is something I wouldn't want to do. Especially someone who has to play the field, unless the NL adopts the DH by the end of Machado's contract, which is not impossible. I just don't see the Padres being the winners of this deal by the time 2028 rolls around.
When to Watch:
THE NEXT 10 YEARS
Nick: Zion Williamson*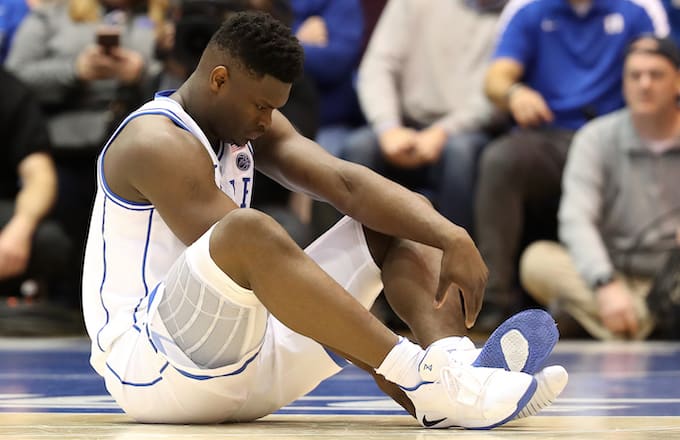 *playing another game of college basketball
I saw it, you saw it, and Barack Obama saw it: Zion Williamson's foot rip through his show, and during the same sequence, hurting his knee.  The highly anticipated UNC-Duke game – and the main attraction of Zion Williamson – lost all of it's hype of Duke's first possession, when less than a minute into the game, Zion got hurt, and never came back.  This reignited the discussion about talented basketball players having to play one year in college before reaching the NBA, and at this point, if I'm Zion, I'm packing up the things in my dorm, hiring an agent, getting my affairs in order, and getting ready for the NBA.  Zion is 6'7″ and 285 lbs (built more like Rob Gronkowski than a prototypical NBA prospect), and an athletic marvel.  He has the stats to back it up too, with per game averages of 21.6 points, 8.8 rebounds, 2.2 assists, 2.2 steals, and 1.8 blocks this season.  Zion, take my advice, sell the remainder of your college basketball career, and get ready for the pros.
When to Watch:
Duke vs. Syracuse (2/23; 6:00 PM)
Duke vs. Virginia Tech (2/26; 7:00 PM)
---
Rest in Peace Nick Cafardo and Jorge Jimenez
We at Hold My Take Sports just want to take a moment to give our condolences to Boston Globe writer Nick Cafardo, who passed away yesterday after suffering an embolism, and Jorge Jimenez, who was struck by a car driven by Syracuse coach Jim Boeheim due to inclement weather.  Our thoughts and prayers go out to their loved ones.
---
The "Who to Watch" series drops every Friday, via Hold My Drink Sports