In a night that will be remembered for the return of Isaiah Thomas to the TD Garden, and a loss for the Boston Celtics, Kyrie Irving reached a career benchmark. Tuesday's game against the Nuggets marked Kyrie's 500th regular season game as an NBA player.
Kyrie has been in the NBA since the 2011-2012 season, and has 6 All-Star appearances, an All-NBA selection (third team), an NBA Rookie of the Year trophy, and an NBA championship to his name. At 26 years old (his 27th birthday is Saturday), he's had a great career thus far.
Anyway, I'm going to break down Kyrie Irving's first 500 regular season games in a peculiar way (because that's how my mind works): by the coaches he has played for. Kyrie has played for 5 coaches during his career, and it may surprise you just how close the amount of regular season games he has played for each is.
You'll see that shortly, as well as his stats during his time with these coaches, and the record of his teams over the years, all presented in chronological order.
Before I begin, here's a fun fact: Kyrie Irving has played more NBA games (500) than Yao Ming (486), Arvydas Sabonis (470), Bill Walton (468), and George Mikan (439).
Coach 1: Byron Scott (2011-2013)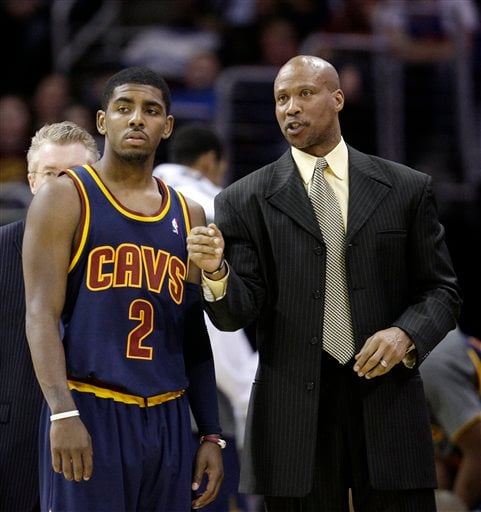 Accolades: NBA Rookie of the Year (2012), All-Rookie First Team (2012), All-Star (2013)
Stats: 20.6 PPG, 3.7 RPG, 5.7 APG
shooting percentages: .459 FG%/.394 3P%/.862 FT% (16.5 FGA per game)
Games under Byron Scott: 110
Team Record: 36 – 74 (.327)
---
Kyrie Irving began his career as a Caviler in the original "post-LeBron Era". As we know, those times were not pretty in Cleveland. Kyrie was the first glimmer of hope, as Cleveland got the first pick in the 2011 NBA Draft (it was actually originally the Clippers' pick). Kyrie showed promise, but the rest of the team was not ready. After three seasons as the coach of the Cavs, Byron Scott was fired, and former Cavs coach Mike Brown was re-hired for the 2013-2014 season.
Coach 2: Mike Brown (2013-2014)
Accolades: All-Star (2014)
Stats: 20.8 PPG, 3.6 RPG, 6.1 APG
shooting percentages: .430 FG%/.358 3P%/.861 FT% (17.4 FGA per game)
Games under Mike Brown: 71
Team Record: 28 – 43 (.394)
---
In Year 3 of Kyrie's career, the hope was that veteran head coach Mike Brown, who had been LeBron's coach in Cleveland for 5 seasons (2005-2010), and coached the Lakers for more than one season (2011-2012), could lead a young core of Irving, Dion Waiters, Tristan Thompson, and Anthony Bennett (hey, I didn't draft him first, Cleveland did) to respectability. Unfortunately the team went 33-49 under Brown (28-43 in games Kyrie played), and it was not enough to satisfy Dan Gilbert, even if they looked a bit better than the last 3 seasons. With LeBron a free agent (even if it did not seem likely he would leave Miami), and the previous history of he and Brown never leading to a ring, Brown was fired.
Coach 3: David Blatt (2014-2016)
Accolades: All-Star (2015), All-NBA Third Team (2015)
Stats: 20.8 PPG, 3.1 RPG, 5.0 APG
shooting percentages: .461 FG%/.397 3P%/.864 FT% (16.1 FGA per game)
Games under David Blatt: 90
Team Record: 64 – 26 (.711)
---
Playing next to LeBron James as well as his own natural progression led to Kyrie becoming a much more polished and efficient player. He earned his first All-NBA appearance in 2015 due to his output during his fourth season in the league, and helped the Cavs reach the NBA Finals as he averaged 19 PPG in his first postseason. However, an injury during Game 1 on the NBA Finals set him back, and he did not return to action until just a few days before Christmas in 2015. Unfortunately, he would only play 15 more games under David Blatt, as Blatt was fired halfway through the 2015-2016 season, even though the Cavs were 30-11 (first in the Eastern Conference); for whatever reason, the Cavs thought a change was necessary.
Coach 4: Ty Lue (2016-2017)
Accolades: NBA Champion (2016), All-Star (2017)
Stats: 23.8 PPG, 3.1 RPG, 5.5 APG
.468 FG%/.379 3P%/.900 FT% (18.9 FGA per game)
Games under Ty Lue: 110
Team Record: 72 – 38 (.655)
---
During his time with Ty Lue as the head coach of the Cavs, Kyrie recovered from the immediate impact of his broken kneecap, and finished the 2015-2016 strong, helping Cleveland win its first NBA title. He averaged 25.2 PPG during the playoffs in 2016, and hit a historic GW shot in Game 7 of the NBA Finals to cap off the improbable, beating the 73-win Golden State Warriors, the same team that had a 3 games to 1 lead in the series. Kyrie kept this level of play into the 2016-2017 season, and he was rewarded with another selection to the All-Star team (his fourth). During the postseason in 2017, Irving averaged 25.9 PPG as the Cavs stormed to a 12-1 start before losing to the Warriors in 5 games in the NBA Finals. At this point, as LeBron only had one year remaining on his contract, Kyrie Irving asked to be traded to a new team, stunning the NBA. In late August, he was traded to the Boston Celtics for Isaiah Thomas, Jae Crowder, Ante Zizic, and a 2018 first round pick (which became the pick used to select Colin Sexton).
Coach 5: Brad Stevens (2017-present)
Accolades: All-Star (2018, 2019)
Stats: 24.1 PPG, 4.4 RPG, 6.1 APG
shooting percentages: .493 FG%/.408 3P%/.881 FT% (18.2 FGA per game)
Games under Brad Stevens: 119
Team Record: 74 – 45 (.622)
---
Shocking to me when I looked it up (once again, I don't know why I did), the coach Kyrie Irving has played the most regular season games under in his entire career is Brad Stevens. At 119 games in Boston out of his 500 career games, 23.8% of Kyrie's games played in the regular season have been as a Celtic, and with Stevens as the coach (although if you add postseason games, his time with Ty Lue rises to 149 games). In his time in Boston, Kyrie has further polished his game, even as a number 1 option. His field goal and three point percentages in Boston and under Brad Stevens are the best out of any coach he has played under, and his point and rebound outputs reign supreme as a Celtic (his assist output is the same as it was under Mike Brown). Although his winning percentage in Boston (.622) is not as high as it was under Blatt or Lue, he has proven in the postseason he can step his game up, and if he can do that in Boston, regular season winning percentages will not matter.
---
Finally Tally (2011-present)
Accolades: NBA Rookie of the Year (2012), All-Rookie First Team (2012), All-NBA Third Team (2015), NBA Champion (2016), 6-time All Star (2013-2015, 2017-2019)
Stats: 22.2 PPG, 3.6 RPG, 5.7 APG
shooting percentages: .466 FG%/.390 3P%/.875 FT% (17.5 FGA per game)
Overall Record: 274 – 226 (.548)
---
The Kyrie Irving we have seen in games 1-500 has been special, but just days away from turning 27, the best of Kyrie Irving might be seen during his next 500 regular season games. Only 22 players in the Hall of Fame have averaged more points per game than Irving, and at the pace he's going, he will only climb up that list (he currently has the 32nd most PPG in the history of basketball).
To more Uncle Drew
---
Follow Nick on Twitter (@Nick_Collins14)