Well… it looks like the Kyrie Irving Era is coming to a close in Boston.
Some may have come to that conclusion a month ago, others (like myself) held out faith he would search the landscape of the NBA and find he wanted to stay in Boston, but reports are indicating Kyrie is all but gone.
Where to? Brooklyn.
For about one year we've heard the rumors about Kyrie and the Knicks, and about "going home," when in reality, the team that he rooted for growing up was the Nets (while they were in New Jersey), and point guard Jason Kidd.
Now with the Nets in Brooklyn, he gets to be in New York City, but with a team he enjoyed as a kid, and with a more stable organization; probably the best situation that is not Boston.
That's great and all, but what does it mean for the Celtics?
A step back.
Kyrie was All-NBA Second Team this year, and right smack dab in his prime. Losing that type of player, any way you slice it, is brutal for a team. He may have been a cause for disharmony in the locker room this year, but this is still a league where talent wins, and Kyrie Irving is as talented as they come. Even if he's not a top option, you need guys like him to compete.
Now the Celtics must re-calibrate and consider their options moving forward.
Kyrie's likely departure is particularly painful because with injuries to both Kevin Durant and Klay Thompson, the Golden State Warriors look to be out of the picture for a title next season (or at least their chances are much lower than in years past). A possible departure from Kawhi Leonard could open up the Eastern Conference, and I am certain Milwaukee will take a step back due to the impending free agencies of Khris Middleton, Malcolm Brogdon, and Brook Lopez (they can't afford them all). The league will be as wide open as it has been in a LONG time… and Boston could very well miss a chance at being in the picture.
Danny Ainge knows all of this, and knows he has to react accordingly. Does he chose a short-sighted move and try to go all-in for a season with the remaining chips he has, or does he build around a young core centered around Jayson Tatum and Jaylen Brown (or some middle ground)?
Well, that's what this discussion will be about.
I'll list some players that have been tied to the team, and what going for them would mean for this Celtics team moving forward.
Anthony Davis
I know, I think we're all sick of the Davis rumors at this point, but the end of the road is near.
With Kyrie Irving likely gone, trading for Davis doesn't make as much sense as it previously did. The dream was to pair Kyrie (27) with AD (26), and have two All-NBA players in their prime try to lead Boston to a championship. It's a great formula, and if you kept other pieces around (Al Hoford, Jaylen Brown, Gordon Hayward, etc.) you'd have a strong team, one that could compete for supremacy in the NBA.
Now things are different.
Davis' camp has made it clear he would not stay in Boston, and with Kyrie not in the picture, is it worth trading Jayson Tatum, Marcus Smart, and others plus picks to get him?
Well… how desperate is Boston?
A year ago Raptors team who would yearly get bounced early from the playoffs decide to change course from this continued future, trading franchise stalwart DeMar DeRozan for one guaranteed year of Kawhi Leonard… and it won them a championship.
Is Boston in this situation? Well, having two young player like Jayson Tatum and Jaylen Brown could signal no, but if the team does not believe those two will grow into stars in the league, and values a shot at a title over betting on their potential… maybe a move could be made.
As I started with, the league is WIDE open next year, and Danny Ainge is known to have an infatuation for Davis. Would he feel that missing on Kawhi last offseason warrants a move for AD?
I don't believe so, and reports say Boston is growing hesitant in making a deal, but who knows. If there is a mandate from ownership to make a move, or if Ainge things it's the team's best course, it could happen, but chances are slim.
Bradley Beal
Bradley Beal is the best player outside of Davis on the trade market this offseason.
He'll be 26 next season, and last season, a year mostly without teammate John Wall, Beal averaged 25.6 PPG, 5.0 RPG, and 5.5 APG.
With two years remaining on his contract ($27.1 million for 2019-2020, $28.7 million for 2020-2021), acquiring Beal would be similar to acquiring Kyrie Irving two summers ago for Boston. He'd be at the same point in his career, and Boston would have two years to convince him to stay long-term.
Beal is from St. Louis, and close friends with Jayson Tatum, meaning there should be some chemistry off the bat; but Kyrie and Tatum were close too.
A trade for Beal would likely mean giving up Jaylen Brown, since the two play the same position. The deal would probably have to include Marcus Smart in order to get closer in terms of salary, then some other role player(s) to get across the finish line.
It would be a big package (more than the one that got Irving to Boston if we're being honest), but would a pairing of Tatum and Beal be something worth building around?
Beal is almost 5 years older than Tatum, so their timelines are a bit out of sync, and Tatum still needs to develop more, and I worry about that if Beal is in town because he will require touches due to the type of player he is.
Beal is a great talent, and acquiring him would signal Boston would still like to be good in a post-Irving world, but it could lead to the same stunted development we began to see from Tatum this year. Is that worth staying relevant short-term?
Clint Capela
Clint Capela is 25 years old, and a rising big in the NBA.
In his 5th season in the NBA this year, he averaged 16.6 PPG and 12.7 RPG, as well as 1.2 BPG, and he shot 64.8% from the field.
Capela is an efficient finisher who can catch lobs on the offensive end, while being an impact player in the post on defense.
Capela is locked up for 4 more years, and will make $14.9 million next season.
I see two routes to acquiring him:
Al Horford exercises his $30.1 million player option, and is traded to Houston for Capela ($14.9 million) and Eric Gordon ($14.1 million)
Al Horford opts-out of his contract, agrees to a contract with Houston, and a sign-and-trade deal is agreed to in which Capela is sent to Boston
Why Horford? Well, he had interest in joining Houston in 2016, and if Boston is not able to compete for a title next season, joining the Rockets could be his best chance at doing so. Horford is the active player with the most playoff games played (120) without appearing in the NBA Finals. He is 33 years old, and if Boston is to reset, meaning take a step back next season as they build a roster around Jayson Tatum and Jaylen Brown, Horford would be sacrificing time in his career – and chances of being a champion – by staying a Celtic. I love him, he's been a great part of this team, but I would understand if he would want to move on and chase a ring.
Having Capela locked up through 2023 would allow him to become a key part of the team around Tatum and Brown, and would keep Marcus Smart in Boston as well. It would make the team more defensive-minded, and with Horford out of the picture, his presence as a facilitator on offense would increase the responsibilities of Jayson and Jaylen on that end; want to seem them develop, take Kyrie and Al away and let them run the show, that's a crash course in development.
Some say he is too similar to Robert Williams, a player Boston hopes develops into a player like Capela, and his lack of ability to shoot from the perimeter could be seen as a liability, but he helped a team in Houston that is notoriously shoots the most threes in the league, and he did just fine there.
I would like the move, it would keep Boston in the playoff picture in the short term, and he could be a valued contributor in the future if the potential of players on the team is met.
D'Angelo Russell
Russell is one of the reasons why the Nets have improved in the years since they acquired Paul Pierce and Kevin Garnett in 2013.
The Nets acquired the young PG from the Lakers in 2017 as an incentive for taking on the contract of center Timofey Mozgov. This cleared the way for Lonzo Ball to be the PG of the future for the Lakers, and for them to clear up cap space in pursuit of LeBron James last offseason.
Russell used his new home to grow from the circus in Los Angeles, and last season it culminated in a All-Star selection (the first of his career). Russell averaged 21.1 PPG and 7.0 APG last season, leading Brooklyn to their first playoff appearance since 2015.
He was the face of a team the was turning things around in lieu of coveted first round picks because they had traded them to Boston, and entering this offseason, their prize for surviving the fleecing by Boston is… signing the player Boston acquired with one of their draft picks, Kyrie Irving. Oh the fun!
This leaves D'Angelo Russell in limbo. There is no way his game mashes with Kyrie's, and if Brooklyn is left to chose between the two, they would be stupid not to pick Kyrie.
Now where does that leave the 23-year-old as he hits restricted free agency?
Well, maybe a sign-and-trade to Boston.
Since Kyrie is going to Brooklyn, and the Celtics will have a need at PG, why not just have Brooklyn facilitate a trade involving their young PG they no longer have a need for to a team that does need one?
There is a rumor that Russell could be interested in joining Boston, but it has not been verified by anyone close to reputable.
Also, due to the current cap situation of Boston, a sign-and-trade for Russell would be extremely complicated to pull off, lowering the chances of it happening at all.
He is a good young player, but Russell needs the ball in his hands at a high rate to be effective… and he has a tendency to be ineffective.
During the playoffs he took 20.6 FGA per game, averaging just 19.4 PPG, showing the potential he has to be inefficient when you need him most.
If Kyrie was the reason Jayson Tatum and Jaylen Brown saw stunted development, Russell will be more of the same, taking touches away from them, and being worse than Irving while doing so.
It is difficult to accomplish financially, and makes less sense on the court.
Isaiah Thomas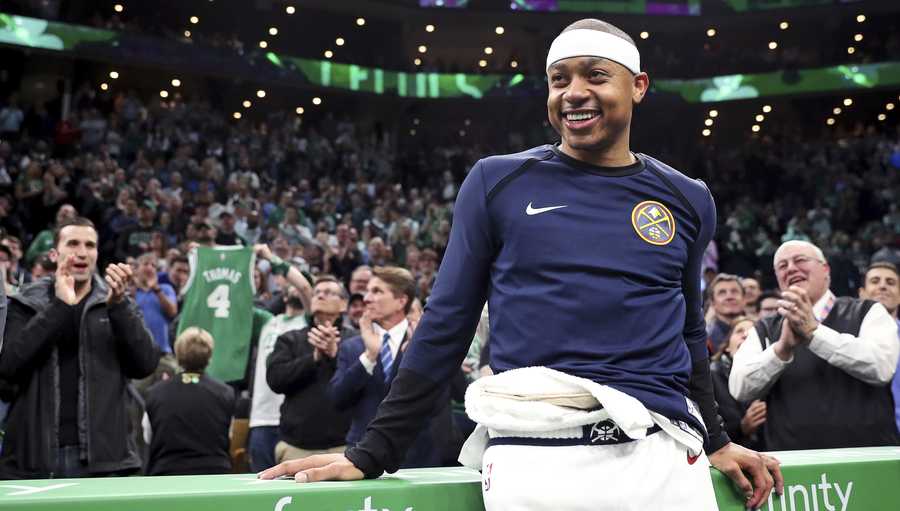 A lot has changed since Isaiah Thomas played his last game for Boston on May 19, 2017.
The fan favorite was part of the package to acquire Kyrie Irving in 2017, and since then, his career has gone upside down as he has recovered from the hip injury he suffered at the end of the 2016-2017 season.
Thomas has played for 3 teams the past two seasons, suiting up for a total of 44 games in that time. This past year he did not debut for Denver until February, and he did not play one playoff game for the Nuggets.
He is 30 now, and the Isaiah Thomas we saw peak in Boston two years ago is probably never coming back.
But could he be the sixth man type of player he used to be earlier in his career?
After spending the past two seasons trying to recover and find his footing in the league, maybe with a full offseason under his belt where he is healthy, IT can find some of the magic of old. He has said he would be interested in coming back to Boston, and maybe a marriage of two parties that have each faced turmoil since their previous divorce wouldn't be such a bad idea.
Thomas needs a chance to show he can still play, and Boston needs a playmaker at the guard position in this post-Irving world… maybe the timing is just right.
I am hesitant about an IT return due to nostalgia and the likely hefty expectations that will come with it. Thomas was my favorite player to watch when he was here, and I have fond memories of him, but I don't want to see him come to Boston and be seen as some sort of savior, only for the reality to set in that he just cannot be the same player due to his injuries.
I cannot doubt him based on what I saw him accomplish here, but I am not sure it would be the best fit. I would not be opposed if the expectations were clear and fans would be realistic about what he is at this time, but I am not sure that is possible at the moment.
But what do I know?
Other names to keep an eye on
Mike Conley Jr. – The Grizzlies are in a rebuild now, and with the second pick in this year's draft, are likely to draft point guard Ja Morant. This makes Conley, and the 2 years and $67 million remaining on his contract, expendable. This would have to involve moving Gordon Hayward, and attaching picks for the trouble. Too much for a player that will be 32 next season, and keeps you in Indiana Pacer land in terms of relevancy.
Rajon Rondo – The former Celtic is a free agent, and could come in and help fill the void left by Kyrie. Even at 33 he can still be an effective facilitator, and could be a cheap option at the position. Would you trust him being a role model for young guys on the team? That's my only concern.
Ricky Rubio – Rubio would be a younger (28) and more efficient version of Rondo on offense, and might be able to be acquired via the mid-level exception (projected to be worth $9.2 million). He wouldn't raise the expectations of the current roster exponentially, but would keep the ship sailing while allowing Jayson Tatum and Jaylen Brown to take more of the onus on offense.
---
Credit to photo above goes to Gary Dineen of Getty Images
Follow Nick on Twitter (@Nick_Collins14)