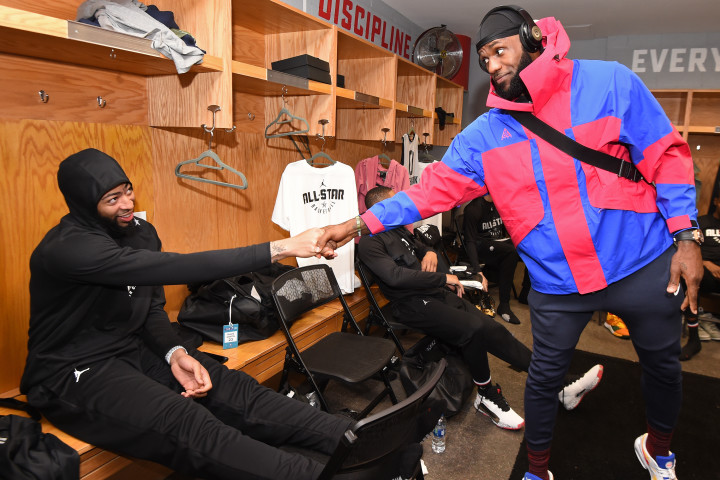 What'd I tell you: we were close to this finally happening.
Last night we got the Woj bomb we've been waiting for: Anthony Davis has been traded to the Los Angeles Lakers.
Was it inevitable? Hindsight says yes, but who knows. I thought another team would come in and steal Davis from the Lakers given how open the NBA looks next season, but that's not the case.
This is a move that reshapes the balance of the league in the short term, and could have huge consequences long term.
Davis might be the best teammate LeBron has ever had given his age and current level of play, but there is an incredible mandate to win, and win now. With LeBron, that is always the case, but as the King turns 34 in December, can we expect him to be peak LeBron much longer?
The Lakers better hope so.
Lets breakdown this trade given the involved parties.
Los Angeles Lakers
Los Angeles Lakers receive: Anthony Davis
The Lakers get an absolute stud in Anthony Davis, plain and simple.
Prior to an injury in January (and before he requested a trade), Davis was averaging 29,3 PPG, 13.3 RPG, 4.7 APG, 1.7 SPG, and 2.6 BPG, shooting 50.8% from the field, 32.5% from three, and 81.2% from the free throw line.
He is just 26 years old, and his best years should be ahead of him as he enters his prime.
The goal was to get LeBron a great teammate that could help the Lakers win an 18th championship, and Davis is exactly that.
There is still work to do.
In addition to James and Davis, here are the players the Lakers have signed through next season: Kyle Kuzma, Moe Wagner, Isaac Bonga… that's it.
Keeping Kuzma was a victory for the Lakers, as he will be a valued role player, one that is under team control through 2021. Other than that, the roster is essentially empty.
However, the Lakers could have $23.7 million (fluid situation, number could change depending on when the trade is executed and what Davis ultimately does with his trade kicker) to spend in free agency this summer. If AD waives his trade kicker, they could have $27.7 million, enough to sign a free agent like D'Angelo Russell to a max worth 25% of the salary cap.
Los Angeles could then fill out their roster with players on minimum contracts, as well as a room mid-level exception (worth $4.5 million).
Some would certainly take less to come to LA for the chance to compete for a title, but remember what the rosters looked like around James in Miami: other than Wade and Bosh, the Heat got players at the end of their careers, and it took some like Ray Allen willing to sacrifice money for a chance to win. It was also a reason why LeBron left, because there were simply no ways to improve the roster due to the financial constraints of paying a Big 3.
I'll get into this shortly, but the Lakers have a first round pick in 2020, but likely will not in 2021. They'll have their 2022 first, but in 2023 the Pelicans have the right to swap with them (meaning whichever is better they would take). They could lose their first round pick in either 2024 or 2025. This could make it difficult to acquire players to pair with James or Davis via trade, and less likely to draft anyone of value that could help the team.
I said it earlier and I'll say it again: LeBron James will turn 34 next season.
He is under contract for two more seasons, and has a player option for 2021-2022.
James seems like the Tom Brady of the NBA in terms of keeping his body in peak shape as he ages, and maybe he will continue to put up 27/7/7 in the next few years, but he has a LOT of miles on his body.
He has already played the 17th most regular season minutes in NBA history (46,235), and will likely move into the top 10 of that category by the end of next season. Add in the 10,049 minutes he's played during his career in the playoffs (already the most all-time), and only 4 players in NBA history have played more regular season AND postseason minutes (56,374) than him: Kareem Abdul-Jabbar (66,297), Karl Malone (62,759), Kobe Bryant (57,278), and Tim Duncan (56,738).
Conclusion: LeBron's peak might not last much longer.
Even if he declines, maybe Davis can take the torch from him.
However, we must remember the struggles Davis had in carrying the Pelicans during his career. Now he has never had a teammate remotely close to LeBron James, and with more reinforcements around the corner, another player could come in and make his life even easier… but he still has to show us he can play on this stage.
The window might be small with LeBron, but having Davis in town for years to come will be huge for the Lakers moving forward. Manage it right, and more winning should be in store.
Information on the minutes of the 4 players ahead of LeBron found here
New Orleans Pelicans
New Orleans Pelicans receive: Brandon Ingram, Lonzo Ball, Josh Hart, 4th pick in the 2019 NBA Draft, 2021 first round pick (top 8 protected), unprotected pick swap in 2023, 2024 first round pick (Pelicans can defer to 2025)
The Pelicans did a great job getting everything they could from the Lakers. Maybe they missed out on Kuzma, but getting Ingram, Lonzo and Josh Hart was a good haul in terms of players. They also got their hands on picks in 2019, probably 2022, 2023, and either 2024 or 2025.
The Pelicans should be hoping LeBron retires in 2022, and if they're lucky, the team takes a step back and those picks down the line become worth something, similar to the classic Celtics-Nets trade made in 2013 where Boston got the 3rd pick in 2016, 1st pick in 2017 (Boston traded this to Philadelphia), and 8th pick in 2018 (Boston traded this to Cleveland).
Regardless, they now have the 4th pick in this year's draft, and with the all-but-guaranteed selection of Zion Williamson, the team will have a strong young core moving forward.
Ingram and Ball should benefit from being in a new environment with less pressure than the rigors of being in Los Angeles, and especially playing with LeBron.
They'll have to decide if Ingram warrants an extension, as 2019-2020 will be the last year of his rookie deal, but he'll only be a restricted agent in 2020, and they can afford to extend him. The team will have a similar decision in 2021 with Lonzo Ball.
If Zion (who will be 19 when the season begins) becomes the player he should be in the years to come, and he can grow around the likes of Ingram (22 when the season begins) and Lonzo Ball (22 when the season begins), as well as with whomever they draft with the 4th pick on Thursday (assuming they don't trade it), New Orleans could have an extremely talented core that could compete in the Western Conference very soon.
The future picks from the Lakers may not become anything special, but having two additional future first round picks, and the chance to get a better pick in 2023, is nothing to sniff at. New Orleans could add cheap rookie talent to their team, or build a package for additional help.
The league is built through the draft, and GM David Griffin now has the assets to grow his young core and support his team moving forward.
Having to trade a player like Anthony Davis is never easy, and can sometimes set a franchise back years, if not decades, but landing the first pick in the draft was a blessing, and with the haul they got for him, the future is bright, likely brighter than it ever was with Davis in town.
New Orleans would be wise to keep in mind the mistakes they made in surrounding Davis with talent over the years. Some of it was bad luck due to injuries to the likes of Jrue Holiday and DeMarcus Cousins, but the team had a preference to let go of first round picks too easily. Maybe now they are in a different situation, but regardless, they likely have 7-8 years to please Zion Williamson. and if they cannot build a winner around him, they risk a similar situation that they faced with AD.
Lets hope things go better this time around.
Boston Celtics
I have to mention the Celtics.
Why? Well for starters, everyone else on Twitter did (often in negative fashion), so I have to defend my team!
But in reality, they were the only other team known to be in the market for Davis this offseason.
Everyone likes getting their digs in at Boston, and some of it is for good reason. The notorious "treasure chest of assets" that has been gloated about for years has rarely yielded the types of players via traded that people expect. The team has been tied to the likes of Paul George, Jimmy Butler, Kawhi Leonard, and Anthony Davis, yet the only player they pulled the trigger on (Irving) is about to leave.
However… trading for Butler and George would mean the team does not get Kyrie Irving, and they never have Jaylen Brown and/or Jayson Tatum, and they end up stuck with an injured Isaiah Thomas. If that's the case, they made the right move.
Kawhi might be the true miss here. Would he and Kyrie have been enough to bring Boston a title? I mean on paper, and with how this season went, I think so, but even if this hypothetical deal meant Jaylen Brown and Marcus Smart get traded, would there still be disharmony with players like Terry Rozier on the team? And if they don't win a title, and Kawhi leaves, is Kyrie out the door too?
It would likely be title or bust, but isn't that what this year ultimately became? The only difference is if they don't win a title with Kawhi, they don't have Jaylen Brown or Marcus Smart to reset around, but they also would have had a higher chance of winning a title.
I understand Ainge valuing Brown… just as I understand him valuing Jayson Tatum in a move for Anthony Davis.
Once it became likely Kyrie was leaving, trading for Davis became harder to rationalize. And now, no AD in Boston means Kyrie is all but certain to leave.
The team now has Jayson Tatum and Jaylen Brown to build around, and that's a good position to be in considering they're losing Kyrie Irving.
We don't yet know what those two will become, but we have seen flashes of what they can be the past 2-3 years. They were a key part in Boston getting to the Eastern Conference Finals in 2018, and if they are able to continue to develop, they could be back there soon.
Even if Ainge missed on a year of Kawhi, if Tatum and Brown become stars, he'll look like a genius for keeping them out of trade talks.
For better or worse, it's their team now, and Boston's future hinges on their continued development.
I have faith.
Championship Odds
Here are the current odds of teams winning a championship from Westgate (via the Action Network):
Los Angeles Lakers: +300
Milwaukee Bucks: +600
Los Angeles Clippers: +700
Houston Rockets: +800
Toronto Raptors: +1000
Philadelphia 76ers: +1200
Golden State Warriors: +1200
Boston Celtics: +1600
Denver Nuggets: +1600
Oklahoma City Thunder: +2000
Brooklyn Nets: +2500
————————————
New Orleans Pelicans: +6000
Via the Action Network: An explanation on the odds (above): +350 means a $100 wager would profit $350, while +1000 means a $100 wager would net $1,000
---
The Lakers are now seen as the early favorite to win the championship next season. Now HUGE favorites, but favorites.
The Celtics, even with news of Kyrie likely heading to Brooklyn, have the 8th best odds according to Westgate to win a championship next season. Those will probably change when the news becomes official, but nevertheless, the books believe Boston could be a factor in a wide open NBA next season.
The Pelicans have the 16th best championship odds for next season, tied with the Pacers and Spurs. Not bad for a team that won 33 games this season and will lose Anthony Davis.
---
Follow Nick on Twitter (@Nick_Collins14)