Wow.
Just when you thought there couldn't be any more insanity in this league, it gets more insane. We've seen a plethora of moves thus far that have changed the balance of the NBA. The Western Conference if officially open for grabs, and the Eastern Conference is still a competitive battle.
We are still waiting for a decision from Kawhi Leonard, and wherever he lands, that team will become a Finals contender.
Until then, lets recap the biggest moves of the day.
Big 3 in Brooklyn
The Brooklyn Nets far and away came out of Day 1 of free agency with the biggest talent infusion of anyone in the league.
They added two of the marquee players available in Kevin Durant and Kyrie Irving, and then to cap it off, decided to bring DeAndre Jordan along for the ride.
Obviously we won't know how this group will fit together until Durant returns from a torn achilles, and that might not be for another year. Nevertheless, these moves make Brooklyn much better – even if KD is never peak KD again – and they are the immediate winners of Day 1.
D'Angelo Russell to Golden State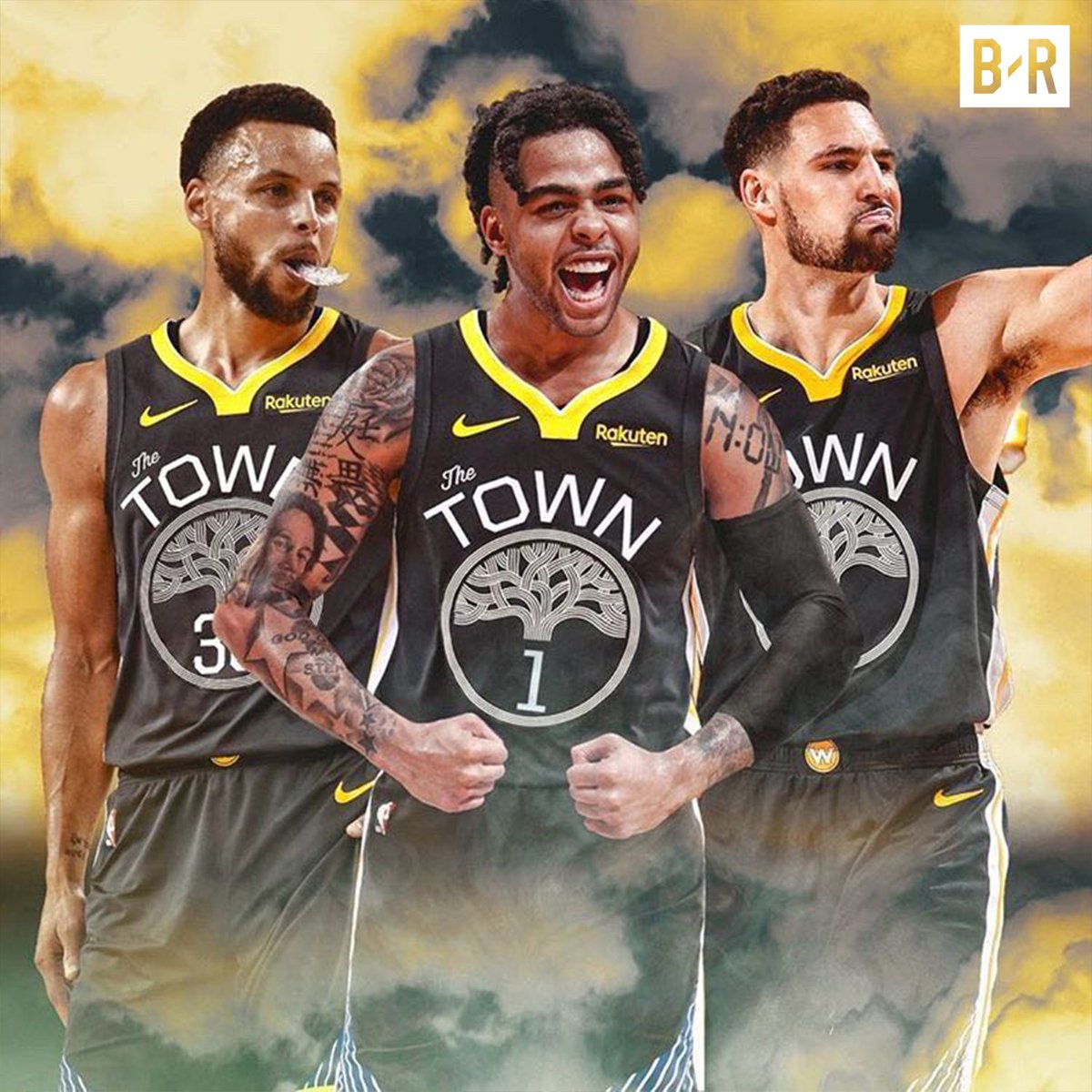 I still cannot believe this actually happened. This is a 2K move if I have ever seen one, but I don't blame the Warriors.
Russell, who was said to have the Timberwolves at the top of his wish list, or if anything was considering the Suns, found a path to Golden State in the wake of the Nets acquiring Kevin Durant.
Golden State makes the best of a bad situation in losing KD, and now has an additional talented point guard on their roster.
Some are speculating Russell will simply fill in for Klay Thompson in the short term, and once Klay returns, Golden State will look to trade him for additional pieces to put around the Splash Brothers. I could see this, as there was a theory the Warriors might sign Durant under the premise of trading him later.
Crazy move, but it's better than nothing for Golden State, so good for them for adjusting on the fly.
Al Horford to Philadelphia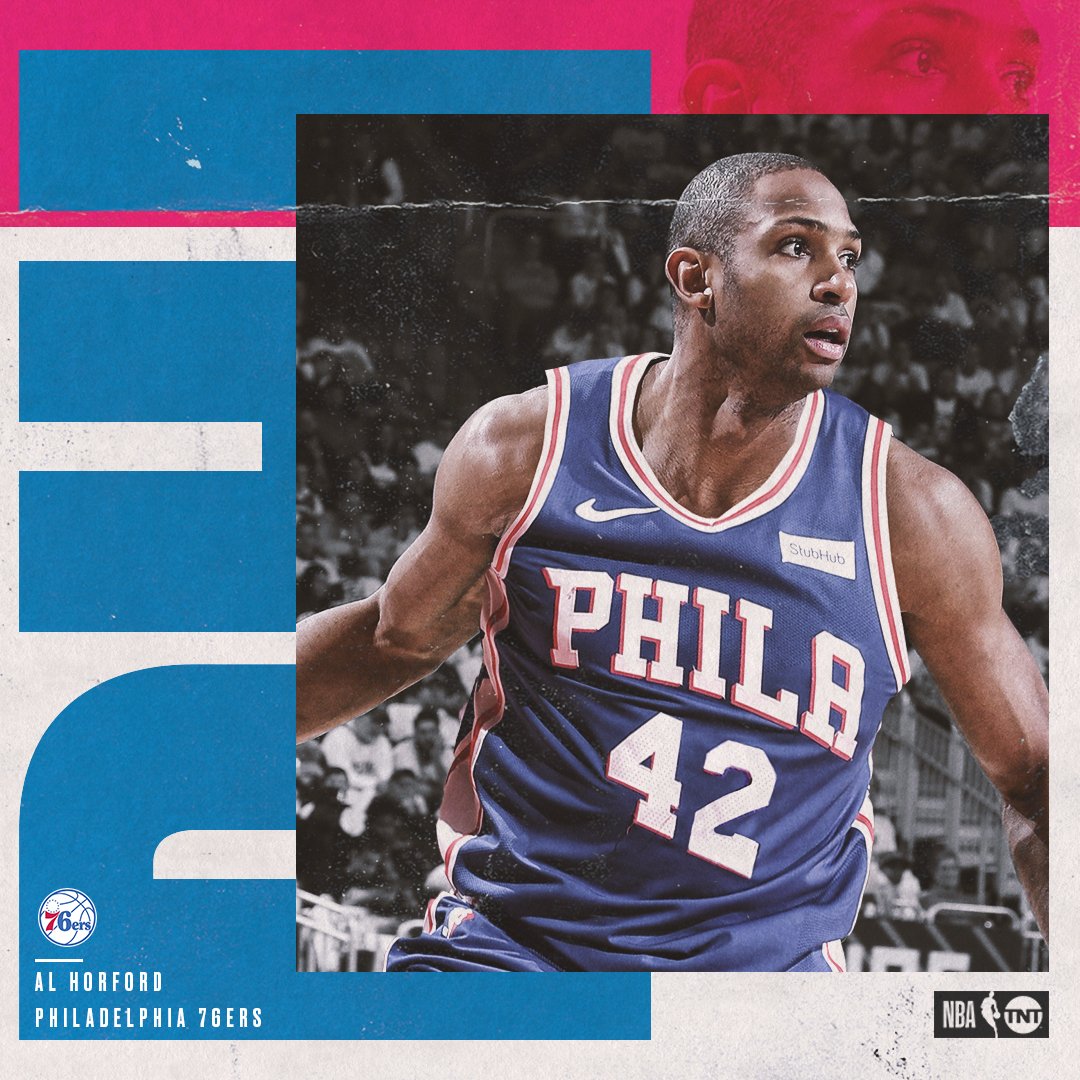 Philadelphia saw their roster composition change a lot yesterday (more on their remaining moves shortly), but the biggest new acquisition was bringing in the former Boston Celtic on a 4-year contract worth $97 million (with a chance to be worth $109 million).
Horford's free agency was shrouded in mystery, and leading up to the start of free agency yesterday, there was lots of noise that moves were being put into place for Boston to bring Al back while still being able to sign Kemba Walker, but it did not happen.
This is brutal for Celtics fans, and great for the Sixers. Philadelphia joins Joel Embiid and Ben Simmons, and should be a great addition in the front court for Embiid. He adds a veteran presence and should help bring stability to the team.
I think the Sixers come out of the day better than they were at the end of last season, and that was on the verge of going to the Conference Finals. But we shall see.
Jimmy Butler to South Beach… probably
Jimmy Butler made it known he wanted to join the Miami Heat, and the wheels are in motion for him to join the team in a sign-and-trade that sends Josh Richardson to the Philadelphia 76ers.
The Heat still need to figure out how to clear some other salary in order to complete this deal, and they have already traded Hassan Whiteside for Moe Harkless and Meyers Leonard to help facilitate it, and will likely need to move Goran Dragic or Kelly Olynyk to finish it.
Nevertheless, it's all but certain.
Butler chose to secure the bag – which is fine – and his presence as the best player on a team in the Eastern Conference is good enough to make the playoffs, so it's not all downhill from here… but it's a step back for him.
Maybe Miami can make moves during the summer of 2021 (2020 looks AWFUL folks, so don't get your hopes up), but for now, it's the low end of the playoff spectrum in the East.
Still better than where they were before, but not good enough.
Kemba Walker bolts for Boston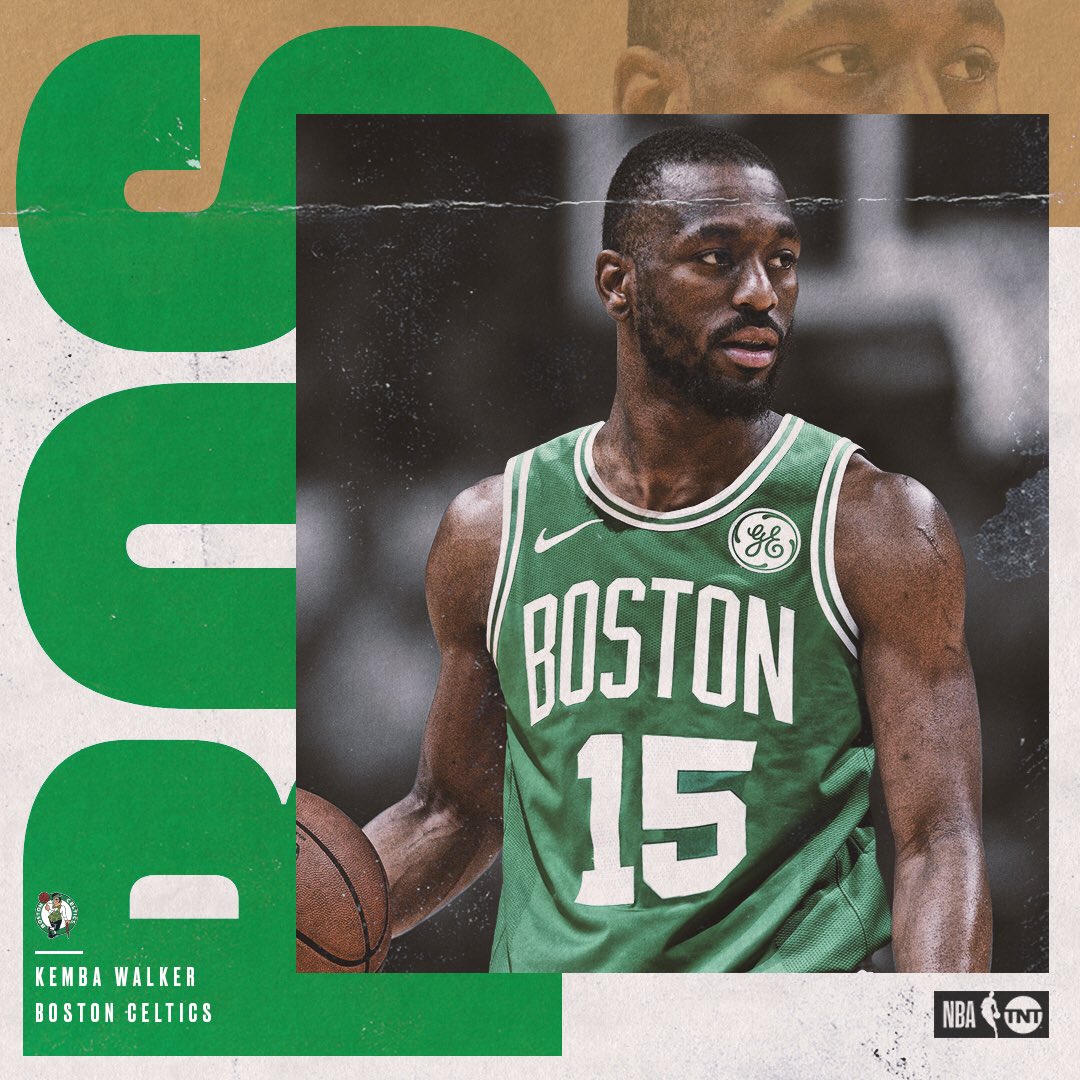 It had been all but wrapped up since late last week, but Kemba Walker is now a Boston Celtic.
He will replace Kyrie Irving, and will join a team now without Al Horford, Marcus Morris, Aron Baynes, and Terry Rozier (who will be going to Charlotte to replace him).
Brad Stevens seems to get the best of point guards, having helped Isaiah Thomas have an All-NBA season in 2017, and Irving this past year, so Kemba should be ecstatic.
Walker told Scott Van Pelt on ESPN this move was to be able to have a chance to compete and win at the highest level, and he'll have a chance to do so more than he ever did in Charlotte. His teammates in Charlotte throughout his career were atrocious, and Jayson Tatum, Jaylen Brown, Marcus Smart and Gordon Hayward will immediately become the best guys he has ever played with in the NBA.
The Celtics saved themselves from a major drop off, and if Kawhi goes out West, they could be the third best team in the conference next year. A huge difference from the dream of having Kyrie and Anthony Davis, but better than it could have been; they deserve some credit for that.
Bojan Bogdanovic joins the Utah Jazz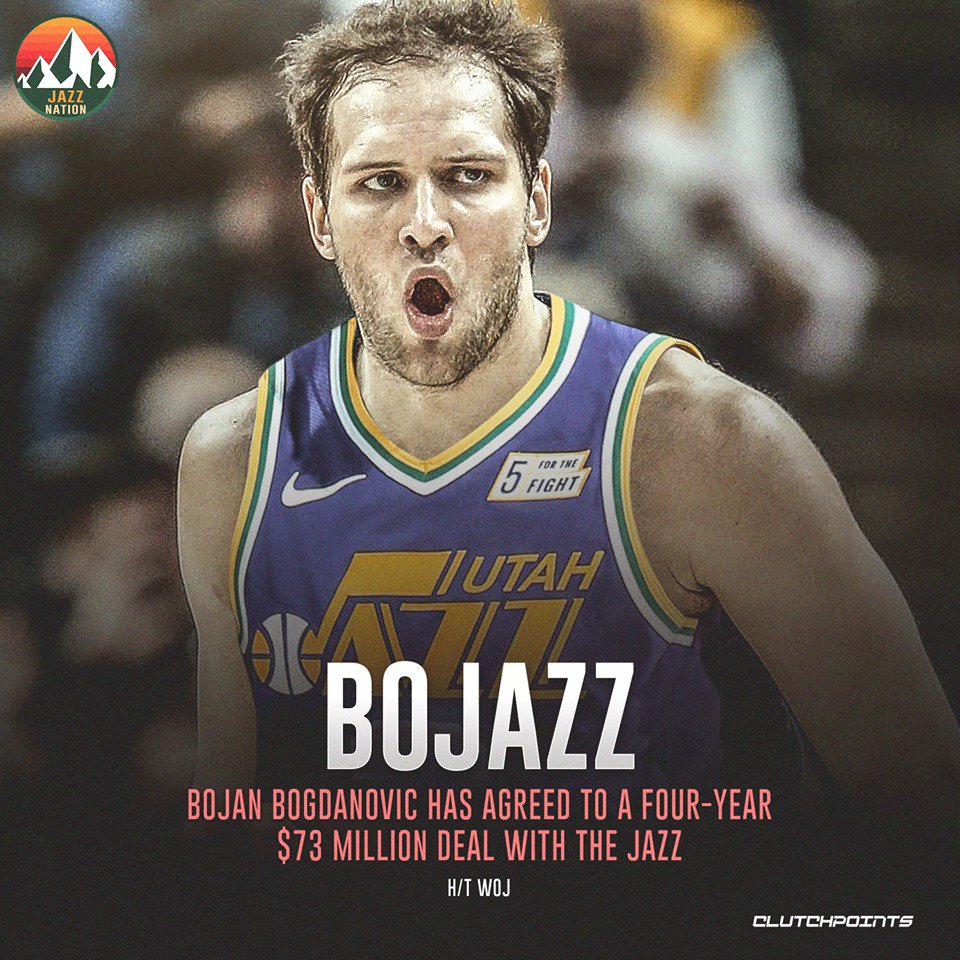 Utah continues to bolster their roster by adding the sharpshooting forward to their roster.
The Jazz can now boast a starting lineup that includes:
Mike Conley Jr. – Donovan Mitchell – Bogdanovic – Joe Ingles – Rudy Gobert
They will have to figure out how to add to their bench in the wake of losing Jae Crowder, Grayson Allen, Kyle Korver and Derrick Favors, but their starting 5 is one of the best in the Western Conference.
If Donovan Mitchell plays at the level he did to finish his sophomore campaign, the Jazz should be in position to make a strong playoff run next season.
Malcolm Brogdon to the Pacers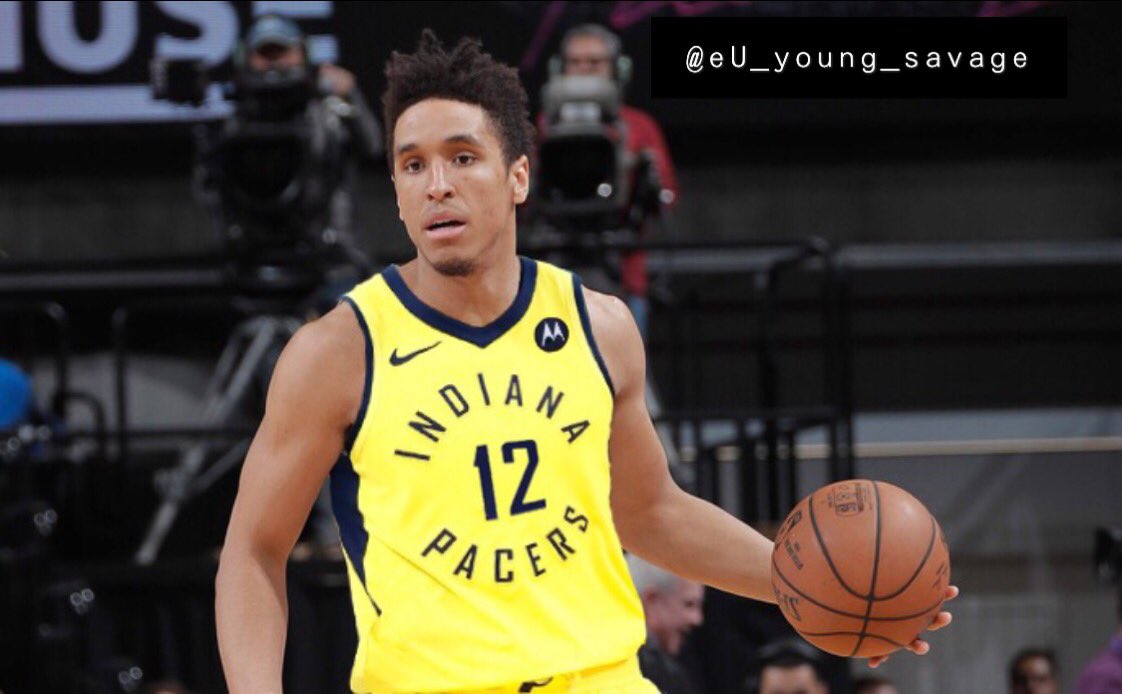 Losing Bogdanovic will sting, but adding Malcolm Brogdon was a great move for Indiana.
Last year, Brogdon was one of the few players in league history to have a 50-40-90 season, and he will surely be a great pairing for Pacers guard Victor Oladipo.
The Pacers will have to wait until the halfway point of next season for Oladipo to return, so I cannot vault them into the top 3 of the conference just yet, but they will be better poised in a playoff run next season than they were the past 2 years.
Indy will also have to adjust to a sudden weakening of their bench due to the banishment of Tyreke Evans, but the signing of Jeremy Lamb helps them there. By the standards of the Eastern Conference, they will still be a good team.
Good day for them.
The Rest
These were the biggest moves of the day in terms of players joining new teams, but other teams were able to retain important free agents.
The Milwaukee Bucks re-signed Khris Middleton and Brook Lopez to long term contracts, helping retain key pieces to their roster from last season. They also signed another Lopez, Robin Lopez, as he and twin Brook will team up for the first time since their days at Stanford.
Tobias Harris re-signed with the Philadelphia 76ers on a 5-year contract worth $180 million, just $10 million short of a full max contract. They lost Butler, but were able to retain a perimeter scorer in Harris, who should benefit from more looks next season.
The New Orleans Pelicans had a solid day filling out their roster, as they signed JJ Reddick, and will acquire Derrick Favors from the Utah Jazz. In the way of Anthony Davis being traded, the Pelicans suddenly boast one of the deepest rosters in the Western Conference. They could be in contention for a playoff spot.
The New York Knicks (sorry Stephen A.) missed out on the biggest names of free agency, but were able to bring in Julius Randle, who had a great year last season with the Pelicans. They also signed Reggie Bullock, Elfred Payton, Wayne Ellington, and Taj Gibson. No deals will commit the Knicks to these players beyond 2020-2021 (Randle has a team option for 2021-2022), meaning they will try to retain cap space for the summer of 2021.
In the wake of acquiring D'Angelo Russell, the Golden State Warriors traded Andre Iguodala to the Memphis Grizzlies. The Warriors needed to shed some salary to make the deal happen, letting go of an integral part of their dynasty.  I doubt he will be there long, and expect him to join a contender after a buyout.
The Dallas Mavericks re-signed Kristaps Porzingis, giving him a max contract. They also re-signed Dwight Powell and J.J. Barea, and brought in old friend Seth Curry. They were at one point in negotiations with the Miami Heat, reportedly bringing in Goran Dragic, and then Kelly Olynyk and Derrick Jones, but talks fell through.
As mentioned above, the Trail Blazers acquired Hassan Whiteside from the Heat, who will fill-in for the injured Jusuf Nurkic. They also retained Rodney Hood on a two-year contract. After having acquired Kent Bazemore from Atlanta for Evan Turner last week, the Blazers have more depth on the perimeter.
The Phoenix Suns signed Rickey Rubio for 3 years and $51 million, finally getting a point guard.
If I missed a move, sorry, it did not move the needle enough for me, either due to the player or the team they signed with (cough, Chicago, cough).
---
Credit to photo above goes to ESPN
Follow Nick on Twitter (@Nick_Collins14)