In the wake of Kawhi Leonard and Paul George joining the Los Angeles Clippers, the Oklahoma City Thunder find themselves at a crossroads.
With George now gone, a premier duo is suddenly broken up, with Russell Wesbtrook left standing in OKC.
This is not the first time Westbrook has been in this position.
He was the last man standing in 2016 after Kevin Durant joined the Golden State Warriors. Trade rumors appeared at the time since Westbrook only had one year remaining on his deal, but the Thunder decided to commit to the then 27-year-old point guard, and each side agreed on an extension. One MVP season later, and after acquiring George, Westbrook signed a supermax contract with OKC.
But now we are in 2019, and Westbrook is 30.
The soonest they would have cap space is the summer of 2021, when Russ would be 32, and with his vicious playing style, he could be facing the prospect of a decline to his career.
The Thunder have a ton of draft pick capital after trading George, but the team seems to be better off trading Westbrook and entering a full rebuild.
And they are already considering this option.
Westbrook and his agent have discussed a trade with the front office of OKC already, and I expect to see him moved in the coming weeks.
Thus far, the teams connected to Westbrook are the Rockets, Heat, and Pistons, but that number will surely be larger.
Who's in the race?
Based on the report above, we can put three teams in the running.
After that, you have to consider the teams already set at point guard.
This eliminates the Warriors, Trail Blazers, Sixers, Nets, Celtics, Jazz, Nuggets, Hornets, Kings, Wizards, Suns, and Grizzlies.
Then you have teams are rebuilding and would likely not bring in Westbrook at this time: Hawks, Cavs, Mavericks, and Pelicans.
That narrows it down to 13 teams.
Then you have rosters that are pretty much all set. The Lakers, Clippers, Pacers, Bucks, and Raptors.
This leaves 8 teams:
Houston, Miami, Detroit, Chicago, Orlando, New York, Minnesota, and San Antonio
What's the case for each team making this trade?
Trade proposals created using ESPN's NBA Trade Machine
New York Knicks
I wanted this to work, it would be so funny, but the Knicks do not have a path to make a deal.
If they had kept more cap space open, they could have taken in Westbrook's contract, but after using all their space on short term contracts, they took something like that off the table.
I don't see a trade happening mid-season, so sorry folks, it can't happen this year.
Houston Rockets
Already said to be a "long shot," this would be a fascinating move for Houston.
The Rockets are known for considering any move that could add star talent, and this is no different. However, in order to make this deal work, they would either have to explore similar avenues that they were for acquiring Jimmy Butler (extremely complicated financially now), or make a swap of Westbrook for Chris Paul.
The latter makes no sense for the Thunder, putting them back in the same position as before, but with an older point guard. Maybe the Rockets attach a bunch of draft picks, who knows.
Don't expect a three team deal with Paul moving, because no one wanted Paul as of a few weeks ago.
Maybe, but I don't see it happening here.
Chicago Bulls
The Bulls are in a rebuild, and have young players at the guard position in Colby White, Kris Dunn, and Zach LaVine, so on the surface, the fit is not there.
However, if they wanted to take a swing at Russ and pair him with Lauri Markkanen and Wendell Carter, they could trade LaVine and Otto Porter for Westbrook and Andre Roberson.
This would be an alteration of plans, but if Chicago is looking to make the playoffs in the present, and thinks 3-4 years of Westbrook gives the team a higher ceiling than 3-4 years of Porter and LaVine, maybe they take the risk.
It wouldn't make sense, but other teams have done crazier things.
San Antonio Spurs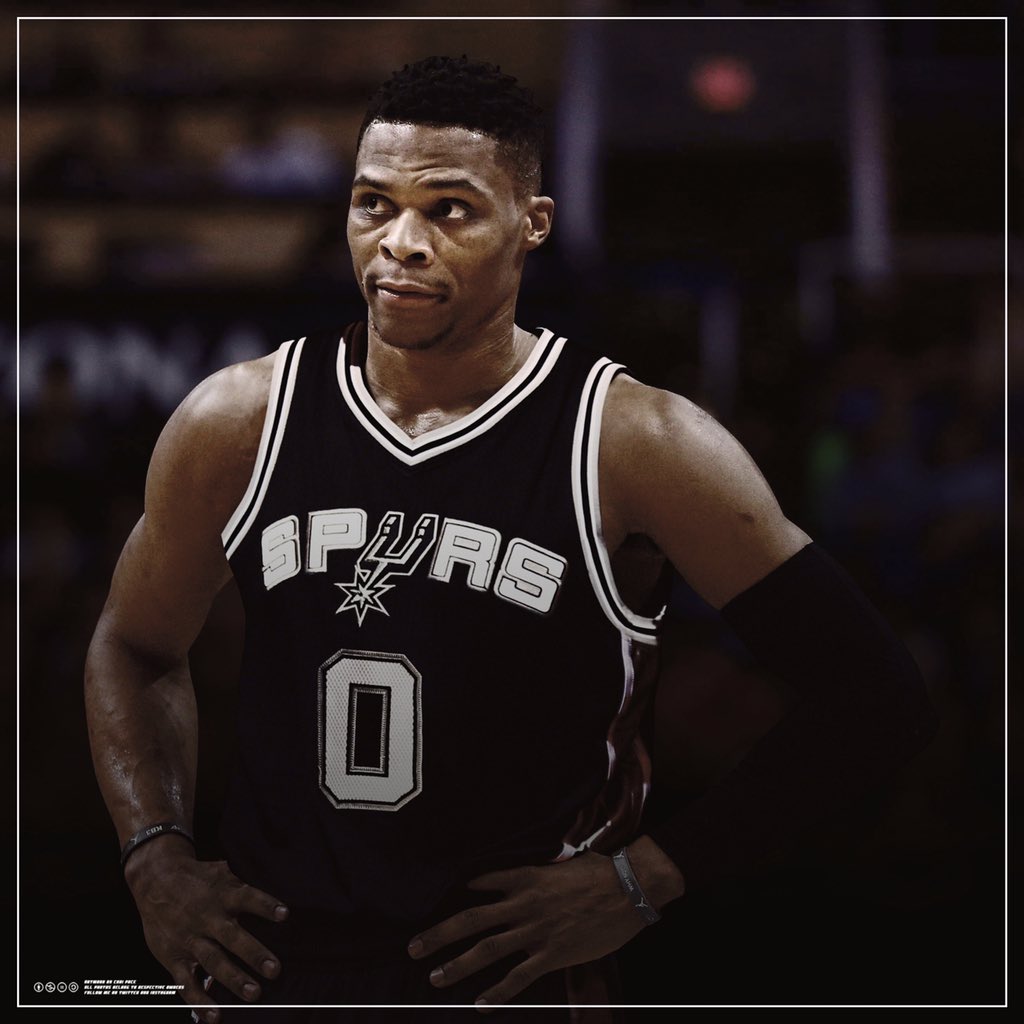 The Spurs already have two point guards in Derrick White and Dejounte Murray that are staring caliber and will be looking for minutes. However, after acquiring DeMar DeRozen in the Kawhi Leonard trade, the team showed they don't want to go full rebuild.
If that's the case, why not try to get Russ?
It would have to take one of DeRozen or LaMarcus Aldridge to get this deal done, and if I were OKC, I would want Aldridge because if he is waived prior to June 29, 2020, only $7 million of his contract is guaranteed. However, he was an All-Star last season, and I cannot see the Spurs wanting to part with him.
Lets call it DeMar DeRozen and Marco Belinelli for Westbrook.
The Thunder could try to trade DeRozen later, and he'd probably have more value, but it keeps them somewhat relevant.
The Spurs would have a starting lineup of Westbrook, White/Murray, Marcus Morris, Aldridge, and Jakob Poeltl.
It might push their ceiling up in the short term, giving Popovich a more talented player to work with, but it wouldn't put them in contention in the West.
This depends what the Spurs see their future as, but I don't see it happening.
Orlando Magic
This might have made a bit more sense before the team cut Timofey Mozgov and his large contract, but now a path to a deal becomes a bit more difficult.
If the Magic were willing to part with young forward Aaron Gordon, they could package him with Evan Fournier for Westbrook. The team could then start Westbrook, Terrence Ross, Al-Farouq Aminu, Jonathan Isaac, and Nikola Vucevic.
Orlando made the playoffs last season, but they probably don't have a ceiling much higher than that right now. In the East, Westbrook would guarantee a playoff birth, and possibly give the team a chance at making the second round. They certainly aren't adding a talent like Russ anytime soon.
It's not the worst option for a team in NBA purgatory, and maybe after a few seasons they can try to do a rebuild the right way.
They should consider it.
Detroit Pistons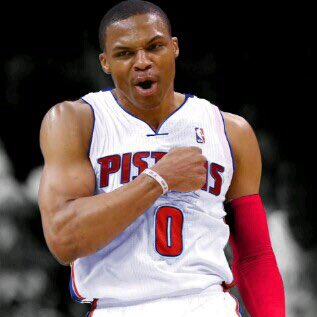 Consider the logic just used for the Magic to make this deal and apply it to Detroit.
A trade of Reggie Jackson,Tony Snell, and Sviatoslav Mykhailiuk for Westbrook works financially. Add in some picks to sweeten the deal if you're Detroit, and it's possible.
This would give the Thunder two mid-sized contracts in Jackson and Snell that come off the books sooner than Westbrook's. Jackson was a former member of the Thunder, and would be a step back, but would allow the team to go all-in on a rebuild.
The Pistons could roll out a lineup with Westbrook, Bruce Brown, Sekou Doumbouya, Blake Griffin, and Andre Drummond.
This would be similar to how the team got Blake Griffin in 2018, and they should capitalize on Westbrook being available.
Griffin is coming off of a strong season, and adding Westbrook would give Detroit their best chance at doing anything in the playoffs in the years to come.
Once again, why not, go for it Detroit.
Minnesota Timberwolves
I genuinely think the Wolves should consider this.
Russell Westbrook for Andrew Wiggins and Gorgui Dieng.
The Thunder would get a similarly bad contract in Wiggins, but maybe some draft picks would make getting the 24-year-old worth it.
The deal would then give Minnesota a starting lineup of Westbrook, Josh Okogie, Robert Covington, Jordan Bell, and Karl-Anthony Towns.
The Wolves were looking to add D'Angelo Russell in free agency, and were ready to move the contract of Andrew Wiggins to do so.
Westbrook would only give Minnesota a short window, but he'd be an upgrade over Wiggins in that time.
The team has a path to salary space in 2021, but Minnesota isn't exactly a destination, even with Towns. This might be the team's best chance of putting talent around Towns unless they can trade for D'Angelo Russell next offseason (not impossible).
I want to see KAT have a chance to do well, and this is an opportunity. I'd put Orlando and Detroit ahead of Minnesota in terms of likelihood of making a deal, but I'm not ruling it out as long as Wiggins and Dieng are on the books.
Miami Heat
This has to happen, right?
Just imagine Jimmy Butler and Russell Westbrook as teammates. It's a dream.
The team has already considered trying to acquire Bradley Beal, and taking on John Wall's contract in the process! Why not Russ!?
Goran Dragic and Kelly Olynyk for Westbrook works financially.
This might not be enough of a return for the Thunder, but Dragic's contract would expire after next season, and then they would have Olynyk through 2021 (player option in 2020). They could also try to exert future draft picks (or Justice Winslow instead of Olynyk) to sweeten the offer.
The Heat would then be able to start Westbrook, Dion Waiters, Jimmy Butler, James Johnson, and Bam Adebayo.
This could make Miami a top 4 seed in the East next season.
The Heat are gonna be strapped financially for awhile, meaning limited paths to adding talent. Unless taking on Beal and Wall is more appealing, this would be the best option for them…
And I think it'd give them the highest ceiling of any team to acquire Westbrook.
Do it Miami.
---
Credit to the photo above goes to Al Bello of Getty Images
Follow Nick on Twitter (@Nick_Collins14)