Over the past few days we saw an end to Russell Westbrook's career in Oklahoma City.
For a few days, he technically held the title as the longest tenured active player to be with one team their entire career (unless you count Udonis Haslem, who has been with the Heat since 2003, but is not under not under contract and is contemplating retirement).
This is a far cry from what we had become accustomed to with the previous generation of NBA stars.
The recently retired Dirk Nowitzki played his entire career with the Dallas Mavericks for an NBA record 21 seasons.
Kobe Bryant played 20 seasons with the Lakers; Tim Duncan played 19 seasons with the Spurs; Manu Ginobili played 16 seasons with the Spurs.
Other players are mostly connected to one team as well.
Tony Parker played the first 17 seasons of his career in San Antonio. Paul Pierce played the first 15 seasons of his career in Boston; Dwyane Wade played the first 13 seasons of his career in Miami; Kevin Garnett played the first 12 seasons of his career in Minnesota.
Westbrook is not the only player who parted with the only team he has known his entire career this offseason.
Mike Conley Jr. played the first 12 seasons of his career in Memphis before he was traded to Utah. His former teammate Marc Gasol played over 10 seasons in Memphis before he was traded to Toronto in February.
My point: players are moving to new teams at a lightning quick pace.
Player movement is not a new concept. Great players such as Kareem Abdul-Jabbar, Wilt Chamberlain, Shaquille O'Neal, Moses Malone and Charles Barkley moved to new teams during the primes of their careers. Michael Jordan, Patrick Ewing, Hakeem Olajuwon, Karl Malone, and Scottie Pippen played for new teams at the back-end of their careers.
Yet, it pales in comparison to today's stars.
Today's Longest-Tenured Players with One Team
When the 2019-2020 season begins, only one player will be able they have played for one team in the NBA their entire career for a decade: Steph Curry.
John Wall will be entering his 10th season in the NBA next season, and unless he is traded between now and the NBA trade deadline in 2020 (not impossible given the state of the Wizards), he'll join that distinction at the end of 2020.
Here's who's below Wall:
Tristan Thompson – 8 seasons in Cleveland
Klay Thopmson – 8 seasons in Golden State
Bradley Beal – 7 seasons in Washington
Damian Lillard – 7 seasons in Portland
Andre Drummond – 7 seasons in Detroit
Draymond Green – 7 seasons in Golden State
---
Two players listed here are under contact beyond 2021: Klay Thompson and Damian Lillard
Beal has two seasons left on his contract, but has been considered a trade possibility for months.
Drummond has a player option for 2020-2021, and could be one of the premier free agents next summer if he declines it.
Draymond Green and Tristan Thompson will be free agents next summer.
Contractually, we know for certain Klay and Dame could be employed by their current teams for over 10 seasons, but that's it.
When Kevin Durant left the Thunder in 2016, Russell Wesbrook became the topic of trade rumors, but OKC soon committed to him. He eventually signed a supermax extension, and looked to be set to be with the team for a long time.
3 years later, he's gone.
Things change in the NBA quickly. A recent Summer League broadcast mentioned that only 7 of the 24 All-Stars from the 2017 game are still with the same team today.
That is insane.
Go back to 2013, and it's only one player (James Harden).
No player is safe from being moved due to ever-changing circumstances. Even if you're LeBron James, Kevin Durant, or Kawhi Leonard and are winning at the highest level, you may decide to change your circumstances.
No one is safe.
Looking Forward
I am not opposed to player movement.
I think it keeps the league extremely interesting and teams on their toes.
However, there will be a day in the not so distant future where small market teams will be fed up with the amount of movement seen in today's NBA.
With a larger than normal chunk of the best players in the NBA in Los Angeles and New York, how are teams like OKC, New Orleans, Cleveland, etc. to compete with geography, even if those teams fail so many times, yet can just open up cap space and the allure of marketing and/or warm weather (cough, Lakers, cough, Knicks)?
Anyway, I think we have a chance to see some players that are the faces of the current generation of the NBA play their entire careers with one team.
Here are the best bets.
The Splash Brothers in Golden State
Klay Thompson is lucky to still be in Golden State.
During the 2014 offseason, Kevin Love was one of the top players on the verge of being moved, and he was connected to Golden State.
A deal almost came to fruition, but Jerry West stepped in and vetoed it.
Love ended up in Cleveland, Thompson signed a 4-year extension with Golden State, and helped the Warriors reach the Finals for the next 5 seasons, winning 3 championships in the process.
A fixture in Golden State, yet a dynasty almost never happened because of a win-now and at all costs culture.
Anyway, Steph Curry (31) and Thompson (29) have been teammates since 2011.
Steph is under contract through 2022, at which point he will be 34 and have played 13 seasons in the NBA.
Klay just signed a new contract, which keeps him in Golden State through 2024.
The Warriors, in conjunction with LeBron James' tenures in Cleveland and Miami, will be considered the team of the 2010s.
Steph is still a top player in the NBA, and Klay Thompson (yes, injured) is still in his prime, and should be a main reason why the Warriors compete in the years to come, years that will not include Kevin Durant.
Golden State boasts a market that rivals Los Angels and New York, and players will surely be positioning themselves to play with the Warriors in the future.
There could be a day towards the end of Steph or Klay's deals where the team thinks they have passed their primes and decides to move them, but that day is not anytime soon. And with their style of play, they should be able to age gracefully in the modern NBA.
If their next contracts are softer on the back accounts of Warriors ownership, this one becomes much more likely.
Dame and CJ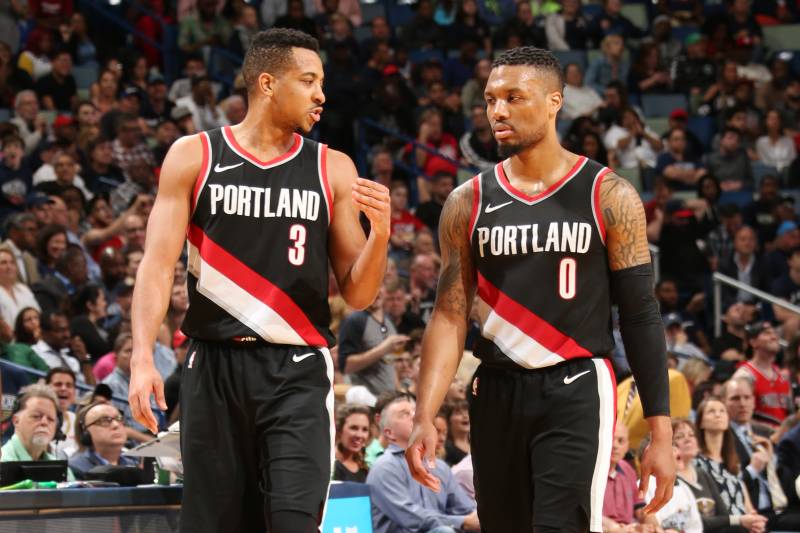 We have commonly seen trade rumors about Dame or CJ being moved for another piece to help the Trail Blazers, but that has yet to happen.
Lillard (28) and McCollum (27) just led the Trail Blazers to the Western Conference Finals, and with both players in their primes, they should remain in contention for a strong playoff run in the short term.
Lillard signed a supermax extension this offseason, and is under contract with the Trail Blazers through 2025.
McCollum only has two seasons left on his contract, but will be eligible for an extension next offseason. If next season goes well, Portland will be happy to pay him.
This one is less of a certainty, because if Portland doesn't believe they can win a title with Dame and CJ, they could decide to break up the duo before McCollum's free agency in 2021, or McCollum could pursue a new start elsewhere.
However, this duo seems to have a special relationship. That doesn't mean they're immune to changing teams, as LeBron James left his close friend Dwyane Wade in 2014, but I believe they'll stick together.
Dame won't leave anytime soon, and he has put his money where his mouth is in regards to that subject (or Portland has), so this technically comes down to McCollum.
I hope they stick together.
Giannis in Milwaukee
This could be hit or miss.
Giannis is coming off of an MVP season, and at the age of 24, is not going anywhere.
The Bucks won 60 games last season, and should be in contention yet again next year.
Giannis has said he is a lowkey type of person and loves the city of Milwaukee. I am sure he means it, and Milwaukee loves him too, but we have heard this before.
He'll be a free agent in 2021, and if he has not yet won a championship, we'll begin to hear the same things we heard about LeBron James and Kevin Durant. He'll be faced with a decision that will effect his legacy. Will he commit longterm to a future in Milwaukee where he might not win a title, and not propel himself into the discussion of the best of the best in league history, or will he move to a team loaded with cap space and a young core that can support his pursuit of a ring?
There are already rumors connecting him to the Knicks.
Articles have been written about how the Warriors can strip down their roster to only include Steph and Klay, and then bring Giannis into the fold.
Could Miami clear up enough cap space by 2021? Could a core of Porzingis and Donic persuade Giannis to join the Mavericks in two years? Could Atlanta be ready to compete with one more piece by then?
Giannis could very well sign a 5-year max contract and this becomes null and void… or he decides to leave, and suddenly another smaller market team that did everything right and everything it could to win and keep it's star will lose.
For better or worse, that's the reality of today's NBA.
---
Credit to photo above goes to Mark J. Rebilas of USA TODAY Sports
Follow Nick on Twitter (@Nick_Collins14)