In a whirlwind offseason, the superteams we have become accustomed to seemed to have vanished.
At this time, either directly or indirectly, there seems to be a new path to roster construction.
Powerful duos are all the rage.
Sure, the Warriors still boast a great third player in Draymond Green, and the Sixers have a strong staring 5 which includes their third and fourth best players making over $24 million per year, but they seem to be exceptions to the current reality.
We aren't that far removed from the days of the Warriors and Cavaliars boasting Big 3s. The Clippers formerly had one of their own. The Spurs had an aging Big 3, but one that had won them multiple championships. The Heat won 2 championships with a powerful Big 3. The Celtics of course had a Big 3 for 5 seasons. Attempts were made in OKC with Russell Westbrook, Paul George, and Carmelo Anthony. The Celtics tried again with Kyrie Irving, Gordon Hayward, and Al Horford.
That NBA is over, or at least on pause.
Today, the path to success will go through which duo, and their fellow supporting cast, can beat all others.
I, for one, cannot wait to see this new chapter in the league.
Here are my favorites.
---
Honorable Mentions
De'Aaron Fox/Buddy Hield –  Hield finished 7th all-time in threes made in one season last year, and Fox finished 3rd for Most Improved Player. Hield might be replaced with Bagley in this duo eventually, but for now, he and Fox will be fun to watch.
Bradley Beal/John Wall – it's to be determined if we ever see this duo play again, but since 2012 they have been one of the better backcourts in the NBA. Although they seem to leave us wanting more, Beal is still a great three point shooter, and when Wall his healthy, he is one of the better facilitators in the league.
LaMarcus Aldridge/DeMar DeRozan – Aldridge, even at 33, may have had the best season of his career last year. Year 1 in San Antonio was a bit of a step back for DeRozan, but he could still get better under Pop. Not the Kawhi/LMA duo San Antonio fans had before, but better than nothing.
Kemba Walker/Jayson Tatum – these two have yet to play a game together, but Boston's future will hinge on how good both can be moving forward. Can Tatum reach another level to compliment, and hopefully surpass, Walker? Will they be good enough for long enough for Boston to succeed? That's the hope.
Luka Doncic/Kristaps Porzingis – Doncic (20) and Porzingis (23) are set to be the faces of the Mavericks for years to come. We saw how talented Doncic was a year ago, and before his injury, Porzingis was scoring almost 23 PPG. If they reach their potential, they'll be in the top 10 very soon.
---
10. Donovan Mitchell & Rudy Gobert
Games played together: 148
---
The past 2 seasons in Utah have seen the Jazz carried by the offense of Donovan Mitchell, and the defense of Rudy Gobert. Old school and prone to be exposed, Gobert is still one of the better centers in the NBA. Mitchell is a star in the making, and has already shown he can be the featured act on a Western Conference team. With reinforcements coming to Salt Lake City, this team should be set for a deep playoff run.
9. Nikola Jokic & Jamal Murray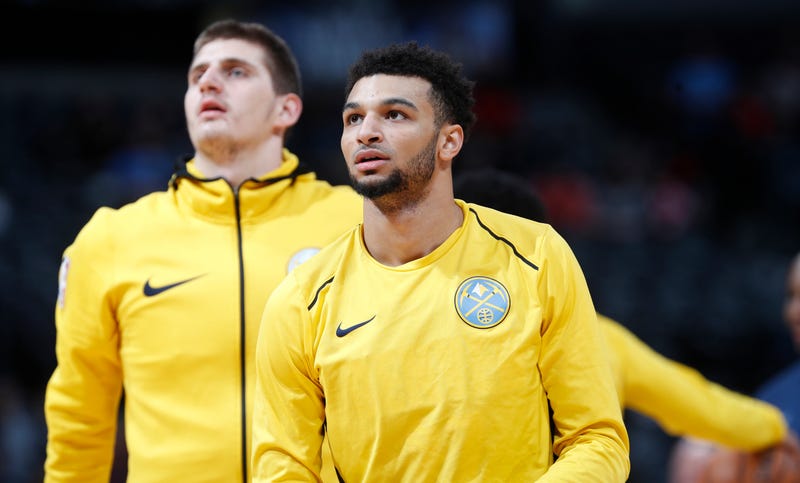 Games played together: 235
---
Jokic and Murray have been teammates since 2016, and last season they were able to bring Denver to the playoffs for the first time since 2013. They also won a playoff series, something Denver had not accomplished since 2009. Jokic (24) is under contract through 2023, and Murray (22) is under contract through 2025, meaning this should be together for at least 4 more seasons. Assuming they build off of their success from last season, they should be moving up soon, and a featured duo for years to come.
8. Giannis Antetokounmpo & Khris Middleton
Games played together: 439
---
Giannis is a top 5 player in the NBA right now (at minimum), and Khris Middleton is coming off of an All-Star season. They helped lead the Bucks to 60 wins last season, and each is still at a point of their career where they can improve even more. Middleton may be one of the weaker members of a top duo in the league, but that hasn't stopped him, nor Giannis, from being able to succeed.
7. Joel Embiid & Ben Simmons
Games played together: 143
---
The Process was definitely not perfect, but it did yield two great players in Joel Embiid and Ben Simmons. Last season, Embiid continued to assert himself as one of the top big men in the NBA, while Simmons continued to show his talents as a playmaker and defender. They may have the highest ceiling of any duo here if each can reach their full potential, but that is easier said that done. There is still work to be done for each, but after leading the Sixers to the second round to years in a row, they have build enough credibility to be respected as one of the best duos in the league.
6. Damian Lillard & C.J. McCollum
Games played together: 438
---
Lillard and McCollum have been teammates since 2013, but we didn't begin to see them be the driving force of the Trail Blazers until 2015. They won a playoff series in 2016, but were swept the two postseasons after, making many doubt if they were up to the challenge. However, last season saw Portland reach the Conference Finals. Although they were swept, it showed Lillard and McCollum can be a driving force behind a team in the West. With the conference more open this season, they have a chance to come back for more and really show the league what they're about.
5. James Harden & Russell Westbrook
Games played together: 263
---
Two old friends back together after years apart. Westbrook and Harden were teammates from 2009 to 2012, and along with Kevin Durant and others, they led the Thunder to the NBA Finals in 2012. That was a long time ago, and a lot has changed, but Harden and Westbrook are still very talented players. If they can learn to play together and maximize each other's strengths, they have a shot to each win their first championship. It's not going to be easy, but they don't have a lot of other options at this point.
4. Kevin Durant & Kyrie Irving
Gmaes played together: none
---
On paper this is a premier duo, but I have to move it down a spot because we simply don't know what Kevin Durant will look like when he comes back. I'll give them the benefit of the doubt and place them here for now. Irving is in his prime, so even if Durant comes back and is 80% of the player he was before, they'd still be one of the best duos in the league. Brooklyn bet it's future on Kyrie and KD being able to flourish together, but they also know it's not often players this good come knocking at the door; they just have to hope they can be as good as they have been once they each suit up for them.
3. Steph Curry & Klay Thompson
Games played together: 636
---
Curry and Thompson are perhaps the longest-tenured duo in the NBA, and certainly one of the most accomplished. Since 2011, they have won 3 NBA Championships, and made the Finals 5 times. They have shattered the NBA record books with their three-point shooting, and have changed the way the game is played. Thompson suffered a devastating injury like his former teammate Kevin Durant, but he is two years younger, and a torn ACL is easier to fully recover from than a torn achilles. Nevertheless, Steph and Klay have won a championship as the two best players on their team (something no one on this list can say), and have won as the second and third best players another two times. Even if they aren't the best duo today, they have more to show together than anyone else.
2. LeBron James & Anthony Davis
Games played together: none
---
LeBron James is 34 years old, yet when he played last season, he was still putting up elite numbers. Pair that with Anthony Davis, who prior to his injury in January, and subsequent trade request, was putting up historic numbers of his own, and you have the recipe for an elite duo. Davis is entering his prime, and very well might see himself become the best player in the league in the years to come. James has held that mantle for most of his career, and is still a force to be reckoned with. As long as James can beat father time, these duo should do very well together, and if all goes to plan, add to their trophy cases in the next few years.
1. Kawhi Leonard & Paul George
Games played together: none
---
Paul George finished 3rd in MVP voting last season, and Kawhi Leonard had a historic playoff run that culminated in a Finals MVP. Each player is in their prime, and each is "back home" in Southern California. You could say there are some redundancies in their games, but in the modern NBA, you can never have enough wings. When your team can say they boast the two best two way players in the entire league, then you aren't complaining. It took a lot to get Leonard and George together, but if all goes to plan, it should be worth it. The Clippers knew what they were doing, and now, could be on the brink of becoming champions. What it do, baby.
---
Games played together includes regular season and postseason
Follow Nick on Twitter (@Nick_Collins14)