What if I told you there were plenty of sports stories yet to be told.
In a short time, 30 for 30 movies have become part of our sports culture.
Any drama-filled headline, heartbreaking story, impossible comeback, or anything in-between, is typically deemed worthy of a cinematic presentation.
We've gotten amazing films such as June 17, 1994, Celtics/Lakers: Best of Enemies, The U, and more.
However, the world is always moving, and sometimes things are missed along the way.
Here are some stories that have yet to be covered by the people at ESPN, and would be great to watch.
Bill Belichick and Tom Brady's relationship
"Who's more responsible for the Patriots dynasty: Bill Belichick or Tom Brady?"
It's a question Patriots fans are bombarded with every waking moment, and seems to be bait for starting a pointless debate to pit one against the other.
Nevertheless, these two are at the heart of one of the greatest dynasties we have ever seen in sports.
Spygate, Deflategate, Aaron Hernandez, Jimmy Garoppolo, benching Malcolm Butler, contracts, the stories that have surrounded this team over the years are numerous, yet no matter what happens, 33% of the time each is holding the Vince Lombardi Trophy at the end of the season.
How did this relationship truly work over the years, what did the good and bad look like… could we ever get a glimpse into the most successful partnership in sports?
We already got one with Belichick and Parcells…
The rise and fall (and aftermath) of Tiger Woods
There was a time when Tiger Woods was one of the most respected and well-thought-of athletes in all of sports.
With 14 major championships from 1997 to 2008, with runs of truly unmatched dominance in-between, Tiger Woods helped put golf on the map.
Numerous advertisements, a seemingly happy life and marriage… then it came crashing down due to his numerous extramarital affairs being made public in late 2009.
In the aftermath of an injury he had suffered in 2008, in conjunction with this scandal, Woods' career took a huge downfall.
Rehab, bad outings (with blimps of close finishes), and before you knew it, Woods was no longer the top player in the sport, and had not won a major in years.
It was a drought that lasted until the 2019 Masters, but put a pause on what everyone had thought would be Woods taking over the record for most majors in the history of the sport.
Will he ever be able to do so now?
The story of Colin Kaepernick
Kaepernick (right) is an extremely controversial figure, but his impact on the NFL and social justice cannot be understated (Credit: Michael Zagaris/Getty Images)
Love him or hate him, but Colin Kaepernick is an important figure in sports, and our country, who's story is worth discussing.
From becoming the starting QB of the San Francisco 49ers in 2012 and bringing them to the brink of a Super Bowl, to using his platform as a way to shed a light on police brutality in this country, and his continued absence from the NFL.
However you may feel about him, the trajectory of his career has been fascinating, and this would give us a platform into his career, his decisions, and the ripple effect it has had in politics, others protesting, and the new NFL partnership with Jay-Z.
It would be a bold project, one I genuinely am not sure ESPN would tackle (at least not in 2019), but one I, and many, would enjoy to see covered.
The life and death of Jose Fernandez
Jose Fernandez was a charismatic figure, and a hell of a pitcher.
Fernandez had a tremendous rookie season in 2013, going 12-6 with a 2.19 ERA, winning NL Rookie of the Year and finishing 3rd in NL Cy Young voting.
His 2014 season was cut short in 2014 due to Tommy John surgery, and he only pitched in part of 2015.
During his second full season in 2016, the 23-year-old was 16-8 with a 2.86 ERA (and 253 K's). In his last outing, he pitched 8 shutout innings and struck out 12 batters.
On September 26, 2016, he was involved in a boat crash, and died as a result of the injuries he sustained.
The incident itself has become controversial due to the alleged condition Fernandez was in, but nevertheless, a phenomenal pitcher, one from Cuba I might add, was taken away far too soon.
LeBron James' second stint in Cleveland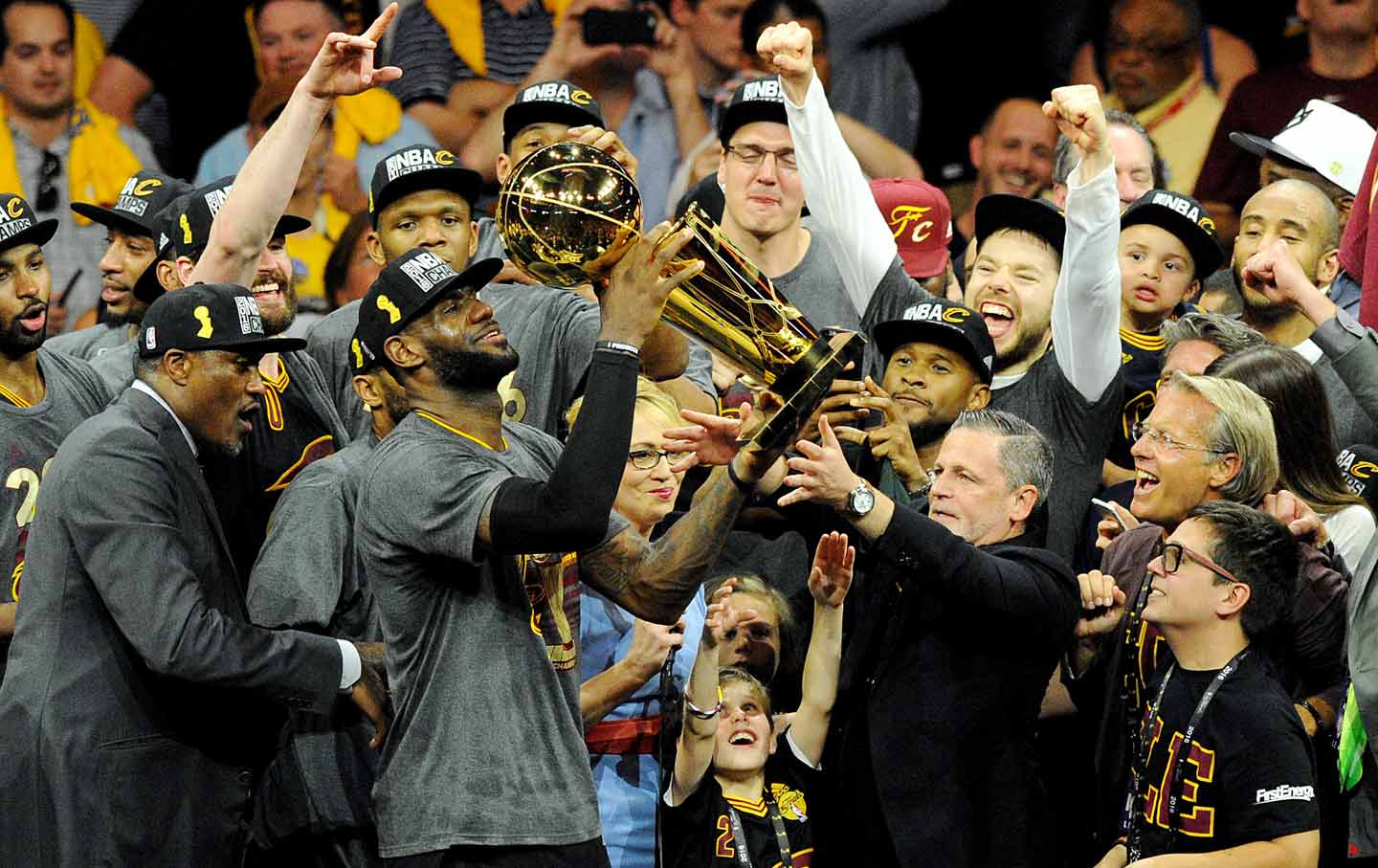 The hometown kid who was meant to make Cleveland a perennial winner from day 1… only is wasn't that simple
Tasked as the heir to Michael Jordan, he was supposed to win quickly and often, which did not happen his first 7 years in Cleveland. He left to form the Big 3 in Miami, but 4 years (and 2 rings) later, he came back home, with the mission of winning a title.
James lost his 2 best player during the 2015 playoffs, and the Cavs were no match for the Warriors in 2015.
A year later, Golden State went 73-9, and again made the Finals, facing LeBron & co. They took a 3-1 lead, but became the first team in Finals history to go on to lose the series after doing so. This comeback led to LeBron completing his mission.
Even after this title, we've heard Kyrie Irving wanted out right away and former GM David Griffin hated it there. The teams over the years included J.R. Smith, Tristan Thompson, Isaiah Thomas, Dwyane Wade, and Derrick Rose.
There was a chance to get Paul George and Eric Bledsoe, Kyrie finally asking for a trade and ultimately leaving, Griffin leaving as well, the firing of David Blatt, and more.
Just how toxic was it, and was LeBron to blame?
I'm curious.
The 2016 Chicago Cubs
The Cubs winning it all in 2016 capped off a 3-1 comeback in the 2016 World Series, and the end of a 108-year championship drought.
The Cubs had been known as lovable losers forever, and whenever they would get close to success, they could never win (see: Steve Bartmen).
However, after the fall of the 2011 Boston Red Sox, Theo Epstein became the president of the Cubs, taking over the reigns of baseball operations.
During Epstein's first 3 seasons, the team won 61, 66, and 73 games respectively, tearing down the team in the process and started from scratch.
They won 97 games in 2015, and now had Joe Madden as their manager, and a young core to go along with veterans such as Jon Lester, John Lackey, Ben Zobrist, Jason Heyward, and David Ross.
In 2016, they won their division, won the NLDS in 4 games, then the NLCS in 6 games after being down 2-1, reaching the World Series for the first time since 1945.
They faced the Cleveland Indians, who had their own championship drought, and fell down 3 games to 1. They rallied back and went on to win, capping off a tremendous season.
Urban Meyer's stint in Florida
During his time at Florida, Urban Meyer went 65-15, won two national championships, as well as the Sugar Bowl.
Meyer coached players such as Tim Tebow, Aaron Hernandez, Riley Cooper, Reggie Nelson, Brandon Spikes, Percy Harvin, Maurkice and Mike Pouncey, Joe Haden, and Carlos Dunlap.
One of the best QBs in college football history, an eventual (alleged) murderer, a racist, as well as other talented players.
Scandal seems to follow Urban Meyer wherever he goes, just look no further than the end of his coaching career at Ohio State.
Keep in mind Meyer's leave of absence after the 2009 season due to health issues, but eventual return before spring practices.
Nevertheless, Meyer's time in Florida was one of the most successful runs of the 2000s, and he helped revolutionize the spread offense.
The career of Barry Bonds
On paper, Barry Bonds had one of the greatest careers in the history of baseball.
Most career home runs (762), most home runs in a season (73), 13 consecutive 30 home run season (1992-2004), most MVPs (1990, 1992-1993, 2001-2004).
Between 2001 and 2004 Bonds had 209 home runs, 438 RBIs, 755 BBs, a batting average of .349, on-base percentage of .559, and slugging percentage of .809 (1.368 OPS).
However, his career will always be plagued due to his use of steroids.
Even if Bonds has never touched a PED, he would have easily been a Hall of Famer.
Bonds apparently began to use PEDs after 1998, but prior to that point he was a 3-time MVP, 8-time All-Star, 8-time Gold Glover, and 7-time Silver Slugger. He had hit over 400 home runs and had stolen over 400 bases. and had a career OPS of .966.
The story of Barry Bonds would be a light into the steroid era, a show of one of the best runs of dominance in baseball history, and a chance for Bonds to tell all (easier said than done).
The Montreal Expos and the fallout of the 1994-1995 MLB strike
As you're aware, there is no longer a baseball team in Montreal, but if things went differently in 1994, there very well still could be.
The 1994 Expos featured players such as Pedro Martinez, Larry Walker, Moises Alou, and Cliff Floyd. They went 74-40 (.649), the best record in baseball, but the league went on strike in the middle of August, ending the season.
The team suffered from the strike, and eventually went on a fire sale, with many of the faces of 1994 no longer being members of the team in the years to follow.
Financial struggles, rumors of a relocation, and contraction all hit the team in the years to come.
Jeffery Loria became the majority owner in 1999, but sold the team to the MLB after 2002, taking key infrastructure including front office employees and essential technology (they went with him to his new team, the Florida Marlins, which he bought from John Henry), leaving the organization decimated.
After the 2004 season, the team relocated to Washington, D.C.
Could all of this have been avoided if the 1994 season finished, and the team had a chance to compete in the playoffs?
Other Ideas
Basketball in Seattle, and the impact of the relocation of the Seattle Supersonics
The impact that sports has had on Boston after the Boston Marathon Bombings
Kevin Durant's career in Golden State; the lead-up, impact of his signing, winning 2 championships, his injuries in the 2019 postseason, and eventual departure
Jeremy Lin's run in 2012 and the legend of "Linsanity"
The 2019 Toronto Raptors; down the line, but how they came together and the future impact on basketball in Canada
Mo'ne Davis' 2014 Little League World Series and the impact on female sports
The story of the Humboldt Broncos
The life of Oscar Pistorius
---
Follow Nick on Twitter (@Nick_Collins14)