With the regular season less than 3 weeks away, the Patriots will attempt to win their 7th Super Bowl since 2001.
For the Patriots receiving corps, the past few days have been very good.
Last season, the wide receiver position seemed like a position of weakness, especially as Julian Edelman missed the first 4 games of 2018 due to a suspension.
Of course, it did not matter, as the Patriots adapted and found ways to work with the pieces they had, outscheme their opponents, and… win.
This offseason, the team lost Chris Hogan and kick returner/offensive swiss army knife Cordarrelle Patterson. The team also lost TE Rob Gronkowski, which made whatever lack of depth they had at the wide receiver position even more glaring, as the future Hall of Fame tight end would no longer be around to make Tom Brady's life easier.
Oh, and there was Josh Gordon.
As we know, Josh Gordon has faced plenty of demons due to substance addiction, and it has led to him being suspended several times over his career.
His 2018 season with the Patriots ended this way, and it was unknown what his status would be in 2019.
This left the team with Edelman, the question mark of Josh Gordon, Phillip Dorsett, and Braxton Berrios at wideout.
With plenty of questions, the team went to free agency looking for bodies.
Quickly they signed Maurice Harris and Bruce Ellington (released in May), two larger receivers then the team typically employs. A month later, they brought in veteran WR Demaryius Thomas, who is 6'3″ himself.
This trend continued into the draft, as the team drafted a wideout in the first round for the first time in the Bill Belichick Era, bringing in ASU WR N'Keal Harry (6'4″, 225 lbs).
Maybe it was due to no longer having the 6'6″ monster that was Gronk, but nevertheless, it was a new strategy.
However, it wasn't all peachy just yet.
Thomas was coming off of a torn Achilles, and Gordon's status was still up in the air.
The team brought in another big WR in May – Dontrelle Inman – possibly just hoping something would stick.
As training camp started a few weeks ago, a few surprises unfolded.
First, an injury to Super Bowl LIII Julian Edelman, which let some new faces get some reps.
Those new faces were able to shine.
We've heard and seen some good things from Braxton Berrios (only 5'10"), who has had some nice plays on offense as well as special teams as a punt returner.
Another big surprise has been Jakobi Meyers, an undrafted free agent from NC State who has made that label look like a joke.
Then, the good news.
Last Friday it was revealed Josh Gordon would be reinstated, and able to play once the 2019 season begins.
Julian Edelman returned to practice on Monday.
Then yesterday, Demaryius Thomas, who had been on the physically unable to perform list, was able to practice.
Inman was released this past Sunday, probably a favor, allowing him to sign elsewhere before the end of the preseason (he reportedly signed back with the Chargers yesterday).
But now, the team that looked weak at WR, has gotten certainty from it's veterans, and has seen some promising signs from it's rookies.
Can the position be considered a strength now?
Cautious optimism should be expressed.
When healthy, Julian Edelman has been one of the most reliable and productive receivers in the NFL. He faced injury issues in 2015 and missed all of 2017 with a torn ACL, but when he's on, a performance like the one he had in Super Bowl LIII is normal.
Josh Gordon is special. Anyone that has seen him knows that. Last season he had 40 catches for 720 yards and 3 TDs in 11 games with New England, the first time he played more than 5 games since 2013.
His situation is tough.
He's tried his hardest to work on himself, and I hope he's able to find peace, but in terms of reliability on the field, it's an unknown if he'll be able to be counted on all of 2019. That's just the reality of the situation. I'm rooting for him to find some balance both on and off the field.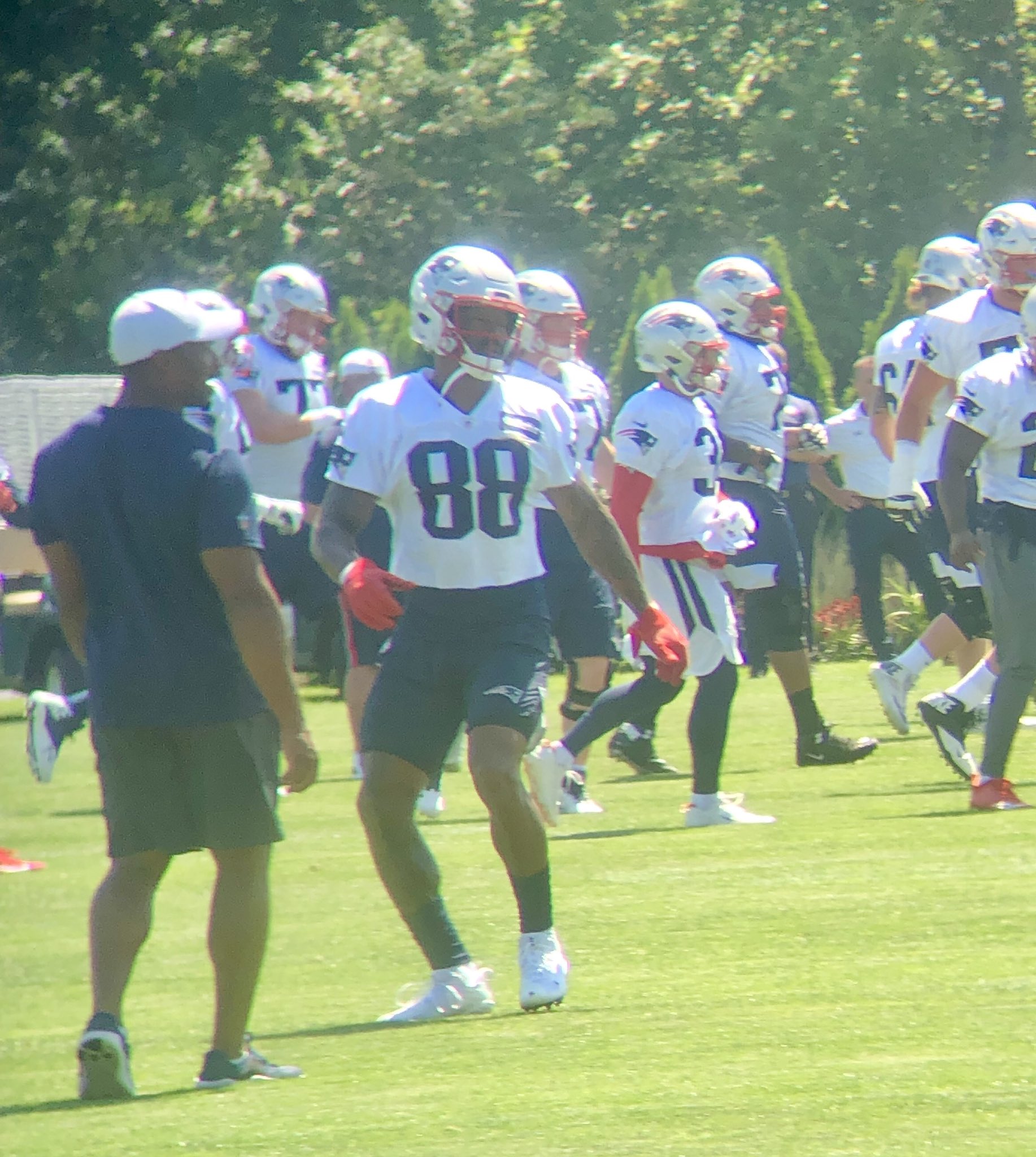 Demaryius Thomas is coming off of a tough injury, and is 31 years old. He's had a solid career, and hopefully has some miles left, but plenty of good veteran receivers have come into New England and seen it be their last stop (Torry Holt, Chad Johnson, Reggie Wayne, Eric Decker, etc.).
I wouldn't be surprised if he was a non-factor, but that's to be determined.
I'm a fan of Phillip Dorsett. Through the first 5 weeks of last season he had 19 catches for 190 yards, but only had 13 catches the rest of the regular season. He had 5 catches in the playoffs, and none in the Super Bowl. I think there's something there, but it hasn't been consistent. He's likely fighting to make the team with Maurice Harris.
Harris received praise during the beginning of training camp, but that has wavered. He had 28 catches last season, and seems to have glimpses of something, but he's another one that hasn't been consistent.
Then there's the young options.
N'Keal Harry had some bumps in training camp, but has seemed to rebound (I saw this first hand a few weeks ago). He then made some good catches against Detroit during the first game of the preseason, but suffered a hamstring injury, forcing him to leave the game. He's talented, and apparently doesn't miss time from injuries like this. It's tough to gauge rookies, especially in the Belichick Era, with the last one to truly succeed being Deion Branch in 2002, but the team liked Harry enough to draft him in the first round, and I'd expect him to develop into a weapon down the line.
I love what I'm hearing from Jakobi Meyers. He's been working with former Patriot Troy Brown, and I've seen comparisons to him and Julian Edelman. He's been called the best contested ball catcher from the 2019 draft class. The Patriots may have found a diamond in the rough here, I truly believe that.
Braxton Berrios has heard the Edelman/Welker/Amendola comparisons since Day 1, that's the territory when you're a short white receiver that goes to the Patriots. He hasn't been perfect, but has had some nice moments, but not sure if there's a spot for him, especially with Gordon back in the fold.
There's some other players floating around such as Cameron Meredith, Gunner Olszewski, Ryan Davis, and Damoun Patterson, but I doubt they'll end up on the 53 man roster, and certainly won't be in the picture at WR if they do.
There's a lot of guys in the room this year that, on paper, Patriots fans should have some hope about. If Edelman, Gordon, and Thomas can stay on the field and be what they have been during their careers, then that's a great spot for New England to be in. Then, if one or two of N'Keal Harry, Maurice Harris, Phillip Dorsett, and Jakobi Meyers can give you something, you have a group as deep as they've had in years.
The ceiling is high, and the talent is there.
With the tight end position being so weak, the wideouts will be asked to produce more than years' past. The team has added to an already strong RB group, but that cannot be a complete substitute in the passing game.
I think a lot has to go right for this group to reach it's potential and be truly special, but they're in a much better spot than last season.
Besides, the team is so strong at so many other spots (especially on defense), that there might be less pressure on the offense to be as prolific as may have been necessary in the past.
I expect another solid season for the Patriots, but if this WR group does show out… then we're talking something special.
Cautious optimism.
---
Follow Nick on Twitter (@Nick_Collins14)