Loaded.
This team is absolutely loaded.
Across the board, I honestly cannot remember the last time I was this confident in a Patriots team.
Believe it or not, New England is coming off of their worst regular season since 2009.
Oh yeah, and their third Super Bowl in 5 years.
Funny how that works.
In the postseason, we saw the Patriots beat the top two scoring offenses in the NFL, and another team that was 7th overall.
This team will be missing key pieces from 2018 such as Rob Gronkowski, Trey Flowers, Trent Brown, and likely David Andrews.
However, all is not lost.
Reinforcements (young and old) have arrived, and overall, this is an extremely well-rounded group.
All-in-all, I see a great season in store.
---
Strengths
Depth
Trimming this team down to 53 players was a challenge for sure, because there were so many players that in past years you could have argued would have made the team, but this is a great problem to have.
The running back group is strong and versatile; there are veteran wide receivers, and talented young players looking to make a point; a veteran offensive line; young pass rushers looking to leave their mark; a talented linebacker corps; one of the strongest secondaries New England has had in ages; the veteran kicker, and a young stud of a punter.
Oh yeah, and the best coach and QB in the business.
Secondary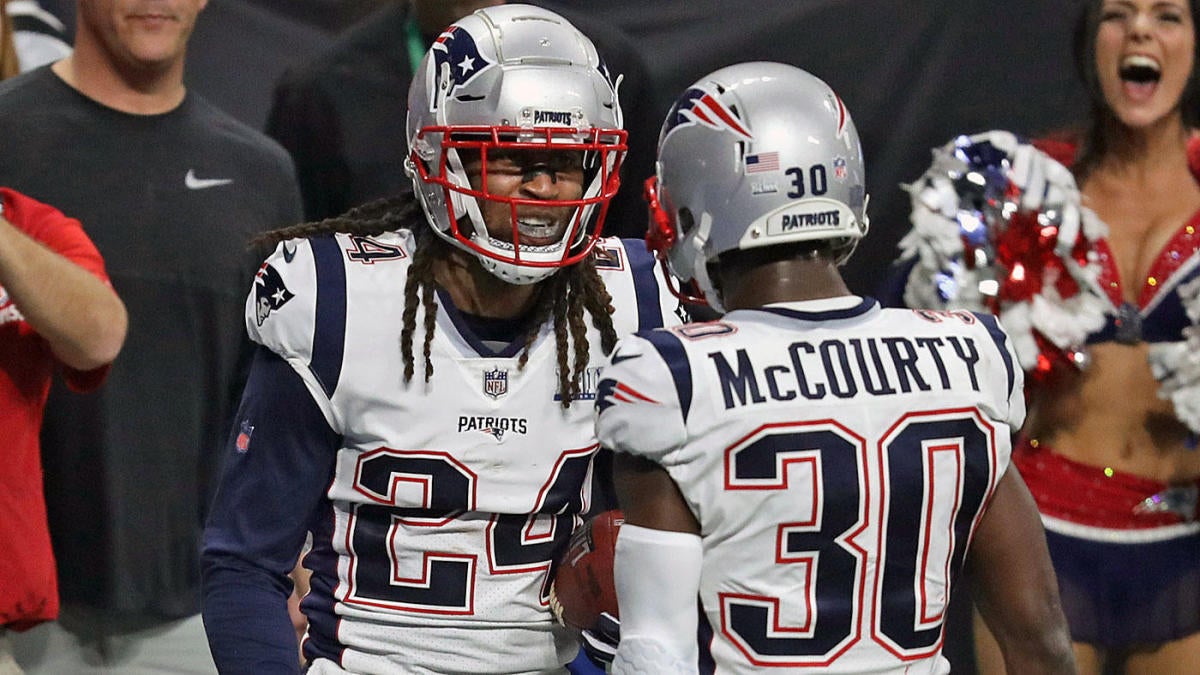 As I alluded before, this secondary is STRONG.
Stephon Gilmore was voted by his peers as the best cornerback in all of football. Coming off of an All-Pro selection, Gilmore is right in his prime, and isn't slowing down.
The McCourty brothers will provide a veteran presence.
Whatever Patrick Chung's legal problems may be, he should be able to play this season, and has been considered another coach-on-the-field type, and one of Bill Belichick's favorite players.
J.C. Jackson looks to build off a strong rookie campaign, and second round pick Joejuan Williams looks to have some solid potential.
I was surprised Keion Crossen was traded, but this group is deep enough to absorb that subtraction.
Possibly the best secondary in the NFL.
Veterans
This is an old, wise group, with many players that have been here for awhile now.
Brady, Edelman, Hightower, McCourty, Chung, Gostkowski, Slater, Cannon, Ebner, Harmon, White, Devlin. Oh, and Ben Watson already had a long first line of duty here, and will be back, as will Brandon Bolden and Jamie Collins.
Experience will be a key advantage this group has over it's peers, one that will keep the offense flowing, and allow the defense to get creative (see: amoeba defense).
Youth
This is still an older team, but there is a youth influx that is happening right now, and if it goes right, it should jolt this team to another level, both this season, and into the future.
Players such as Damian Harris, Sony Michel, Isaiah Wynn, Jakobi Meyers, and (hopefully at some point) N'Keal Harry on offense, and Ja'Whuan Bentley, Chase Winovich, J.C. Jackson, Joujuan Williams, and Byron Cowart on defense – in addition to new punter Jake Bailey, and new fan favorite Gunner Olszewski – should make an impact this season, and could dictate how well the team does in the years to come.
---
Weaknesses
Tight End
Going from having Rob Gronkowski to not having Rob Gronkowski is a decline however you slice it.
And I'm sorry, he isn't coming back.
Benjamin Watson is a good addition, but he'll be suspended 4 games, and is 38 years old; he can't be relied on for too much.
Other than that, the rest of the bodies are just there for blocking.
Special Teams
I'm nitpicking at this point.
The team will have to replace an All-Pro kick returner in Cordarrelle Patterson (looks like that will be the role of Gunner Olszewski), and brought in Brandon Bolden and Terrence Brooks to sure up the unit.
Jake Bailey looks legit, but he can't make the same mistake he did holding a FG kick that he did against the Panthers this preseason moving forward.
Gostkowski has the yips here and there, but is still one of the best kickers in all of the NFL.
I'm not overly concerned with this group, but it's something to keep an eye on.
Coaching
I saw that look you just had.
No, this is not about Bill Belichick, this is about the defensive side of the ball.
The team lost longtime assistant Brian Flores, who was calling plays last season, and it has been kind of uncertain who will be calling the shots this season.
Former Patriot, and first-year assistant Jerod Mayo has been given a good chunk of time calling plays in the preseason, and Stephen Belichick (entering his 8th season as an assistant) has gotten some reps in this department as well.
Bill will be overseeing all (as always), but there is a brain drain on this side compared to years past.
I'm not overly concerned, as the likes of Devin McCourty, Patrick Chung and Dont'a Hightower will help step up as leaders to make this transition easier (similar to when Flores took over last season).
Slow Start?
In short? No.
The Patriots just cannot afford it, and I think this is known in the building.
After facing the Steelers in Week 1, the Patriots next 6 games are against the Dolphins, Jets, Bills, Washington, Giants, and Jets respectively.
Yes, I see that game in Miami is on the road, but it's one the Patriots cannot afford to lose.
Even if they do, the worst I see them being before facing Cleveland is 5-2 (and I think they'll be 6-1)
After that, they have a tough stretch, as their next batch of opponents are the Ravens (then a bye week), Philadelphia, Dallas, Houston, and Kansas City, all teams that made the postseason in 2018.
They will face the Ravens, Eagles, and Texans on the road, and then the Cowboys and Chiefs at home.
I see them losing to the Eagles and Chiefs.
This will be their toughest stretch of the season, but as long as they don't lose more than 3 games, they'll be fine.
This also makes starting strong that much more important.
I see them winning out their final three games (at Cincinnati, and home against the Bills and Dolphins), and finishing the year 13-3.
At worst this team goes 11-5.
Once again, they will win the AFC East.
My Biggest Worries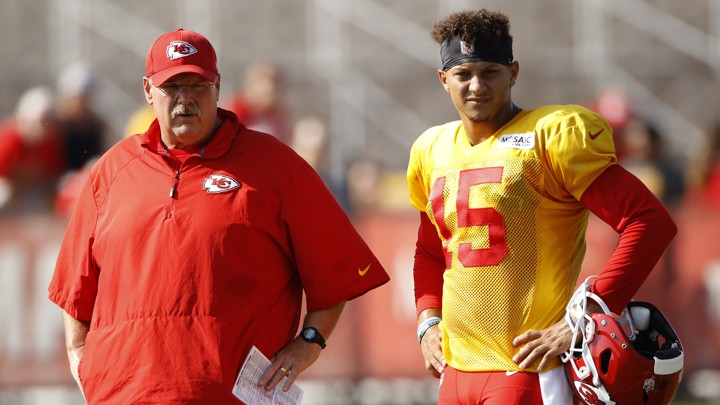 Last season I was worried about the Texans and Jaguars (and Le'veon Bell if he came back) in the AFC.
Funny what can change in a year.
The Chiefs will be the biggest foe the Patriots have moving forward.
I know some are not high on Patrick Mahomes, but he is the real deal.
He will likely have a down year compared to his historic showing last season, but the Chiefs are a strong team. Even if they take a step back, I cannot see them missing the playoffs, and they tend to give the Patriots a close game whenever they face them.
I expected the Colts to make some noise after how they finished last season, but that goes out the window with Andrew Luck retiring (I still can't believe it).
I have the Texans and Steelers winning their divisions, but they just do not worry me enough to be concerned.
Watson still has to win his first playoff game, but I think he has a bright future in this league; oh, and Houston hasn't beat the Patriots since 2009.
Once every 7 years Big Ben and the Steelers figure out how to beat Brady, so I'm not too worried about them going on a roll and reversing this trend.
I see the Browns and Jets making the playoffs to round out the AFC, and think the Jets will surprise a lot of people this season, but not enough to hand over the torch.
Other than that…
I'm not worried.
The Patriots path to the Super Bowl (in theory) should be easy.
The Bills and Dolphins aren't ready. I think the Ravens will take a step back. The Bengals aren't doing a thing. The Titans have a good coach and could be building something, but they're not set at QB. Maybe the Jags bounce back with Foles in the building, and they still have the core of their 2017 defense, but I'm not sure I trust Doug Marrone to get them there. The Chargers will be hurt by the absence of Melvin Gordon, however long it might be. I like Vic Fangio in Denver, and think the Broncos defense will be strong, but can Joe Flacco (or Drew Lock) steer the offense to enough wins? Maybe Jon Gruden is building something with the Raiders… but I have to see it to believe it, and I just don't yet.
Until someone knocks the kings down, they aren't leaving their throne.
Conclusion
This is the most well-rounded team the Patriots have had in awhile.
They have talent on offense (especially if Josh Gordon and Demaryius Thomas can stay on the field).
They have depth and talent on defense.
They have the best coach in the NFL, and he's at the top of his game.
Tom Brady may have taken a step back from his 2017 MVP season, but I truly think it was just a down year.
Or was it because of the availability of his main weapons?
Last season when Sony Michel, Julian Edelman, Josh Gordon, James White, and Rob Gronkowski were active and played (7 games), Brady was 179 for 257 (69.6%), throwing for 2181 yards, 14 TDs & 5 INTs, and had a passer rating of 105.5; the Patriots were 5-2 in these games.
In the remaining 9 games, Brady was 196 for 313 (62.6%), throwing for 2154 yards, 15 TDs & 6 INTs, and had a passer rating of 90.9; the Patriots were 6-3 in those games.
Interesting.
Gronk won't be back this season, but additions such as Demaryius Thomas, Jakobi Meyers, N'Keal Harry, and Benjamin Watson will help Brady this season.
Even if he is trending down, the running backs should be able to carry more of the load, and the defense is good enough to lessen the need to put up a ton of points.
It's a safety net, but Tom is still Tom, and in a contract year, I think he's going to show everyone (again) he hasn't fallen off the cliff yet.
Will it be good enough for a 10th trip to the Super Bowl (and 4th straight)?
I think so.
Good enough to win a 7th championship?
I'm not picking against them.
---
Photo above via PatriotsWire
Follow Nick on Twitter (@Nick_Collins14)