Bill Belichick reached yet another amazing milestone this past Sunday as he won his 300th overall game as an NFL head coach. Belichick, in his 25th season as a head coach, became the third person in NFL history to win 300 games, joining Don Shula (347 overall wins) and George Halas (324 overall wins).
The fact Belichick has reached this point is a testament to the operation he has built in New England over the years.
Consider this: when he coached his first game for the Patriots, he was 48 years old, and had only 37 overall wins as a head coach from his days in Cleveland. When Don Shula went to coach his first game at the same age in 1978, he had already won 164 games.
Shula won 183 more games from the age of 48 until he retired from coaching following the 1995 season (he was 65 during his final season).
Belichick has won 263 games in New England, and at the age of 67, he is 47 wins away from passing Shula, something that seemed utterly impossible in 2000, but is quite plausible today.
When Belichick won his 150th overall game, it was during his 245th game as an NFL head coach. Quite the accomplishment, yes, but a feat that has been reached by 20 others.
Bill wasn't even ahead of his peers in terms of how quickly he got there, as 7 other head coaches had reached the 150-win mark faster than he had (Shula, Halas, Joe Gibbs, Curly Lambeau, Chuck Noll, Bill Cowher, and Bud Grant).
Lets not deny what Belichick had accomplished by this point. It was during the 2009 NFL season he won his 150th game, meaning he had already won 3 Super Bowls as a head coach, while compiling a 15-4 record in the playoffs. He had built a dynasty in the early 2000s that helped make the Patriots the team of the decade, similar to what Vince Lombardi, Chuck Noll, and Bill Walsh did with their teams in the 1960s, 1970s, and 1980s respectively (Lombardi and Walsh never won 150 games).
He was great, but he had some company.
However, it is what he has done in the 150 wins since, adding on to some pretty good numbers, that is utterly amazing.
Belichick lost his next 2 games after win 150, but got his 151st win during Week 14 of the 2009 season against the Carolina Panthers.
Belichick's age at different win totals

Win 1: 39 years old

Browns 20, Patriots 0 (September 8, 1991)

Win 50: 49 years old

Patriots 27, Browns 16 (December 9, 2001)

Win 100: 53 years old

Patriots 28, Jaguars 3 (January 7, 2006)

Win 150: 57 years old

Patriots 31, Jets 14 (November 22, 2009)

Win 200: 61 years old

Patriots 30, Saints 27 (October 13, 2013)

Win 250: 64 years old

Patriots 33, Browns 13 (October 9, 2016)

Win 300: 67 years old

Patriots 27, Browns 13 (October 27, 2019)
From Week 14 of the 2009 season to Sunday's win against Cleveland, Belichick won 150 games while only losing 37… a record of 150-37.
You read that right.
After winning game 150, it took Belichick 189 games to reach number 300, but if you start from win 151, it only took 187.
Regardless, it is a torrid pace unlike anything we have seen in NFL history.
150 wins over 187 games means Belichick has won at a rate of 80.2% starting in Week 14, 2009.
Belichick has coached 164 regular season games during this time, and the Patriots have won 137 of them (a winning percentage of .835). He has coached 23 postseason games in this time, winning 16 overall (a winning percentage of .696).
He has appeared in 5 Super Bowls, winning 3 during this time, and the Patriots have not missed the playoffs; that is unlikely to change in 2019, as New England is undefeated at 8-0, well ahead of their opponents in the AFC.
I think another fun way of looking at Belichick's dominance is breaking his head coaching career into 5-year intervals.
Why five years?
He coached 5 years in Cleveland, and is currently in Year 20 in New England, giving us five intervals to look at.
Trust me, it's amazing.
Cleveland (1991-1995)

Overall: 37-45 (.451); 82 games

Regular season: 36-44 (.450); 80 games

Postseason: 1-1 (.500); 2 games
New England (2000-2004)

Overall: 62-27 (.697); 89 games

Regular season: 53-27 (.663); 80 games

Postseason: 9-0 (1.000); 9 games

3-0 in the Super Bowl
New England (2005-2009)

Overall: 64-25 (.719); 89 games

Regular season: 59-21 (.738); 80 games

Postseason: 5-4 (.556); 9 games

0-1 in the Super Bowl
New England (2010-2014)

Overall: 70-21 (.769); 91 games

Regular season: 63-17 (.788); 80 games

Postseason: 7-4 (.636); 11 games

1-1 in the Super Bowl
New England (2015-present)

Overall: 67-16 (.807); 83 games (and counting)

Regular season: 58-14 (.806); 72 games

Postseason: 9-2 (.818); 11 games

2-1 in the Super Bowl
Somehow, his overall winning percentage goes up each time, as well as his regular season winning percentage (sadly, his playoff winning percentage goes down, but you can't top perfection).
He's reached the Super Bowl at least once in the four Patriots intervals, and won at least once in three of them.
How is it possible for him to just keep getting better and better?
I have a few ideas.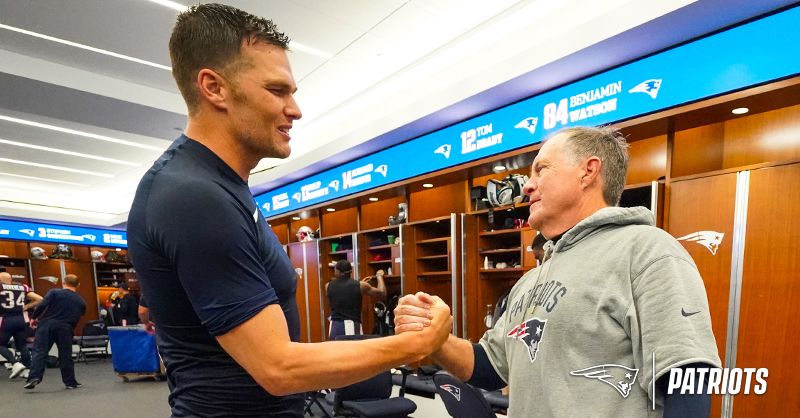 You can't discuss the greatness of Bill Belichick (specifically with the Patriots) without talking about the greatness of Tom Brady. Go ahead and talk about who helps who more all you want, but each has been integral to the success of the other.
Like Bill, Brady has gotten better with time. During the early years, he was more conservative in his play while the team's foundation was a great defense. After a few seasons in the NFL, he began to develop into an elite playmaker, culminating in one of the greatest seasons for a QB ever in 2007. We also have to remember this rise was stopped in 2008 due to injury, which effected his 2009 season.
He continued to do well in 2010-2012, but in 2013 he had what might have been the worst season of his career. He turned it around in 2014, and then in 2015-2017 had what very well might be the best 3-year stretch of his career… which also is in the beginning of the most recent 5-year stretch for Belichick. The past 2 seasons we've seen philosophical shift to relying more on defense (like the early days of this era), as the Patriots have had a historic showing during the first 8 games of 2019, and went on a rampage during the 2018 postseason… but Brady has still been there when it matters most during the biggest moments in the biggest games (see: 2018 AFC Championship Game).
Experience itself is another factor.
As Belichick has gotten older, he is clearly learning and evolving, figuring out ways to be better at his craft. This has also come at the benefit of whomever his coaching rivals might have been leaving the profession.
The head coaching ranks today don't include previous challengers like Tom Coughlin, Bill Parcells, Mike Shanahan or Tony Dungy, people who may not have been better than him, but at least gave him a worthy foe.
Consider the active head coaches (besides Belichick) that have reached the Super Bowl: Jon Gruden, Bill Callahan, Andy Reid, Mike Tomlin, Sean Payton, John Harbaugh, Pete Carroll, Ron Rivera, Dan Quinn, Doug Pederson, and Sean McVay.
Belichick has beaten 4 of these coaches in the Super Bowl, and has a playoff win against 7 of them. Pederson coached a great game in Super Bowl LII against Belichick and the Patriots, and John Harbaugh has given him challenges in the past, and Ron Rivera is actually undefeated against him, but overall, Belichick has held his own against most of these coaches. There isn't a batch of up-and-comers that has been able to take him down consistently AND build something as sustainable as he has in New England in the process.
Bill Belichick has said in the past that it takes until the fourth season of coaching a team until you can get the roster and system in place that you desire, and for everything to function accordingly based on your preferences. In his fourth season in Cleveland, the Browns went 11-5, allowed the least amount of points in the league, and won a playoff game (against the Patriots) for the first time since 1989. However, Belichick was fired one season later, a year in which the Browns announced they were moving to Baltimore, and things just fell apart; if anything, he was a scapegoat, but the city of Cleveland suffered the most (both then and now).
In his fourth season with the Patriots, Bill Belichick led the Patriots to a 14-2 record, the first time the team had ever won more than 11 regular season games, and they won their second Super Bowl in three seasons. Bill did not see his time end in New England in following his fifth season, and instead, has continued to build and coach a team that dominates the NFL.
Belichick could help the Patriots come close to, set, and extend even more records this season.
One more win would mean a 19th consecutive season with a winning record (the Dallas Cowboys hold the record at 20)
Two more wins would be 17 straight seasons with at least 10 wins (breaking a tie with the San Francisco 49ers)
A playoff birth would mean 11 straight trips to the postseason (the Patriots currently hold the record at 10).
Earning a bye week for the postseason this year would mean 10 straight seasons of doing so (the Patriots currently hold the record at 9)
A trip to the AFC Championship Game would be he and the team's 9th straight, and 14th overall (the Patriots currently hold the record at 8 straight trips, while the team could tie the Steelers with 16 AFC Conference Championship appearances)
Another trip to the Super Bowl would be the 4th in a row (first team to do this since the Buffalo Bills in the 1990s), and 10th since 2001 (Belichick holds the record for most Super Bowl appearances for one coach at 9), and 12th as a team (the Patriots currently hold the record at 11).
Another Super Bowl win would mean back-to-back wins, which would be the first time a team has done so since 2003-2004 (which was also accomplished by Belichick and the Patriots).
It would also be his 7th overall, breaking the record for most Super Bowls in NFL history with the Steelers, and most NFL Championships won by a head coach with Curly Lambeau and George Halas.
300 wins is an amazing feat… but there's even more Bill Belichick can accomplish before all is said and done in 2019 and beyond… and as we've seen, he's only getting better.
---
Follow Nick on Twitter (@Nick_Collins14)