The Patriots, coming off of their bye week, will be entering Week 11 of the 2019 season in good shape.
Their 8-1 record is the best in the AFC, and the Baltimore Ravens are the only team within a game of them in the conference standings.
They have a three-game division lead due to a head-to-head tiebreaker over the 6-3 Buffalo Bills, and are well ahead of the teams just outside of the AFC playoff picture, teams that boast records such as 5-4, 5-5, and 4-5.
Long story short, the Patriots are making the playoffs, and they control their destiny for earning a bye week for a 10th sraight season, as well as home field advantage throughout the playoffs.
All is good… right?
"Easy Schedule" Narrative
According to many, this is an untested Patriots team, and Skip Bayless went as far as saying they were possibly the most flawed 8-0 team in NFL history.
The team coming off of their 6th Super Bowl since 2001, and third since 2014, is somehow a fraud.
Is their any legitimacy to that argument?
During the first 8 games of the season, the Patriots outscored their opponents 250 to 61. That is a difference of 189 points (roughly over 23 points per game); for perspective, the 2007 New England Patriots outscored their opponents by 197 points through the first 8 games of their season, which included putting up over 48 points three times.
Where the 2019 team differs from 2007 is their foundation is defense. Throughout the first 8 games, the Patriots had two shutouts, and held teams below 7 points four times.
I understand the strength of schedule argument.
The record of Patriots opponents going into last week (meaning when New England was 8-0) was 15-37 (15-29 if you exclude their losses against the Patriots).
If you compare this to the 2007 Patriots, at the same point in 2007, their opponents had a record of 24-34 (24-26 if you exclude their losses against the Patriots).
The argument only gained momentum when the Patriots faced the Ravens last weekend, a team considered to be a respectable foe… and New England lost by 17.
Well, the one thing that game proved was this team isn't the 2007 Patriots.
However, lets take a step back.
Look at the teams the Patriots have beat to start 2019.
Pittsburgh: under Tom Brady, the Patriots were 11-3 against Pittsburgh entering the season, and had never lost at home.
Miami: the Patriots have historically struggled in Miami under Tom Brady, but the team was rebuilding, and the Patriots had Antonio Brown (remember him?)
Jets: the last time the Patriots had lost at home to the Jets was 2006; under Bill Belichick the team does historically well against young QBs.
Washington: QB switch, coach was literally fired after the game.
Giants: see Jets reasoning, plus game was at home.
Browns: see Jets reasoning, plus game was at home.
There were some factors that made this schedule easier than normal, but historically under Bill Belichick and Tom Brady, they were games where the Patriots were bound to win most of them. Even in a rocky season this was a stretch where 5-6 wins would be expected.
The Patriots will face some better teams over the next month, but I think the "easy schedule" was more of timing than anything else… if you win 8 straight games in the NFL, you're doing something right, no matter what anyone else tells you.
Historic Defense?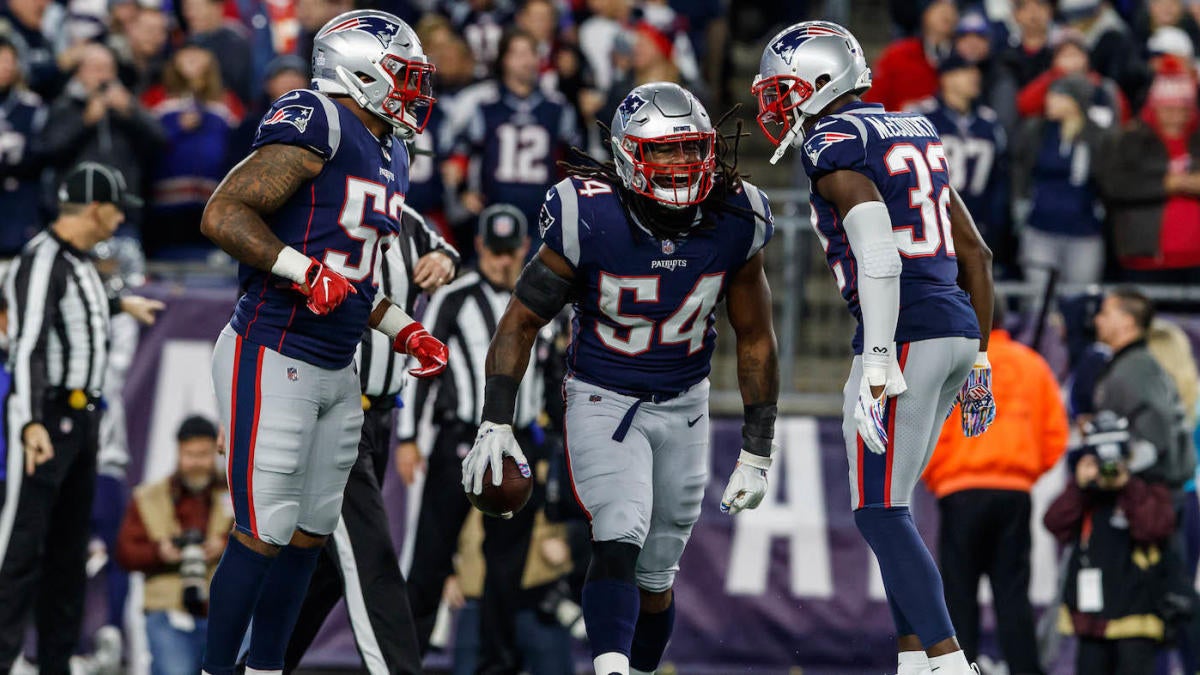 I know they allowed 37 to the Ravens (one score was from Baltimore's defense), but that is also an offense that leads the entire NFL in scoring with 33.3 PPG. A historic defense should be expected to do better overall, but other historic defenses have had bad days.
The team as a whole has allowed 98 points this season, and 21 of those were plays that did not involve the defense (two returns for scores by opposing defenses, one return for a score off of a muffed punt).
That means the defense itself has allowed 77 points through 9 games (8.55 per game)… that's very good.
They've forced a turnover every game this season, and have forced 27 turnovers total (3 per game).
They have held more offenses under 100 passing yards (3) than they have above 200 (2).
Their run defense has been exposed the past few weeks, and you can argue that is the way to beat them, but not many teams boat a run offense as formidable as Baltimore; regardless, it is an area they need to improve in.
Their secondary has been flat out amazing, with deep unit including the likes of Stephon Gilmore, Devin McCourty, Jason McCourty, Patrick Chung, Jonathan Jones, J.C. Jackson, and Duron Harmon. Not to limit the play of others such as Kyle Van Noy and Jamie Collins, but the bedrock of this team is the secondary, and in a pass-happy league, it will continue to be their strength moving forward.
What's up with the offense?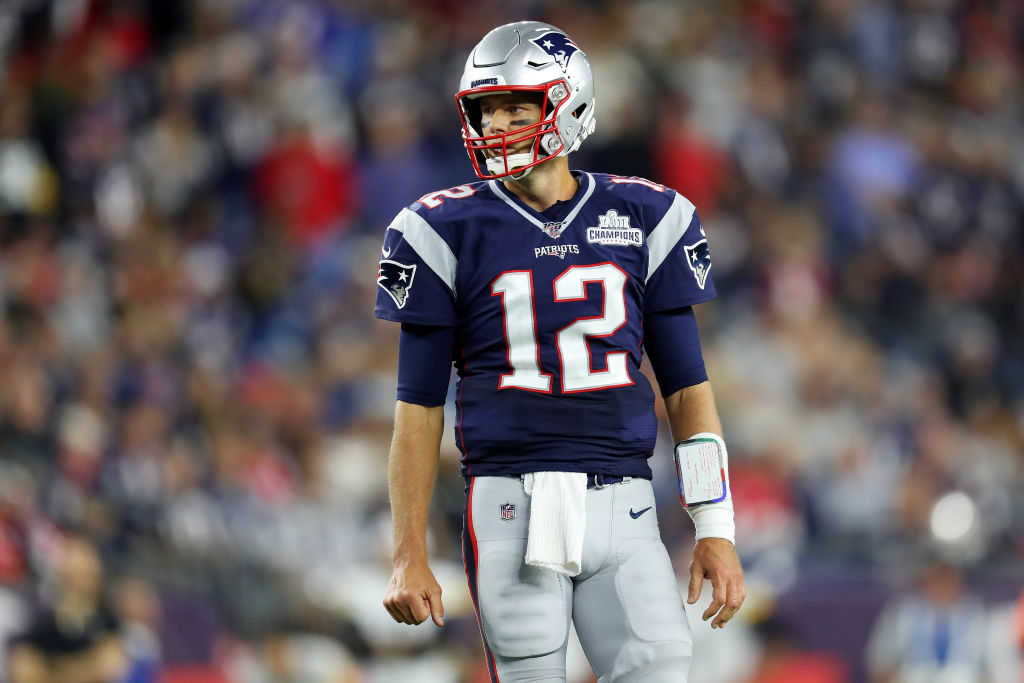 The offense has been very inconsistent this season, but that is mainly due to the fact that the unit seems to be changing every week.
Consider the amount of players that have caught at least one pass this season: Julian Edelman, James White, Phillip Dorsett, Josh Gordon, Rex Burkhead, Jakobi Meyers, Mohamed Sanu, Brandon Bolden, Benjamin Watson, Sony Michel, Ryan Izzo, Antonio Brown, Matt LaCosse, Gunner Olszewski, Jakob Johnson, and Eric Tomlinson.
That's 16 players.
4 of those players are no longer on the team, and of the 12 that are, only 5 were on the 53-man roster last season (although Watson and Bolden have been on the team before). Also consider how someone like Demaryius Thomas, who was with the team all offseason, never played a snap before being traded after Week 1 to clear a roster spot for AB.
Those are just the skill positions.
If you look at the offensive line, it has been even more of a mess.
Center David Andrews (a starter since 2015) was diagnosed with a blood clot in his lung during the final week of the preseason and ruled out for all of 2019.
During Week 1, Marcus Cannon suffered a shoulder injury, which seemed more serious at the time, but only led to him missing one game.
Second-year offensive lineman Isaiah Wynn, who missed all of 2018 due to a knee injury, was named the starting left tackle for 2019, but during Week 2 he suffered a toe injury which led him to being placed on IR; he's begun practicing, which means the team expects him to return, and the first game he can return is November 24 against Dallas.
With these injuries, in addition to Shaq Mason playing less than stellar this season, the offensive line has not been good at all.
The team has had an extremely difficult time establishing a run game, and with Marshall Newhouse at left tackle, protecting Tom Brady has been a challenge.
As a result, through 9 games, Brady is having one of his worst seasons based on his rankings in several categories (compared to how he's ranked in seasons' past)
He ranks 18th in passer rating, which would be the lowest ranking of his entire career; he ranks 20th in yards per attempt, which would be the third lowest ranking of his career (only 2013 and 2002 were lower); he ranks 19th in AY/A, which would be the second lowest ranking of his career (only 2002 was lower); he ranks 13th in QBR, which would be the lowest ranking of his career (note: QBR data only goes back to 2006).
This is not to say he's playing the worst football of his career, but respective to what other QBs are doing in the NFL at this time, and how he normally performs when compared to them in a given season, 2019 has been bad for him (thus far).
It's been rough so far, you can't deny it, but I saw some promising things against Baltimore, and now with the receiving corps set with Edelman, Sanu, Dorsett, and hopefully N'Keal Harry, things should begin to turn around in the passing game.
The offensive line should see a boost with Isaiah Wynn's return, but the strengths of the team from a year ago have changed, with players like Trent Brown, Rob Gronkowski, and Dwayne Allen no longer on the team, and James Develin and David Andrews out for the season. They still have the best OL coach in the business, but the pieces they currently posses seem to be more ideal for a spread passing offense which thrives on short passes.
I expect Brady to adapt and improve in the second half, and blame the early season struggles to those changing pieces that have made it impossible for any sort of consistency to emerge.
Moving Forward
The Patriots have 7 games remaining this regular season:
at Philadelphia (5-4); 11/17, 4:25 PM
vs. Dallas (5-4); 11/24, 4:25 PM
at Houston (6-3); 12/1, 8:20 PM
vs. Kansas City (6-4); 12/8, 4:25 PM
at Cincinnati (0-9); 12/15, 1:00 PM
vs. Buffalo (6-3), 12/21 or 12/22, TBD
vs. Miami (2-7), 12/29, 1:00 PM
Their next 4 games continue a stretch that began against Baltimore of their most challenging games of the season.
The team has 4 home games left, but consider this: the Patriots have won 20 straight home games (including the postseason) dating back to 2017.
The Patriots are 5-0 against the Texans (including the postseason) since Bill O'Brien took over as the head coach in 2014.
Tom Brady is 6-1 against the Bengals in his career, with his most recent loss coming on the road in 2013.
Tom Brady is 5-2 against the Eagles in his career, but has loss 2 straight against the team (at home in 2015, and Super Bowl LII).
In terms of playoff implications, the three biggest games left this regular season are against Houston, Kansas City, and Buffalo. Win those 3 games, you move to 11 total wins, and have a tiebreaker against each team in the playoff standings; even if they lost the other 4 games, that would likely be enough to clinch a bye week.
I predicted this team would go 13-3, and I don't see them finishing anything below that. I think their most challenging games to finish 2019 will be against Houston and Dallas, because similar to Baltimore, those are the only two teams I can see replicating the same performance on the ground while containing the team on offense.
The Eagles have been inconsistent all season, and I don't trust Carson Wentz against this defense, nor do I trust the Eagles secondary (quite frankly I believe this will be Brady's bounce back game).
The Chiefs are too reliant on Patrick Mahomes (who is very good), their defense still stinks, and an overall blueprint to beating them seems to have been developed; the Chiefs are 0-3 under Mahomes in his last 3 full starts, and 8-7 in his last 15 full starts going back to last season (postseason included).
The Bengals are 0-9 and currently have a rookie playing QB; the Bills are 6-3 but are beginning to trend in the wrong direction (Tom Brady has only lost one start to the Bills at home, and it was in 2014 when he was removed during the first half for Jimmy G), and Miami is still a team in tank mode (similar to the Bills, Brady's only home loss to Miami was in 2005 when Matt Cassel played most of the game).
I see a minimum of 13 wins, an improved offense, and a defense that may regress in terms of its historic first half output, but will hold its own.
The key to the season will be how the offense adjusts moving forward. A year ago they found their grove during the last 2 games, and it propelled them to a Super Bowl run (in addition to the defense you currently see). Assuming the pieces in place remain the same, they will actually have more time this season to find out what works. If that happens, and nothing else goes wrong, this is still your Super Bowl favorite.
---
Photo above via Maddie Meyer of Getty Images
Follow Nick on Twitter (@Nick_Collins14)