Welcome back to Who to Watch!
What a week, huh?
Last night was saw the Browns win a huge game to keep their season alive… only for it to be overshadowed by the actions of Myles Garrett (reports say he won't see the field until the 2020 season). The Houston Astros were reported to be orchestrating a massive sign-stealing operation, specifically during their World Series season in 2017; those involved could include Alex Cora and Carlos Beltran, now both managers in the MLB. In lighter baseball news, Mike Trout and Cody Bellinger were named MVPs, while Justin Verlander and Jacob de Grom were named Cy Youngs. Andrew Wiggins is playing like an actual star, and Paul George made his season debut last night. The Chiefs lost their 4th game of 2019, and the Raiders (yes, the Raider) are currently the second Wild Card team in the AFC. In the NFC, we saw the game of the season on Monday night as the Seahawks beat the 49ers at the buzzer in OT. There's a lot going on, and a lot of fun stuff to be watching as a fan… here's what we're keeping our eyes on
Buy
Fredy: Tom Brady
Forget the stats. Forget the season before the bye week. Tom Brady WILL respond positively to the critics with his play this weekend against the Eagles. Remember that video where he sniffles talking about how everyone thinks the Patriots suck? Yeah or the Tom Brady who just won his sixth championship? Mohamed Sanu and Julian Edelman are gonna tear it up. It'll be a complete game and the Boo hoo Brady crew will rejoice!
When to Watch:
New England Patriots vs. Philadelphia Eagles (11/17, 4:25 PM)
Nick: Pascal Siakam
https://www.youtube.com/watch?v=HATC34YWVS0
I'm not questioning Kawhi's decision to go to the Clippers, because it was more than basketball… but can you imagine if he was still in Toronto with Siakam right now? Pascal is improving at a rate that is insane, and you could argue he should win the Most Improved Player award AGAIN (plus, you know, the MVP discussion), which is just unprecedented. He's averaging 27.2 PPG and 9.8 RPG this season, clearing proving capable of being the first option. Whatever sacrifices he might be making in certain efficiency categories (not much at all) he is making up for in sheer production… and he's still only 25 years old; he's simply amazing
When to Watch:
Toronto Raptors vs. Dallas Mavericks (11/16, 8:30 PM)
Charlotte Hornets vs. Toronto Raptors (11/18, 7:30 PM)
Orlando Magic vs. Toronto Raptors (11/20, 7:30 PM)
Sell
Fredy: Adam Gase
He's supposedly a QB guru, and yet he destroyed Ryan Tannehill in Miami and is on his way to taking a dump on Sam Darnold's career in New York. Tannehill just beat the Chiefs, holy crap! Seems like a good week without Gase holding you back. Darnold is stuck with Gase for another year because the Jets have decided he can't keep going through different coaches this early in his QB development phase. The Jets ended up sucking, even with talent on both sides of the ball. The front office seems so disorganized it doesn't know what to do anymore (blame ownership).
When to Watch:
New York Jets vs. Washington (11/17, 1:00 PM)
Nick: Brian Hoyer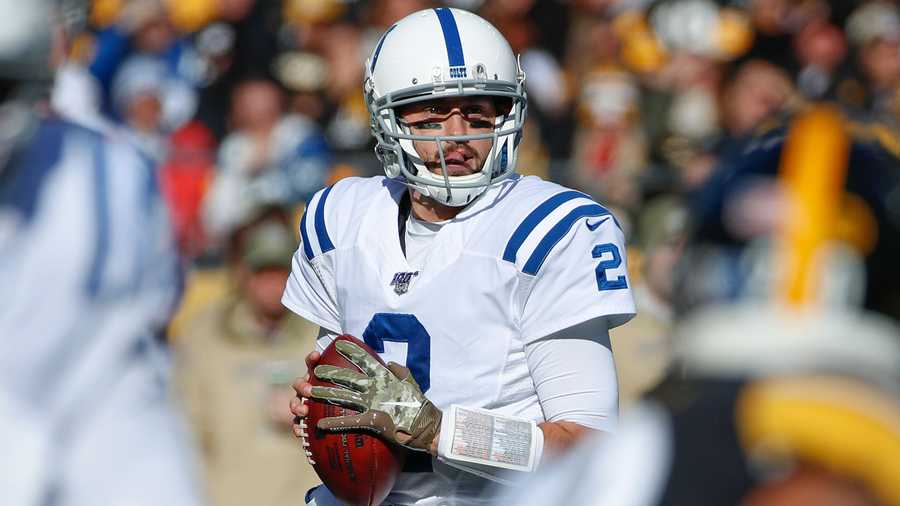 I was listening to Pardon My Take the other day, and Big Cat was saying how some backup QBs can have their careers end by actually having to replace the starter and have everyone see that "oh wait… he actually sucks." I'm sure some teams are more proactive about backup QBs than others, but if you were the Colts during the peak-Peyton Manning years, you can survive keeping Jim Sorgi around if he's never going to play a meaningful snap (Curtis Painter was not as lucky in 2011). I personally think Hoyer should get Hall of Fame consideration for the mere fact we was 10-6 as a starter for the Browns, but these past 2 games have shown he can't play anymore. Come to New England (or wherever there's a former Patriots coach/player) and begin your coaching career.
When to Watch: 
Jacksonville Jaguars vs. Indianapolis Colts (11/17, 1:00 PM)
---
Credit to the photo above goes to Dean Rutz of the Seattle Times
The "Who to Watch" series drops every Friday, via Hold My Drink Sports