The Patriots dynasty is special.
As a Patriots fan, I will always support the team, but last night, the NFL put forth even more evidence to make any argument about this current run more legitimate.
The NFL finished its rankings of the 100 greatest teams in league history last night, and the remaining 30 teams they revealed included three teams from the past 20 years.
Rankings 100 through 31 had included four Patriots teams from the past two decade, meaning in total, seven of the 100 greatest teams in NFL history (according to the NFL) are Patriots teams since 2000.
Not too bad.
Allow me to spin this another way.
Of the 100 teams listed, 26 were teams that played between 2000 and 2018… seven were Patriots teams.
That means roughly 27% of the greatest NFL teams of the 21st century were thought to be from New England… that's pretty dominant.
Here's how those rankings looked:
2007 New England Patriots (7th all-time)
2004 New England Patriots (16th)
2013 Seattle Seahawks (18th)
2016 New England Patriots (21st)
2000 Baltimore Ravens (22nd)
2009 New Orleans Saints (30th)
2003 New England Patriots (32nd)
2017 Philadelphia Eagles (36th)
2006 Indianapolis Colts (37th)
2002 Tampa Bay Buccaneers (45th)
2014 New England Patriots (46th)
2001 New England Patriots (51st)
2007 New York Giants (53rd)
2015 Denver Broncos (58th)
2001 St. Louis Rams (60th)
2008 Pittsburgh Steelers (62nd)
2011 Green Bay Packers (67th)
2015 Carolina Panthers (68th)
2009 Indianapolis Colts (75th)
2018 New England Patriots (79th)
2013 Denver Broncos (86th)
2010 Green Bay Packers (87th)
2005 Pittsburgh Steelers (90th)
2011 New York Giants (93rd)
2006 San Diego Chargers (95th)
2012 Baltimore Ravens (97th)
That's an amazing amount of representation, and further shows how amazing this dynasty has been.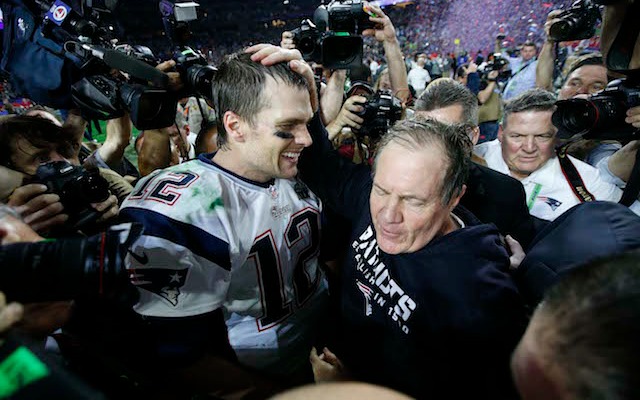 If you look deeper, 7 of the teams listed are teams Patriots have lost to in the playoffs during their dynasty; for those keeping track at home, the Patriots have lost 10 playoff games during their dynasty, meaning 70% of their playoff losses came at the hands of some of the better teams in league history.
In chronological order, those teams listed above are: 2006 Colts, 2007 Giants, 2011 Giants, 2012 Ravens, 2013 Broncos, 2015 Broncos, 2017 Eagles.
The Patriots were fairly beat in 2012 and 2013, but they had a 21-3 lead in the AFC Championship Game in 2006, the 2007 team is ranked 7th all-time and needed a masterful performance from the Giants to lose, the 2011 lost a similarly close game (thanks Wes Welker), the 2015 team started 10-0 but was decimated by injuries, but even then was a two-point conversion away from taking Denver to overtime in the 2015 AFC Championship Game, and Super Bowl LII was a crazy game (one you could argue the refs handed to Philly, but I won't) where New England could have won.
To their credit, New England did end the seasons of two of the teams on this list: the 2001 St. Louis Rams, and the 2006 San Diego Chargers.
Even when they aren't producing a team considered one of the 100 best in NFL history, they're considered a test for the greatest teams ever to beat.
Between 2000 and 2018, Tom Brady was the starter for the Patriots for most/all of 17 seasons… in 7 of those seasons, the Patriots were a top 100 team all-time… 41.2% of his seasons as a starter in that time he helped lead some of the greatest teams the league has ever seen… just think about that for a minute. When he and Belichick are clicking, there is over a 40% chance they produce a legendary team… unfathomable.
Want to give Belichick some additional credit? The classic Giants teams he was the defensive coordinator of (the 1986 and 1990 New York Giants) were deemed to be the 12th and 29th greatest teams in NFL history, meaning Belichick made 9 appearances on this top 100 list… not too shabby
All in all, more reason to appreciate the greatest dynasty this league, and arguably professional sports, has ever seen.
---
Follow Nick on Twitter (@Nick_Collins14)