Ah yes, the Patriots won another game, moving to 10-1 on the 2019 season.
People are still adjusting to the fact that this team is leaning on their defense more than their offense, but you cannot deny how awesome the defense has been. It truly might be one of the best defenses in league history, or at minimum the best in the NFL, and the best Belichick has had in New England… that is good.
The offense has not been ideal, no one is denying it. I understand Brady has not been his best self at times, but also believe the inconsistency that has existed is due to injuries and changing pieces around him; give him some time with Edelman, Sanu, Dorsett, Meyers and Harry, and Wynn at LT… hasn't happen once all season.
Regardless, if you're worried about a team that's 10-1, keep some things in mind: the Patriots have a 2-game lead in the AFC East, plus a 3-game lead for a bye week with 5 games left. They play the current division leaders in the AFC South and West the next 2 weeks… win those games, you'll all but wrap up a bye week (to secure it, you have to win the division, which could happen for certain by Week 16 with a win against Buffalo). Obviously a lot of things and variables with those factors, but simply put, New England is in a good spot to get a bye week for the 10th straight season, and still controls their destiny for home field advantage in the AFC.
All good things.
Now to the number 17.
New England won their 10th game yesterday, meaning they have won at least 10 games for 17 straight seasons… seventeen (2003-present).
The last time the Patriots won less than 10 games was 2002… when they won 9.
For perspective… I was 4.
I thought it'd be fun to make one of those posts about what life was like the last time the Patriots didn't win 10 games (only going to focus on the NFL).
Passing Leaders in 2002
Lets start with the passing leaders from 2002…
Most passing yards: Rich Gannon (Raiders), 4689
Most passing touchdowns: Tom Brady (Patriots), 28
Highest passer rating: Chad Pennington (Jets), 104.2
Gannon won the MVP in 2002, as you can see, Brady had a good season… and there's Chad Pennington.
In terms of age, those players are now 53, 42, and 43 respectively… and one's still in the NFL (can you guess who?)
Rushing Leaders in 2002
Now to rushing, back when it still happened a lot…
Most rushing yards: Ricky Williams (Dolphins), 1853
Most rushing touchdowns: Priest Holmes (Chiefs), 21
17 running backs had over 1000 rushing yards in 2002 (no, Frank Gore was not one of them)… Williams, Holmes, LaDanian Tolmlinson, Clinton Portis, Travis Henry, Deuce McAllister, Tiki Barber, Jamal Lewis, Fred Taylor, Corey Dillon, Michael Bennett (not that one), Ahman Green, Shaun Alexander, Eddie George, Curtis Martin, Deuce Stanley, and James Stewart.
In 2018, only 9 running backs ran for over 1000 yards.
Receiving Leaders in 2002
Interesting note next…
Most receptions: Marvin Harrison (Colts), 143
Most receiving yards: Marvin Harrison (Colts), 1722
Most receiving touchdowns: Terrell Owens (49ers), 13
Marvin Harrison had a pretty good season… as a matter of fact, he broke the record for most receptions in a season with 143. Why is that interesting? Well, current Saints WR Michael Thomas has 104 receptions, and with 5 games left, he only needs 40 more receptions to break that record. Thomas is currently on pace to have 151 receptions, so it is absolutely within reach.
Defensive Leaders in 2002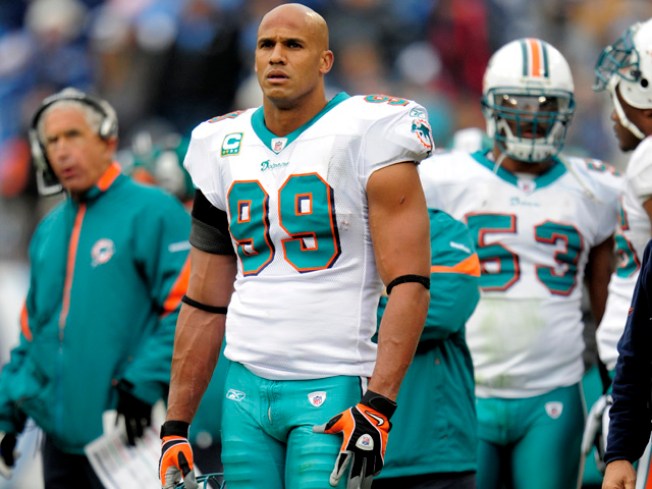 Best defenders in 2002…
Most tackles: Zack Thomas (Dolphins), 156
Most sacks: Jason Taylor (Dolphins), 18.5
Most interceptions: Rod Woodson (Raiders) and Brian Kelly (Buccaneers), 8
The DPOY was Derrick Brooks (Buccaneers), a member of the Super Bowl Champions
Award Winners in 2002
We covered some, but here are the rest (and I'll note their current ages)
MVP: Rich Gannon, Raiders (53)
Offensive Player of the Year: Priest Holmes, Chiefs (46)
Defensive Player of the Year: Derrick Brooks, Buccaneers (46)
Offensive Rookie of the Year: Clinton Portis, Broncos (38)
Defensive Rookie of the Year: Julius Peppers, Panthers (39)
Coach of the Year: Andy Reid, Eagles (61)
Comeback Player of the Year: Tommy Maddox, Steelers (48)
None of these players are still in the NFL, but Andy Reid is still coaching (but in Kansas City)
Super Bowl XXXVII
Oakland Raiders (11-5) versus Tampa Bay Buccaneers (12-4)
Neither of these teams have won a playoff game since this game…
The Buccaneers won the game 48-21 in a game that was simply never close. Jon Gruden led the Bucs to a win against the team he had coached the year prior, the Oakland Raiders. Gruden was only 39 at the time, becoming the youngest head coach in league history to win a Super Bowl (a record since broken by Mike Tomlin, who was 36 when the Steelers won the Super Bowl 6 seasons later).
Gruden coached the Bucs for 6 more seasons before being fired in 2008 after a late season collapse, culminated with a loss in their season finale against… the Oakland Raiders. Gruden went to the broadcast booth for 9 seasons, calling MNF games on ESPN, but after many offers to return, he finally said yes to… the Oakland Raiders, coming back in 2018 at the age of 55.
---
It was a different world back in 2002, one where the Patriots won just 9 games. The league was not the same as you see today, and the teams that played for the Super Bowl have only made the playoffs 3 times total since then… while the Patriots have made it 16 times… and are on the verge of making it for the 17th time.
Another record for the best dynasty in the history of sports.
---
Follow Nick on Twitter (@Nick_Collins14)