They say one of the scariest things about being a human is having an understanding of time and the fact it is finite. Patriots fans are beginning to experience mortality in their own way.
The Patriots season came to an early end on Saturday, the earliest the team has left the playoffs since the 2009 season. With their loss to Tennessee, the offseason officially began much earlier than we've become accustomed to, and that means more time to ponder about the future of Tom Brady.
This is a point I never thought we'd reach, but Tom Brady is set to become a free agent on March 18. This would be the first time Brady has reached free agency in his entire career. Prior to this, the 42-year-old QB has always received an extension that secured his future with the team, but before the 2019 season things went a little different.
Brady has said for awhile now he wants to play until he's 45, and Robert Kraft has been adamant about seeing Brady finish his career in New England, but there has also been an understanding that due to Brady's age the team will take a year-by-year approach.
Following the 2012 season, Brady agreed to an extension that was team-friendly in nature, giving up future earnings to assure the organization assembled the best roster around him; this has been the standard for a handful of years.
Before 2018, Brady and the team restructured his deal, and the terms would be that he would earn $15 million with additional incentives worth up to $5 million. For a QB coming off an MVP season in 2017, it was seen as somewhat disrespectful, and fueled the narrative that the Patriots dynasty was ending. Of course it wasn't true and the Patriots went on to win the Super Bowl, but Brady did not reach any incentives, and entering the 2019 season an impasse emerged.
There were talks of a holdout, but Brady and the team agreed to another restructure. Brady was originally set to make $15 million in 2019, but the team gave him an $8 million raise, but with a caveat. Since it seemed like they were unwilling to give him a multiyear contract, and possibly at a figure he desired, Brady and the team agreed to have 2019 be the final year of this contract, NOT giving him an extension.
The idea was if Brady couldn't get what he wanted last year, he would have leverage in future negotiations, and if things went south, he could leave the organization he's been with since entering the NFL in 2000.
Well… that scenario is in play now.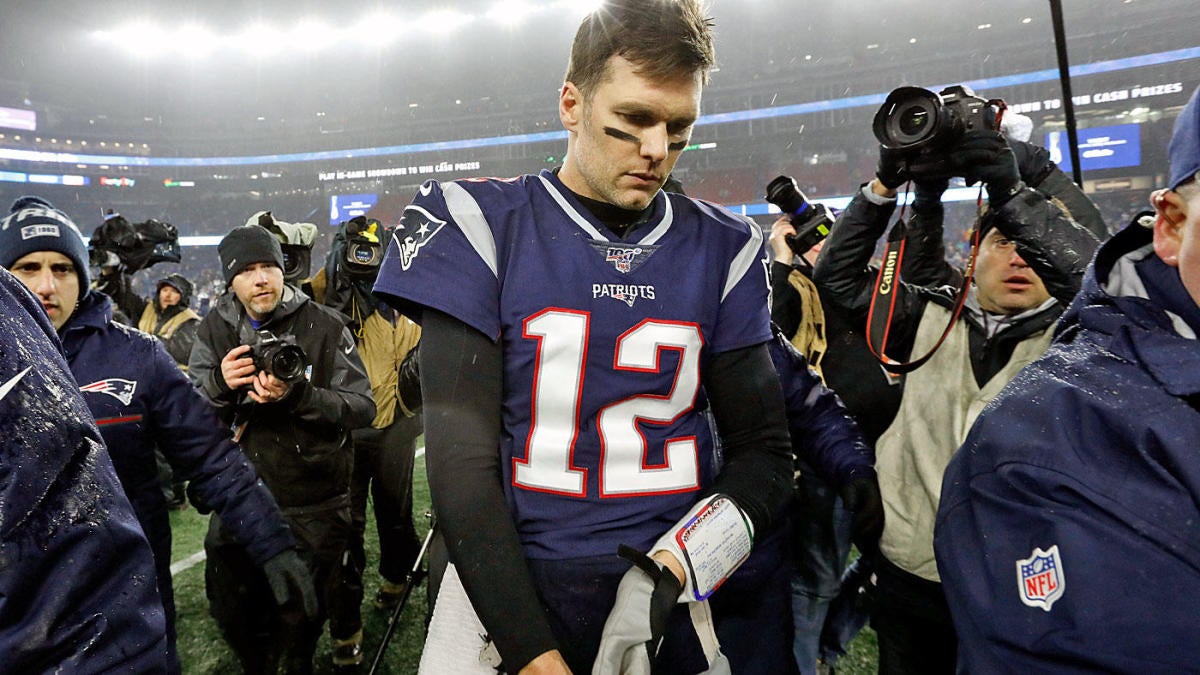 Brady finished his age 42 season with his lowest numbers in years, lower than 2018, and surely off the pace of the MVP caliber player we had seen the few seasons prior. Was this a sign of a QB finally showing signs of aging?
Not exactly.
Even as the Patriots began the season 8-0, Brady and the Patriots offense went through a whirlwind of change.
Entering training camp, these were the players the Patriots had at their skill positions:
RB – Sony Michel, James White, Rex Burkhead, Damien Harris, Brandon Bolden, James Develin (FB), Nick Brossette

WR – Julien Edelman, Phillip Dorsett, Demaryius Thomas, N'Keal Harry, Maurice Harris, Braxton Berrios, Damoun Patterson, Ryan Davis, and Jakobi Meyers

TE – Benjamin Watson, Stephen Anderson, Matt LaCosse, Ryan Izzo, and Andrew Beck
The supporting cast was certainly lacking from the year prior with the departures of Rob Gronkowski, Chris Hogan, and Cordarrelle Patterson, but there was hope with rookie N'Keal Harry, veteran Benjamin Watson returning, and someone like Phillip Dorsett or Demaryius Thomas rising to the occasion.
Before the preseason ended, the team learned they would be getting Josh Gordon back, and the WR would not be suspended. Even with N'Keal Harry having suffered a hamstring injury that looked like it would make him miss time, things were looking up.
Then Antonio Brown was released by the Raiders and signed by the Patriots on the eve of opening night.
Suddenly the Patriots had one of the best WRs in the game to compliment Edelman, Gordan and Dorsett, as well as the strong RB unit. Did the team even NEED N'Keal Harry to play in 2019? It honestly didn't seem like it.
As quickly as things were looking up, they went south.
The offensive line had already suffered a huge blow with David Andrews ruled out for 2019 before the season began due to blood clots. In Week 1, the team lost Marcus Cannon to injury, raising some concern (he was not out long).
Before Week 2, the team had to trade Demaryius Thomas in order to make a roster spot for AB, but during the week it was reported that a female had accused AB of raping and sexually harassing her. This became a huge and unavoidable story, with some pushing for AB to be cut, while others saying he should at least be suspended… neither occurred.
During Week 2, Brown caught 4 passes for 56 yards and a TD, as the Patriots won 43-0 in Miami. Could they go 16-0?

In that game, LT Isaiah Wynn and FB James Develin were both injured, and would soon end up on IR, but this would not be the biggest Patriots loss. Before Week 3, as the AB story grew and other accusers spoke up, AB put one of them in a group text message and intimated her, bringing up the women's children while having had his friends search her online. This was the last straw, and Brown was cut the Friday before the game against the Jets.
Brown was gone, as was Demaryius Thomas. With the injuries to the offensive line and at fullback, protecting Tom Brady was now an issue as well.  Following Week 4, it was announced Stephen Gostkowski would be out for the remainder of the season due to a hip injury.
And to think 16-0 seemed possible.
The team kept winning, but clearly needed more resources for Brady, as Gordon was playing injured, and the only help for Edelman and Dorsett at WR were Jakobi Meyers and Gunner Olszewski. After Week 7, the Patriots traded a second round pick for Falcons WR Mohammed Sanu. The Patriots were enduring kicking woes, but maybe the offense could stabilize a bit with the veteran acquisition.
In a shocking move before Week 8, the team put Josh Gordon on IR. Since it had become certain two of N'Keal Harry, Isaiah Wynn and James Develin would be return from IR, and well before Gordon could within the 8-week timetable, this signaled an end to his time with the team. On October 31 he was waived.
Harry came off of IR before Week 9, but did not debut until Week 11.
By this point, AB and Gordon had become Harry and Sanu.
Edelman was banged up, Harry was injured early in the preseason and would need to catch up (and as a rookie), and Mohammad Sanu was learning a new system.
James White would help, so could Rex Burkhead, and at least the line was healthier than it had been the first half of the season, but there would be no help at TE, and Brady would have to rely and trust players he normally wouldn't under ideal circumstances.
It became obvious as the weeks went on this supporting cast had issues. You could argue there was not enough time to find chemistry, and the running game improved a bit, but it would not be nearly reliable enough to do anything… and once the postseason came, the Patriots lost as a result of this.
This very well might have been the worst case scenario for the team this season.
Yes they went 12-4 and had a good defense, but Brady was left working with a bad and unready set of weapons, improvising and trying to prevent mistakes to the best of his ability. Some saw this as a sign of decline, some argued he was dealt an awful hand that would have been a challenge for anyone to work with.
I side with the latter, which, compounded with the complexity of the Patriots offense, made it impossible to ever find any consistency this season. Still, it led to a disappointing end to a once promising season, and left a lot of questions moving forward.
If Brady is to return, the offense will need to retool. The tight end group must improve, especially with the retirement of Ben Watson. Maybe there is a path for Gronk to return after having had a season off (2019 never seemed possible to me), but you can't bank on that. Harry and Meyers will have more time to develop, and Sanu will have a full offseason with the team, but there needs to be additions at WR to help Edelman, who is not getting any younger. Left guard Joe Thuney, who was Second team All-Pro this past year, will be a free agent, and have a huge price tag.
The defense is not getting younger, and Kyle Van Noy, Jamie Collins, and Devin McCourty will be free agents.
Special teams coach Joe Judge will be leaving the organization to become the head coach the New York Giants, and Josh McDaniels could become the head coach of the Cleveland Browns.
There is no one better at assembling a roster (and staff) during times of change than Bill Belichick, but what can he do do make life easier for Tom Brady… or if Brady were to leave?
New England Patriots current (and projected) draft picks

1st round – Pick 23
3rd round – Pick 87
2 projected 3rd round compensatory picks
4th round (Chicago)
6th round (Houston)
6th round (Denver)
2 projected 6th round compensatory picks
7th round (Seattle)
7th round (Eagles)
7th round (Falcons)
The Sanu trade stings a little more with the Patriots early departure, as the second round pick they sent to Atlanta will be 55th overall, but New England will have enough picks to improve the team during the draft. There has been plenty of success during the middle of the draft for this team in the past (Shaq Mason and James White were 4th round picks).
There team is projected to have roughly $49 million in cap space, but that could quickly decrease with extensions and re-signings (see: Brady, Tom).
Is there a path for trading for someone like Odell Beckham Jr.? Maybe.
On paper the team failed Brady in 2019, but they certainly tried. They made a higher offer to WR Adam Humphries, but he ended up going to Tennessee. They tried to trade for AB and Odell as well, each time not working out. They also tried to sign Cole Beasley before he ended up in Buffalo. Reports state that the timing of Gronk's retirement prevented the team from trying to sign TE Jared Cook.
The team has drafted a RB (Michel) and WR (Harry) during the first round the past two drafts, but the TE position certainly could have been – and will need to be – addressed.
First and foremost, the future of Tom Brady must be figured out.
"I think I'm just . . . I'll explore those opportunities whenever they are. If it's the Patriots, great. If that doesn't work, I don't know. I just don't know. I love playing football. I still want to play football. I think I still can play at a championship level. I've just got to go do it. I'm motivated to get back to work and training."

-Tom Brady to Peter King following the Patriots loss to Tennessee
Brady, for the first time ever, truly holds the cards. Coming back is a two-way street, but surely Robert Kraft will do everything he can to keep the GOAT a Patriot, as he has seemingly done at every turn.
Belichick might look at the roster and decide it's time for a reset, or maybe he'll see one final run, and specifically be pushed by Kraft to pursue one at all costs.
Brady will have a chance to explore other situations. Maybe he'd like to move to Los Angeles and play for the Chargers. Maybe he wants to play for friend Mike Vrabel in Tennessee, and organization with Patriots roots, but would they move on from Ryan Tannehill for a QB that will be 43 to start the season? Would Chicago move on from Mitch Trubisky and give the keys to Brady? Would he go to Indianapolis, even after Deflategate, with their strong offensive line and almost $80 million in cap space? Maybe the team brings on Peyton Manning in some capacity to help lure Brady. What about Vegas? Tom Brady and Jon Gruden, that would be something.
But do any of those destinations seem like they fit for Tom Brady? The player whose wanted to win at all costs since Day 1. The QB that has fought from the bottom of the depth chart at Michigan and New England. He was about to transfer to Cal-Berkeley since he didn't see a path to becoming a starter, but decided to stay, determining he wanted to fight rather than bail out. He's a fighter, and a winner.
Does he have a path to a Super Bowl, and a team aligned with him and his views, with these destinations? Do the Chargers have the same views he has? The Bears? The Raiders? The Colts?
Also, in Year 21, would he be willing to learn a new offense and work with a whole new set of personnel? What if he has to endure the problems he had in New England this season, but in an entirely new environment?
I had a theory that maybe Brady would go to a team that Josh McDaniels ended up with (the easiest fit was Carolina), but that does not seem likely now, as jobs have filled up.
There would need to be a place for Brady where he is aligned with the coaching staff, front office, and ownership. It would need to be win at all costs… unless.
Are there other priorities that come into play?
How much does location matter. How willing would he be to completely uproot his family? Yes his house is on the market, but that doesn't mean he's gone from the community for good. He's had a house in Los Angeles before and grew up in northern California, is that enough for him to move there. Willie McGinest is on record saying Gisele wouldn't like it there, so maybe not.
What about the future of TB12? Brady seems to want to expand his business once his career is over? Is there a location that makes sense in that respect, somewhere he could began to expand the brand across the nation?
Maybe he takes meeting, and decides the grass isn't greener on the other side, and the Patriots are the best place for his future, aligning most with his interests.
Is retirement an option?
I promise you Brady does not want it, and he sounds determined to keep fighting and winning to me, but what if he cannot find a fit outside of New England, and the Patriots (meaning Belichick) push towards rebuilding.
"Even though he's the greatest quarterback in league history, he still got it in him to believe there's a chance nobody will want him."

-Tom E. Curran, Patriots Insider
How much pride is Brady willing to swallow? As Brady knows (and Patriots reported Tom E. Curran points out), Belichick has moved on from franchise QBs before (Bernie Kosar and Drew Bledsoe)… surely he could again, right? Is there a point where the QB's price tag is too much and Belichick won't pay it? Would Kraft ever let it happen, because this is the same guy that allegedly made Bill trade Jimmy G to appease Brady in 2017.
Whatever happens, the fact remains: Tom Brady will not be playing football forever.
This does not mean he won't be in New England in 2020, but this is the first time Patriots fans have truly had to confront a possible future without the GOAT.
This dynasty will not go on forever, nor will Brady's career. Time is finite, for each and everyone of us. Moving forward, all parties involved should take this into account… and act accordingly.
---
Follow Nick on Twitter (@Nick_Collins14)