How do you say goodbye to someone who was larger than life?
Someone who gave life everything they had, whose personality was built around a ruthless obsession with perfection and domination?
The past 24 hours feel wrong.
If you know me, I'm a Celtics fan at heart. Kobe was my first villain as a Celtics fan, yet you had to respect him. He was an awesome rival during my formative years as an NBA fan when Pierce, Garnett and Allen faced the Lakers in the NBA Finals in 2008 and 2010.
I've had a hard time in the past placing Kobe in the hierarchy of players I've grown up watching.
Not that he was better than all of them (he was better than most), he just seemed like a timeless figure.
I have a hard time believing Kobe couldn't have dominated at any time in the history of the sport.
Facing the Celtics in the 50s and 60s, playing in a league with Oscar and Kareem, Magic and Bird, or Jordan, Isiah Thomas and Hakeem.
Kobe would've found a way, that's the player – and person – he was.
The old heads of past generations respected him, because he was old-school in modern times.
I've sat back and wondered what my favorite Kobe moment was. I remember the duels against the Celtics, the countless game-winners, his scoring outbursts at MSG, 81 points, etc.
I think my favorite moment was his final game.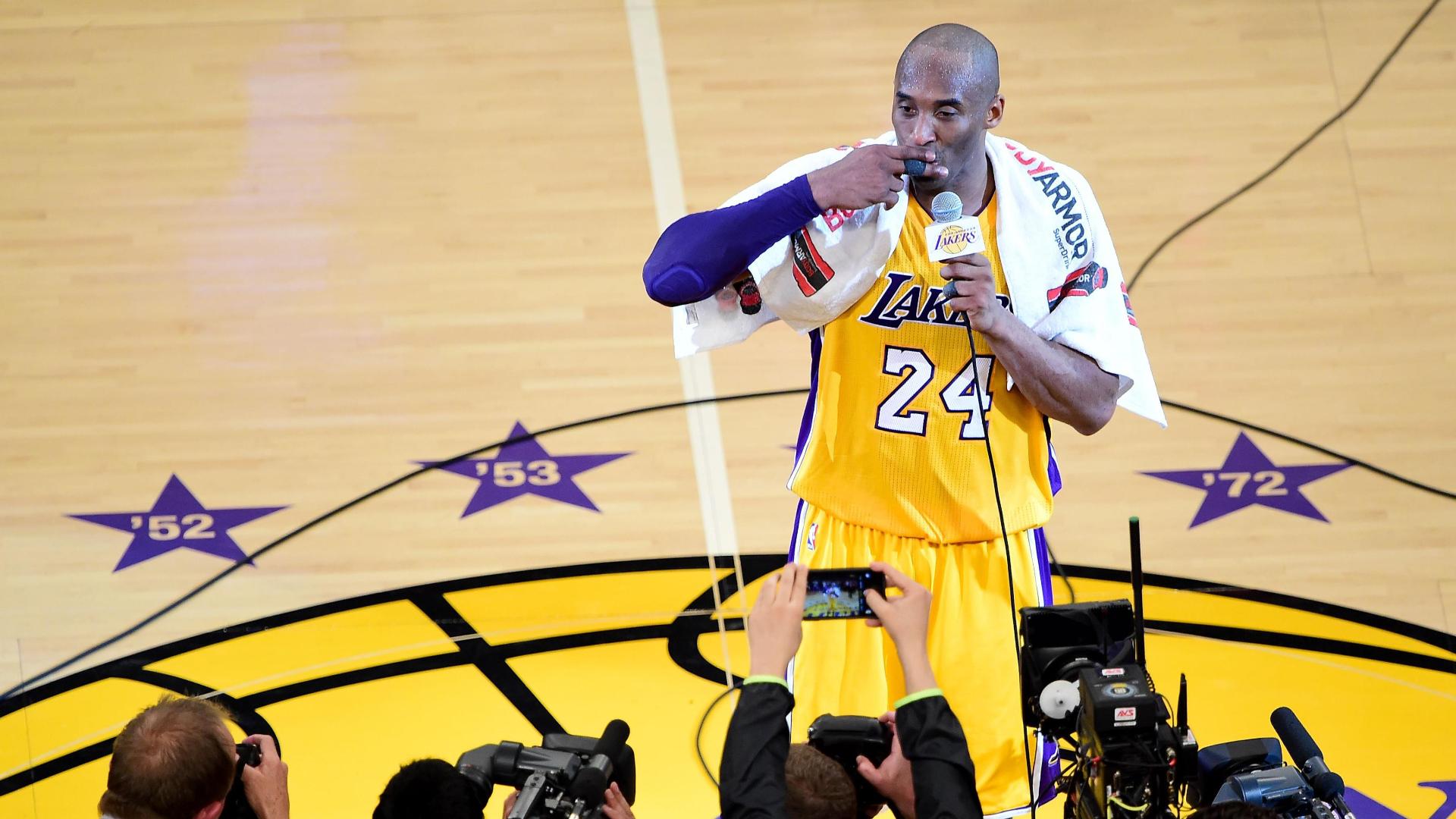 It was April 13, 2016. I remember that because April 14 I would be going to take my second road test around 10 AM (yes I failed my first time the previous August).
I was nervous, I always get nervous and overcome with anxiety. However, the night before, the final night of the regular season, the Warriors were going for their 73rd win of the season, and Steph Curry would attempt to make 400 three pointers, both unmatched feats in the NBA. That would be on ESPN… Kobe's final game was on ESPN2.
I chose Kobe.
I was dozing in and out at the beginning, trying to get a good night sleep before my road test, but I couldn't sleep. I saw the numbers 8 and 24 on the court, and they were tracking his field goal makes and attempts on the screen. It started kind of ugly, but the moment helped distract me.
As I began to pay attention, he picked up a little bit. Nothing special, but quite interesting.
It was a night to remember Kobe's past.
Through 3 quarters he had 37 points, and the Lakers were trailing 75-66… not too bad.
They were 16-65 at that point, far from the championship play Kobe experienced so often in his career, but it was a special night regardless.
I'll never forget that 4th quarter.
Kobe kept shooting, and suddenly the Lakers were climbing back into the game.
They were playing a Jazz team that entered the final day of 2016 with a shot of making the playoffs. They knew by this point in the game they were eliminated, but they were still the superior team.
It did not matter.
With less than 4 minutes left, the Lakers trailed 94-84, and Kobe had 45 points.
He finished the game with 15 of the Lakers final 17 points (15 straight, and one final assist to Jordan Clarkson), giving the Lakers a 101-96 win.
Even at age 37, with 20 years of injuries having added up, he was the Black Mamba for one last night, encompassing the fire that had made him a legend and fighting like a warrior, carrying his team, willing them to victory.
It was fucking awesome, one of my favorite memories as a sports fan.
… and maybe the adrenaline helped me get my license the next day 🙂
I'm not sure how to process this all quite frankly.
Kobe is someone I grew up seeing, watching him play, partaking in stupid debates about his talent, watching my Celtics duel against him, and yes, saying "Kobe" while tossing some trash into a barrel. The dunks, the jumpers, the drive, the game-winners, all of it was legendary, the essence of reaching the peak of your field.
And he's gone.
Not just Kobe… his 13-year-old daughter Gianna.
I have a sister who's 13, and I keep thinking of someone that age losing their life, and it breaks my heart; my heart weeps for Vanessa Bryant and her three children, as well as the entire Bryant family.
I know there were others on that helicopter flight too, and I would like to extend my thoughts out to them and their loved ones as well.
Death is not fair, and yesterday was no different.
This world can be a cruel place, and sometimes we lose sight of just how fragile life is that we're cruel to each other just because. I just hope that in the sadness of this event we as basketball fans, sports fans, and a society, can step back and remember how precious life is.
… and remember what Kobe stood for.
He had a complicated life, I won't touch on subjects I'm simply not well-versed enough in (it's not the time nor the place), but at his core, Kobe was someone who was passionate, curious, and looked to live this crazy thing called life to the absolute fullest.
He did so as a player, a storyteller, an entrepreneur, and most importantly, as a father.
Kobe will live forever, and it's our jobs to help continue his legacy. Live each day like it's your last, and do what makes you passionate and happy… he, Gianna, and the 7 others who lost their lives would want nothing less.
Tell those around you that you love them, be with those that make you happy, and help those in need, and don't give up… keep fighting, however you need to in order to keep going.
That's the Mamba mentality.
---
Follow Nick on Twitter (@Nick_Collins14)