For the NFL, the impact of the COVID-19 pandemic has been different than the other major sports leagues in the country. The preseason has been cancelled, mini camps as well as voluntary workouts were not able to take place, but the league did not have to pause or reduce their regular season… yet.
The league had the benefit of time, yet it seems inevitable their plans (or lack thereof) for this season will be flawed.
No bubble. Teams travelling across the country for games as if things are normal, and possibly fans in stadiums…
As we have seen this year in life, and in sports with baseball, we are in a fluid situation where there needs to be flexibility and an understanding things are not normal.
The NFL did keep this in mind to a degree, building their schedule in a manner that if they need to delay the start of the season, those weeks can be added on the backend. The first 4 games for each team will be evenly divided between home and away, meaning the season could theoretically be pushed back a month by not playing those games. There have also been discussions of pushing the Super Bowl back as late as February 28 (or three weeks later), as well as cutting out the bye week between conference championship weekend and the Super Bowl, once again, giving the NFL the potential to handle a delay of 4 weeks but still play all 16 games.
How comfortable would the NFL be with actually reducing games, and how would they handle a situation like that of the Miami Marlins where a team suffered an outbreak and could not play for a week, causing a ripple effect for teams across baseball?
We don't know.
Given all that uncertainty in the background, lets move to the Patriots.
The Patriots experienced a lot of change this offseason. It's not uncommon to say that about a Patriots offseason, but there's one unique person who had been on the team since 2000 but is not coming back in 2020: Tom Brady.
That alone leaves a gap at the most important position in the league, one New England has not had to accommodate for in nearly two decades.
On top of that, several players from last year's league-leading defense will not be on the roster for 2020, and the team will have a new special teams coach since Joe Judge left to become the head coach of the New York Giants.
One thing they have going for them: Bill Belichick, who will be back for his 21st season as head coach. In a season bound to be full of change, uncertainty, and confusion, having the best head coach in the history of the game pulling the strings is a huge positive.
Here's what's in store for the 2020 season.
The Successor to Tom Brady
Once Tom Brady signed with the Tampa Bay Buccaneers, the Patriots were left with 2019 fourth round pick Jarrett Stidham at quarterback. New England also added Brian Hoyer, who will be back as a Patriot for the third time in his career. Stidham impressed the team as a rookie, but the most memorable moment of his career is a pick six at the end of a Week 3 win against the Jets.
The Patriots had an opportunity to draft a QB in April if they desired, but did not do so in any round. By passing on a signal caller with the 23rd pick in the draft, it seemed to show the team believed in Stidham moving forward.
Then they signed Cam Newton.
It was a shock he was a free agent so long, but the fact the Patriots were able to sign him for a 1-year incentive-laden contract with only $1 million guaranteed... it was a bargain they could not refuse.
Newton, the 2015 NFL MVP, was released by the Carolina Panthers in March after a rough end to his days with the team. Newton started strong in 2018, putting up numbers on par with his 2015 season, but a shoulder injury led to a downward spiral for the team that year. He started the first 2 games of 2019 before suffering a foot injury, and did not see the field again. Newton lost his final 8 starts as a Panther after beginning his career 68-47-1 (.591).
You cannot deny the talent of Newton when he is healthy. Just look at the first half of the 2018 season when he lead Carolina to a 6-2 start while passing for 1893 yards, 15 TD and 4 INT, completing 67.3 of his passes and boating a passer rating of 100.8. He also ran for 342 yards and scored 4 TD on the ground. That was less than two years ago.
If Newton is at full strength, who's to say he can't replicate those numbers? He's just 31 years old, and is the most talented QB not named Tom Brady that Belichick and McDaniels have ever worked with. After Tom Brady became the starter in 2001, he missed 19 games due to injury and suspension over the course of his career… New England went 13-6 in those games. Newton is better than any of the QBs that started for the Patriots in that time.
Is the roster as good as it was in 2008 and 2016 when those non-Brady starts occurred? Doubtful, but even in the worst years for the Patriots under Brady they've always gotten above .500.
Newton will have to learn a new system under vastly different than normal circumstances, and there's a remote possibility he does not even win the starting position, but if he's 100%, he's the more talented player at this time, and the leader in the clubhouse.
Departures on Defense
The Patriots defense, which was the bedrock of the team last year and propelled the organization to a Super Bowl in 2018, is going to lock a lot different.
Jamie Collins, Doug Harmon (traded), Elandon Roberts, Danny Shelton, and Kyle Van Noy are no longer with the team, while Dont'a Hightower and Patrick Chung have opted out of the 2020 season due to COVID-19 concerns. That's a total of 5 of the 11 starters on defense from 2019.
New England still boats an elite secondary, led by 2019 NFL Defensive Player of the Year Stephon Gilmore. Devin and Jason McCourty will be back, as will Jonathan Jones and J.C. Jackson. Losing Chung at safety stings, but overall the unit is strong.
Linebacker is where the departures hurt the most. New England will have a massive brain drain at the position without Hightower and Van Noy, and losing Roberts and Collins hurts as well. Ja'Whaun Bentley has been highly touted since entering the NFL in 2018 and will have a chance to prove his worth with these openings. The team will also be relying on Shilique Calhoun and free agent signing Brandon Copeland, as well as 2020 3rd round draft pick Anfernee Jennings to fill in the gap. On the edge, the team will have John Simon and Chase Winovich back for another season. The defensive line loses Danny Shelton, but Lawrence Guy and Deatrich Wise Jr return, and Beau Allen has been signed as a reinforcement.
For a team that struggled to stop the run game last season and was exposed by Derrick Henry in their playoff loss, losing veterans at linebacker hurts. However, this team has always had a next man up philosophy, and this moment presents a perfect opportunity for Ja'Whaun Bentley to become the next great Patriots linebacker. The secondary will yet again be the strength of the team, and given the talent at the position, as long as everyone does their job, they should keep the team in most games they play.
Who's Kicking the Field Goals?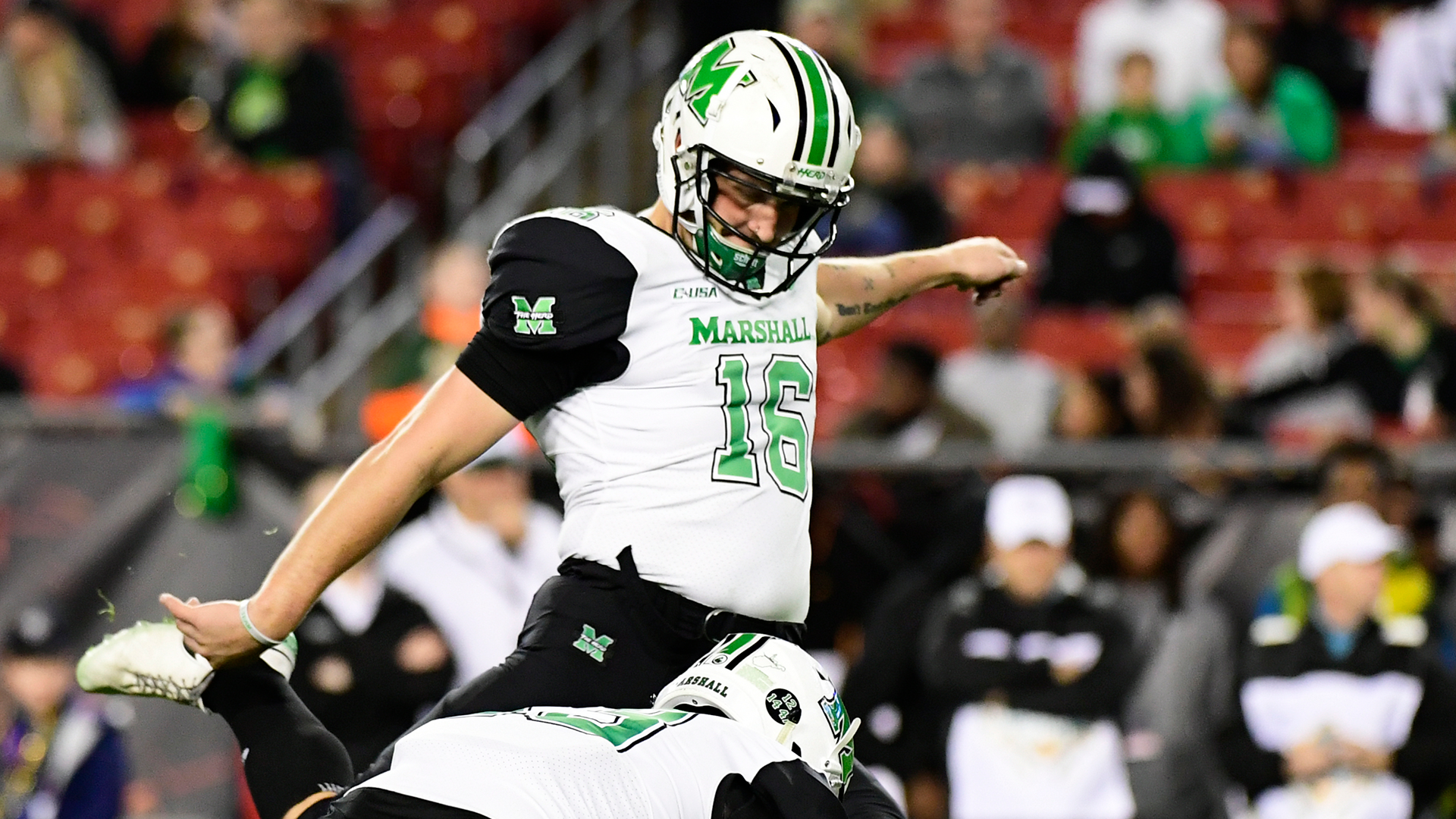 Outside of QB, kicker has been the most stable position for the New England Patriots during this dynasty. From Adam Vinatieri, who was with the team from 1996 to 2005, to Stephen Gostkowski, who was in New England from 2006 to 2019, the Patriots have not had to move on from kickers that often.
This offseason they did, as Gostkowski, who played just 2 games in 2019 before being placed on IR with a hip injury, was released. During the draft, the Patriots selected Justin Rohrwasser from Marshall to replace Gostkowski. During his final season in college, Rohrwasser made 85.7% of his kicks, close to the 88% of kicks Gostkowski made his final year in school. With the success New England has had in identifying kickers and punters, odds are Rohrwasser will succeed.
Rohrwasser's draft selection did not come without controversy.
Shortly after his selection, several people noticed the kicker had a tattoo on his arm with a "Three Percenters" logo. You can read more about the controversy surrounding the tattoo (which Rohrwasser has since had removed) here.
Strong Offense?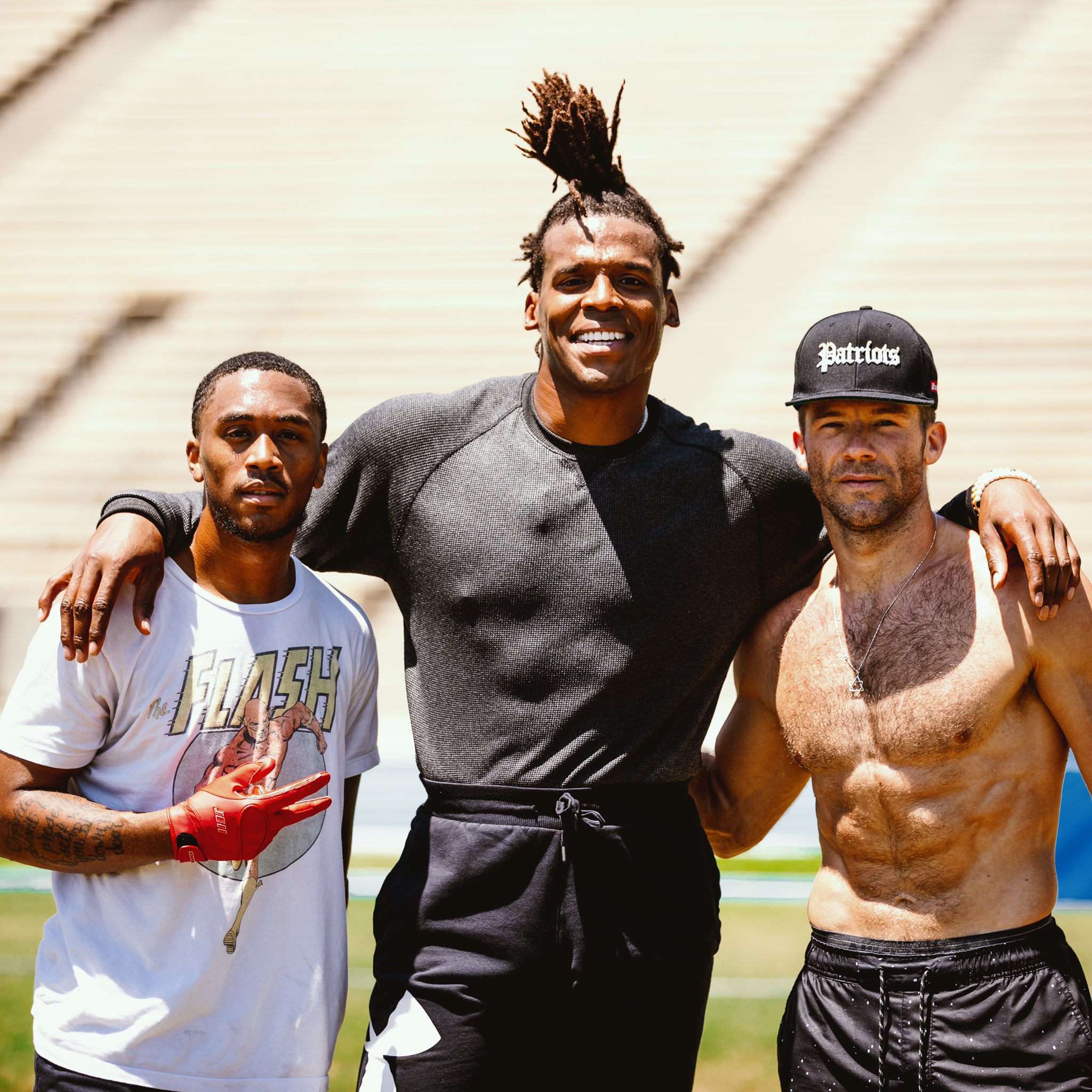 Even in Brady's final seasons with the team, the offense was not as strong as it had been during many points of the Patriots dynasty. This was not all his fault, as the past 2 years saw an endless cycle of new faces at wide receiver. In 2019, the team did not have Gronk after he retired, and their running game was hurt due to the health of David Andrews, James Develin and Isaiah Wynn.
We talked about Newton, but where does the rest of the offense stand?
At running back, James White, Sony Michel, Rex Burkhead, Damien Harris and Branden Bolden were set to return. However, Bolden has opted out of the season due to the pandemic, and Michel has been placed on PUP. Being on PUP does not mean Michel will miss games this season, but it is yet another injury for the running back, who has been plagued by them during his career.
White and Burkhead are sure to help Newton in the passing game, and Harris should see expanded playing time in his second season, especially if Michel is out indefinitely. Newton had plenty of success with Christian McCaffery in the passing game the past few years, and White and Burkhead have the ability to replicate his playstyle (although each is not as good as McCaffery).
The offensive line will see the return of David Andrews, a huge plus, but will be without Marcus Cannon, who, like so many, opted out for the season. Isaiah Wynn and Joe Thuney are back on the left side of the line, and Shaq Mason is back at RG, while RT becomes a question mark without Cannon. The OL was crucial to the Pats success in 2018 via the run game, and if they can stay healthy this year, that should be a key to any Patriots success.
At receiver, the glue that is Julian Edelman is back yet again. N'Keal Harry returns for his second season, hopefully benefitting from a healthy offseason and further development. Mohamed Sanu, who the team acquired at the trade deadline last season, is back, and was spotted working out with Cam Newton shortly after the QB's signing; Sanu has been placed on PUP, but hopefully as a precaution. Second year player Jakobi Meyers returns, and the team signed Damiere Byrd this offseason, someone who played with Newton in Carolina for 3 seasons (2016-2018).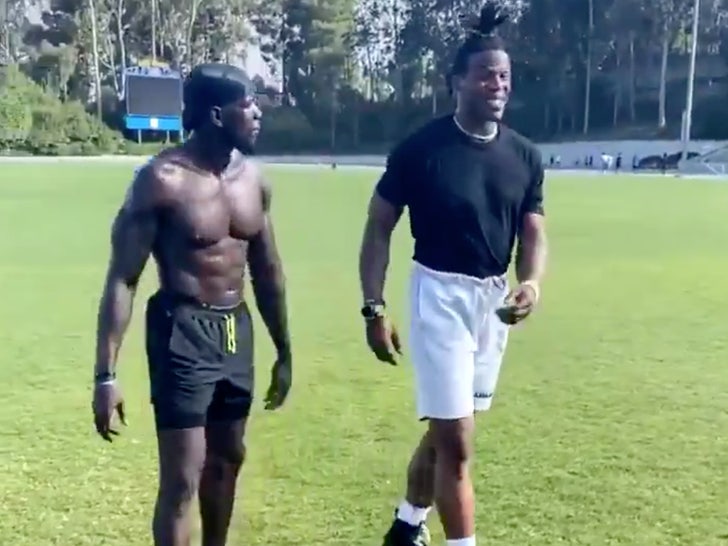 WR has been a chaotic position for the Patriots as of late, but a healthy N'Keal Harry and Mohamed Sanu gives the group a talent base to compliment Julian Edelman they have not had for an extended period (sorry AB and Josh Gordon) since Danny Amendola and Chris Hogan have left.
At tight end, the team drafted Dalton Keene and Devin Asiasi, surely improving a group that was severely lacking without Gronk in 2019. Asiasi is the more established pass-catcher, while Keene may see extended time at fullback without an established player at the position. Rookie tight ends are not known to make immediate impacts in New England, and this was the case with Gronk and Aaron Hernandez in 2010. However, these two are just better than what as at the spot in 2019, so it's an upgrade.
The offense will be different without Brady, as Josh McDaniels and Bill Belichick look to highlight the strengths of Cam Newton (or Jarrett Sidham). With a strong running back group, and hopefully a healthy offensive line, this team seemed destined to rely on the ground game prior to Newton's arrival. Newton offers the potential to add to the running game, although his age and injury history put some caution in just how much he should.
Newton opens up the passing game, and if Mohamed Sanu is healthy, he should compliment Julian Edelman similar to how Danny Amendola did for several years. N'Keal Harry has the potential to truly open up the offense in a way the team has not seen consistently in many years. His development this season could determine how good the offense can be.
Playoff Contenders?
This is tough for me to say as a Patriots fan, because well, I can't remember a time it hasn't been true heading into a season, but this team is not a Super Bowl contender. With Kansas City returning the vast majority of their championship team, and the 14-2 Baltimore Ravens largely in tact, New England is not in that echelon this year in the AFC. One thing benefitting the Patriots is the expansion of the playoffs, as each conference will now send 7 teams to the postseason.
In the AFC East, the Patriots very well might not win the division for the first time since 2008 (the road is certainly more challenging). Keep in mind that every season where Tom Brady started the majority of games for this team, they won the AFC East 16 out of 17 times. Buffalo made the postseason last season at 10-6, while the Jets (7-9) and Dolphins (5-11) finished their seasons on a high note after each starting 1-7.
Miami will either start 5th overall pick Tua Tagovailoa, or journeymen Ryan Fitzpatrick this season, and will feature a stronger defense with the addition of Kyle Van Noy. For a team that finished 2019 5-4, including a win AT New England in Week 17, the future is bright, but the QB position will dictate how far the group goes; I'm not sure they're ready yet.
The Jets have seemed to be ready for improvement for a few years now, but just traded Jamal Adams for draft picks, which will surely hurt their defense this season. Sam Darnold was 6-2 in his final 8 starts of the year, passing for 1947 yards, 13 TD and 4 INT, but can he beat New England, or will he see ghosts yet again? I expect the Jets to finish last in the division.
Buffalo is the best of the group, and the addition of Stephon Diggs should help their offense immensely. I'm a fan of this team, but we've seen plenty of seemingly talented teams ready to take the next step regress (i.e. 2019 Cleveland Browns). Buffalo held a 16-0 deep into the third quarter of their Wild Card Game at Houston before the Texans came back and won in OT. The Atlanta Falcons are still recovering from their loss in Super Bowl LI, will Buffalo be haunted by that moment, or will they learn from it? To be determined.
My biggest worry for the Patriots is their intense schedule. They'll have 3 games on the West Coast (Seattle, Rams and Chargers), and another in KC, but one positive of the circumstances created by the pandemic is that they likely won't have to deal with the well known crowd noise of Arrowhead Stadium and CenturyLink Field. Still, having to play the Chiefs and Seahawks will be a challenge. The team will also go to Houston, where they lost last season.
The Patriots will host the 2019 NFC Champion San Francisco 49ers, as well as the Baltimore Ravens, two of the best teams in the NFL last season. Denver, Las Vegas, and the Cardinals are also scheduled to come to Gillette Stadium.
It will be rough, but again, as one of the most stable and disciplined franchises the past 20 years, the Patriots have an advantage in a historically tumultuous time.
Joey Bosa said it best: the most responsible team is going to be the one who wins," and during the tenure of Bill Belichick, the Patriots have more often than not been the most responsible team in the NFL.
---
Follow Hold My Drink Sports on Twitter (@holdmysporttake) and Instagram (@holdmydrinksports)