Last year prior to the NFL season I decided to rank every head coach in the NFL.
I mentioned that I thought the league was experiencing a brain drain in terms of coaching, but I have to say I was rather impressed with the coaching last season. Kyle Shanahan and Mike Vrabel put on very impressive displays, each leading their team to a conference championship game (and Shanahan to the Super Bowl). There were 6 first-year had coaches last season, and I was impressed with most of them. Freddie Kitchens was disappointing, and fired as a result, while Zac Taylor's Bengals had the worst record in the NFL.
We saw change across the league this offseason, but right now I would say the game is in a good place in terms of coaching. With only 3 first-year head coaches as opposed to 6 last season, there will be an increase in experience across the NFL. I would argue that's good, but that remains to be seen.
Here are my 2020 rankings.
---
First Year Head Coaches
Joe Judge (New York Giants), Matt Rhule (Carolina Panthers), Kevin Stefanski (Cleveland Browns)
I won't rank the new head coaches that have yet to go out there and do anything.
29. Zac Taylor, Cincinnati Bengals (PR: N/A)
2019 record: 2-14 | Career record: 2-14
Hopefully with Joe Burrow head coach Zac Taylor can show why he got this job in the first place. On the bright side, it can't get much worse.
28. Matt Patricia, Detroit Lions (PR: 25)
2019 record: 3-12-1 | Career record: 9-22-1
Detroit did start 2019 2-0-1, but things went south the second half of the season after Matt Stafford got hurt and was out the rest of the season. Patricia is entering make it or break it territory in Year 3, with little to no room for error left.
27. Doug Marrone, Jacksonville Jaguars (PR: 20)
2019 record: 6-10 | Career record: 37-45 (2-1 in postseason)
The same coach that had the Jags on the verge of making the Super Bowl in 2017 is 8-20 in his last 28 games. After Tom Coughlin was fired, it seemed likely Marrone could be next, but ownership gave him another season. The leash is short here.
26. Adam Gase, New York Jets (PR: 19)
2019 record: 7-9 | Career record: 30-34 (0-1 in postseason)
Gase is an enigma to me. Sam Darnold's improvement during the second half of 2019 is sign for optimism, but Jamal Adams's trade made me question Gase yet again. He doesn't have the worst track record by any means, but he also needs to prove to me his team can buy in all-season.
25. Matt Nagy, Chicago Bears (PR: 14)
2019 record: 8-8 | Career record: 20-12 (0-1 in postseason)
Every Bears fan's worst nightmares about Mitch Trubisky came true in 2019. You can argue Nagy should have made a change at many points during the year, but hopefully the acquisition of Nick Foles solidifies the position. This team cannot let such a great defense go to waste.
24. Kliff Kingsbury, Arizona Cardinals (PR: N/A)
2019 record: 5-10-1 | Career record: 5-10-1
I was wrong about calling Kliff the worst hire going into 2019. He showed he can coach in this league. More is left to prove, but Kyler Murray looked great under his watch, and should be in store for plenty of success if Klngsbury does his job. Adding DeAndre Hopkins certainly helps too.
23. Dan Quinn, Atlanta Falcons (PR: 13)
2019 record: 7-9 | Career record: 43-37 (3-2 in postseason)
Strong finishes the past two seasons have saved Dan Quinn from getting fired, but Matt Ryan isn't getting any younger. Quinn needs to prove 2016 wasn't an outlier, or else he'll be gone. The talent is there, it always has been… it's time for Quinn to prove he's the coach to get the most out of it.
22. Vic Fangio, Denver Broncos (PR: N/A)
2019 record: 7-9 | Career record: 7-9
Denver had some heartbreaking losses to start 2019, and a 3-8 start had hopes low, but a strong finish by winning 4 of their final 5 games behind Drew Lock has the future brighter than ever. Can the offense outperform a defense now missing Von Miller?
21. Anthony Lynn, Los Angeles Chargers (PR: 12)
2019 record: 5-11 | Career record: 26-23 (0-1 in postseason)
5-11 is a major regression from 12-4. The Chargers got to 4-5, having some believe a run to the playoffs was in store, but they lost 6 of their final 7 games to close out 2019. I still believe in Lynn, but with a new rookie QB in town, he'll have his work cut out for him to reach the level of success this team had in 2018.
20. Jon Gruden, Las Vegas Raiders (PR: 24)
2019 record: 7-9 | Career record: 106-102 (5-4 in postseason)
The Raiders stunned many (including me) with their 6-4 start to the season, putting themselves right into the postseason race. However, the team finished 1-5. Gruden proved he can coach in today's game, but it's been several football lives since he was leading a team to a Super Bowl.
19. Bill O'Brien, Houston Texans (PR: 17)
2019 record: 10-6 | Career record: 52-44 (2-4 in postseason)
O'Brien impressed me much of last season with great wins against KC, New England, and in the playoffs against the Bills… but that good will went away in the Divisional Round. I largely blame O'Brien's coaching for Houston blowing a 24-0 lead to the Chiefs, and it begs the question of what this team's ceiling is with him as coach.
18. Matt LaFleur, Green Bay Packers (PR: N/A)
2019 record: 13-3 | Career record: 13-3 (1-1 in postseason)
You might thing a 13-3 start to your career and trip to the NFC Title Game deserves more praise, but LaFleur left me wanting more in many instances. For example, the team did not show up in the NFC Title Game. I expect a Green Bay regression this season, and maybe the end of the Aaron Rodgers era.
17. Brian Flores, Miami Dolphins (PR: N/A)

2019 record: 5-11 | Career record: 5-11
The Dolphins started 0-7 last season and had many thinking 0-16 was going to happen, but Flores and this team had other plans. They won 5 of their last 9 games, including a major upset at New England. Flores received COY consideration for this finish, and I think you'll see him do even more in the years to come.
16. Frank Reich, Indianapolis Colts (PR: 15)
2019 record: 7-9 | Career record: 17-15 (1-1 in postseason)
Reich's plans for 2019 changed the instant Andrew Luck retired, but even then this team still won 5 of their first 7 games. Their finish was less than stellar, but Reich kept this ship afloat, and deserves praise for it. With Philip Rivers now in town (the two previously worked together in San Diego), the Colts seem poised for a bounce back season.
15. Bruce Arians, Tampa Bay Buccaneers (PR: 10)
2019 record: 7-9 | Career record: 56-39-1 (65-40-1 if interim stint with Colts counted) (1-2 in postseason)
Imagine going from Jameis Winston to Tom Brady? Arians surely must be ecstatic. He did the best he could with Winston in 2019, and at points it looked promising, but the former first overall pick simply was not the answer for this team moving forward. With Brady, Arians has a chance to replicate the success he had with Andrew Luck and Carson Palmer.
14. Ron Rivera, Washington (PR: 9)
2019 record (with Carolina): 5-7 | Career record: 76-63-1
Rivera's time in Carolina came to an end, but not before many players sang his praises. Rivera faces a big challenge that has been in flux for two decades, and is facing a literal identity crisis, but many would say he is the perfect person to change things for the better in Washington. I can't think of a better fit given the circumstances.
13. Mike McCarthy, Dallas Cowboys (PR: N/A)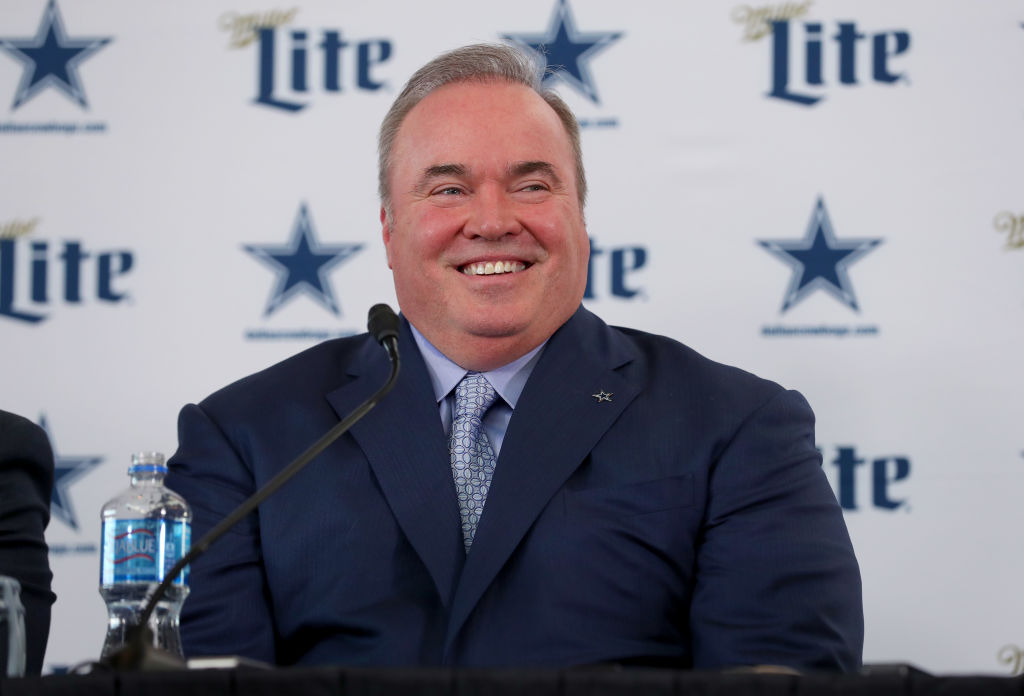 2019 record: N/A | Career record: 125-77-2 (10-8 in postseason)
After sitting out 2019, the Super Bowl winning head coach is back in the NFL. He took a lot of time to re-evaluate himself and look at trends across the league, and he seems like a coach on a mission to prove doubters wrong. Can he show he was not holding back Rodgers by the end of their time in Green Bay? He's got all the pieces in Dallas for the answer to be yes.
12. Sean McDermott, Buffalo Bills (PR: 21)
2019 record: 10-6 | Career record: 25-23 (0-2 in postseason)
McDermott proved 2017 was not a fluke, getting this team back to the postseason for the second time in three seasons. He'll have to help the group get over blowing a 16-0 lead against Houston in the Wild Card round, but McDermott has given Buffalo their best chances of continued success in almost 30 years.
11. Sean McVay, Los Angeles Rams (PR:3)
2019 record: 9-7 | Career record: 33-15 (2-3 in postseason)
The hype train for McVay slowed down after last season, but the coaching prodigy is still on the right side of 30, and I fully expect him to adapt and learn from his mistakes last season. His challenge continues to be getting the most out of Jared Goff, but it'll have to happen without Todd Gurley, who was released in March.
10. Mike Zimmer, Minnesota Vikings (PR: 11)
2019 record: 10-6 | Career record: 57-38-1 (2-3 in postseason)
This team has always been competitive with Zimmer as coach, but 2018 ended in disappointment. 2019 signaled a bounce back, as Kirk Cousins looked much better, and the offense as a whole was solid. An upset in New Orleans helped their cause too. Zimmer deserves more respect.
9. Mike Vrabel, Tennessee Titans (PR: 18)
2019 record: 9-7 | Career record: 18-14 (2-1 in postseason)
I love Vrabel, and I said last season he had a chance to be special if Tennessee had a QB. Ryan Tannehill proved that hypothesis right, going 7-3 after Vrabel benched Marcus Mariota. This team proceeded to upset the Patriots and Ravens in the playoffs before losing in the AFC Title Game. Vrabel is a star in the making.
8. Pete Carroll, Seattle Seahawks (PR: 2)
2019 record: 11-5 | Career record: 133-90-1 (11-9 in postseason)
This team was inches away from winning the division in Week 17, but Carroll's coaching gaffes are becoming more and more concerning. He remains one of the better coaches in the league, but he has a superstar QB, and still seems to forget it. This team will always be playoff caliber with Wilson, but can they win a second title with Carroll?
7. Doug Pederson, Philadelphia Eagles (PR: 7)
2019 record: 9-7 | Career record: 38-26 (4-2 in postseason)
Pederson has more to prove in 2020, but given how this team made the playoffs without barely any reputable receiver by the end of 2019 deserves credit. He's still a good coach, but he and Wentz need to prove 2017 was not an outlier, and one more questionable season could reveal it was.
6. Mike Tomlin, Pittsburgh Steelers (PR: 5)
2019 record: 8-8 | Career record: 133-74-1 (8-7 in postseason)
After a 1-4 start and Big Ben lost for the season, rumors flew about Tomlin's future in Pittsburgh… then the Steelers won 7 of their next 8 games. Although they lost their final three games, this was some of the best coaching Tomlin had done in years, and as good as the defense had looked in a long time. He's still got it.
5. Sean Payton, New Orleans Saints (PR: 6)
2019 record: 13-3 | Career record: 131-77 (8-7 in postseason)
From a season that seemed to be in jeopardy after Drew Brees went down to injury, a 5-0 stretch in his absence may have been some of the finest coaching Payton has ever done. Teddy Bridgewater deserves credit too, but if I were a Saints fan, I'd rest a little easier when thinking about life after Brees (even though I'd want one more ring before he's gone).
4. Kyle Shanahan, San Francisco 49ers (PR: 23)
2019 record: 13-3 | Career record: 23-25 (2-1 in postseason)
This is by far the biggest jump on the list, but the 49ers and Shanahan showed me all of 2019 that it was warranted. This team made the biggest turnaround last year, led by the phenomenal coaching of Shanahan. Although they lost the Super Bowl, and it's no guarantee they ever get back, the 49ers have the right coach to get there again.
3. John Harbaugh, Baltimore Ravens (PR: 8)
2019 record: 14-2 | Career record: 118-74 (10-7 in postseason)
Going from the hot seat to the best record in the NFL in one season's time is impressive. Harbaugh reinvented the Ravens offense to perfectly highlight his QB, who went out and won an MVP his first full season as a starter. A newfound aggressive style on 4th down also helped this team succeed. The Jackson-Harbaugh duo should be elite for years to come.
2. Andy Reid, Kansas City Chiefs (PR: 4)
2019 record: 12-4 | Career record: 207-128-1 (15-14 in postseason)
Reid has always been a really good head coach, but he was missing a Super Bowl to prove it; that is no longer the case. After starting 6-4, a full team effort led to this team not losing again, and winning a ring. With many key pieces (including Reid himself) secure long term, Reid is in great position to bring home more jewelry before he retires.
1. Bill Belichick, New England Patriots (PR: 1)
2019 record: 12-4 | Career record: 273-127 (31-12 in postseason)
This is still Belichick's spot to lose, but with Tom Brady officially gone (still feels weird to say), Bill has his work cut out for him. Many will point to his time in Cleveland and with Drew Bledsoe as evidence Bill is ordinary, but I would argue more recent times without Brady starting (2008, 2016) paint a positive picture for the coach. Bill has to prove which is the more accurate representation.
---
Follow Hold My Drink Sports on Twitter (@holdmysporttake) and Instagram (@holdmydrinksports)