In a season that will be like no other, how exactly will it pan out?
Will all 16 games be played? How will teams respond to a lack of fans – or none at all – in stadiums? Will players (specifically younger ones) suffer from the lack of offseason and true training camp?
This season, more than ever, I think the teams with veteran leadership and experience have an edge. It seems like the NFL has control over the coronavirus among its players, but as we all know, that can change in an instant. Still, since the start of camp, and with consistent testing, there have been no outbreaks among teams.
Again, this could all change once the season begins and teams travel. Remember how close baseball was to having to stop? We still aren't sure what the plans are if a team suffers an outbreak and a game can't be played.
With that in mind, here are my predictions for the NFL Awards for this season.
Coach of the Year: Mike McCarthy
This is an interesting award. The past 20 years, it's gone to a rookie head coach 7 times, while it's gone to a coach that appeared in the Super Bowl three times (Ron Rivera in 2015, Bill Belichick in 2003 and 2007). It's a regular season award, and a narrative based one.
If McCarthy, returning to the NFL after being fired by Green Bay in 2018, can lead the Cowboys back to double digit wins (which is absolutely possible), he could have a shot here. We know Dallas has the talent, and if this team excels without Jason Garrett, there will be a narrative to reward McCarthy. Add the layer of doing well without Aaron Rodgers, and it becomes more intriguing. I expect the Cowboys to do well.
Other candidates: Bruce Arians, Mike Tomlin, Andy Reid
Comeback Player of the Year: Ben Roethlisberger
By being out the majority of 2019 due to injury, Big Ben already has an edge for this award. Between 2014 and 2018, an average season for Roethlisberger translates to passing for 4400 yards, 28 TDs and 13 INTs while winning 11 games. If he can do that at 38, he'll win this award with ease.
Other candidates: Cam Newton, Rob Gronkowski, Bradley Chubb
Defensive Rookie of the Year: Chase Young
Chase Young was far and away the best defensive player in the draft this season, and he'll be working under two coaches in Ron Rivera and Jack Del Rio who have surely been happily planning how to utilize his talent all offseason. For a team with a promising defensive line, Young is the star for Washington. It's gonna be a long season for the team, but Young should still impress.
Other candidates: Patrick Queen, Isaiah Simmons, Kenneth Murray
Offensive Rookie of the Year: Jonathan Taylor
The past 20 years, this award has been won by a RB 10 times, RB 7 times, and WR 3 times. The only QB with a chance to win this year is Joe Burrow, which is possible, but I think it's gonna be harder than normal for rookie QBs this season.
There's a group of rookie RBs that could have a shot, but I like Taylor a lot and the Colts offensive line is really good. Indianapolis had the 7th most rushing yards in 2019, and although they'll have a better QB this year in Philip Rivers, they'll need a balanced attack to win. Taylor might have to fight others for touches, but I think he proves he's the top back here.
Other candidates: Joe Burrow, Clyde Edwards-Helaire, Jerry Jeudy
Defensive Player of the Year: Chandler Jones
Chandler Jones is really good. You can expect 15 sacks per season from him, and even more QB hits. The Cardinals could be primed for a jump this season behind Kyler Murray and DeAndre Hopkins on offense, but don't sleep on Jones and their defense. He finished in 2nd place for the award last season, and if he can replicate what he did this year, he'll be a favorite.
Other candidates: Stephon Gilmore, Aaron Donald, T.J. Watt
Offensive Player of the Year: Christian McCaffrey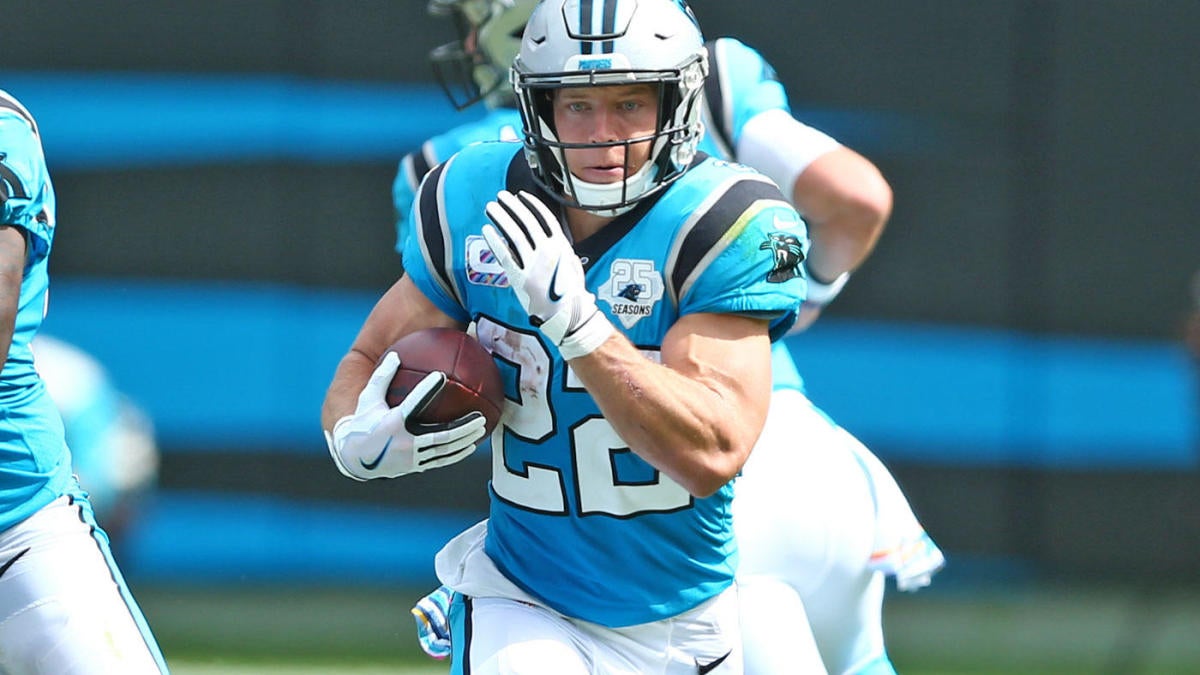 Another interesting award. A QB has won this award 9 times the past 20 years, and the only QB to win it who didn't win MVP that season was Drew Brees (twice). Running backs have won it 10 times since 2000, and it takes the type of season McCaffrey had in 2019 to do so. He's still in a position to replicate that season, and this time he'll have better QB than he did with Kyle Allen. He'll still be the vocal point of the offense, and if he can rush and receive for 1000 yards each (which is likely), he'll be a favorite for this award.
Other candidates: Patrick Mahomes, Saquon Barkley, Lamar Jackson
MVP: Patrick Mahomes
Mahomes turns 25 next week, and is already an NFL MVP and Super Bowl Champion. He's the best QB in the NFL, and the majority of the 2019 team is back this season. Given the uncertainty and fluidity of this season, the stability the Chiefs have going into 2020 should be a major edge. Even last season when KC went 1-3 during a 4-game stretch of games started by Mahomes, he still put up elite numbers and it took perfect efforts from those other teams. I don't expect that to change in 2020; Mahomes will be excellent.
Other candidates: Lamar Jackson, Tom Brady, Russell Wilson
---
Photo above from News Break
Follow Hold My Drink Sports on Twitter (@holdmysporttake) and Instagram (@holdmydrinksports)