If you're familiar with my work, you'll know the past two years I've ran an NFL head coaching tracker, my way of guessing who will coach where, and tracking the process.
I have not correctly guessed what team will hire which candidate once (0 for 13 for those at home), but maybe a third offseason at it is the charm.
This is not the beginning of the tracker; consider it a prelude.
I haven't heard much about head coaching candidates to watch for this season (minus Eric Bieniemy, which is a disgrace to the game because he should be a head coach by now). Maybe it's due to the unprecedented circumstances of this year, but regardless, there will be a lot of openings.
Thus far we have three: Houston, Atlanta, and Detroit. The Jags and Jets should join them.
After that, it's a bit uncertain.
I could see the Bears and Chargers changing course. Year 1 of the Mike McCarthy Era seems like an unmitigated disaster, maybe Jerry Jones pulls the plug there. Does Phily move on from Doug Pederson? The only playoff caliber team I could see changing things is Tampa.
Last offseason there were only 5 head coaching changes, but most see between 7 and 8. Expect a return to the norm.
---
Dear Owners…
Before I get to the candidates, I want to address something: the importance of harmony between the head coach and head of football operations.
For some teams, the head coach has final say over football decisions (i.e. Bill Belichick, Andy Reid, Pete Carroll), but there's a key executive in place they collaborate with.
You should have an executive you trust in place to pick their ideal head coach (i.e. Tennessee), or pick a head coach and executive at the same time and given them your full support (i.e. San Francisco).
If you look back at the past 20 Super Bowl winners, there are only three where the person with final say on the team did not hire the head coach: the 2005 Steelers, the 2007 Giants, and the 2011 Giants.
In the case of the Giants, Jerry Reese – who became GM in 2007 – had worked his way up the executive ladder in New York, having been with the team since 1994; he was not an outsider, and he and Coughlin worked fine together.
For the Steelers, current GM Kevin Colbert came to the team in 2000. Bill Cowher had been the head coach since 1992. He did not fire Cowher, and the two went on to work together for 7 successful seasons before Cowher resigned after the 2006 season… and the person he hired to replace Cowher (Mike Tomlin) is still there.
In summary: you need synchrony between head coach and top executive. Before you hire your head coach, ask yourself how much faith you have in the GM. If you plan on firing them soon after hiring a new coach (see: New York Jets), you're asking for the head coach – and team – to fail.
---
The Candidates
I'll break this down with the following categories: Former Head Coaches (specifically ones not coaching in the NFL right now), Offensive Coaches, Defensive Coaches, Special Teams Coaches, College Head Coaches.
Entering 2020, of the 32 head coaches in the NFL, 18 were offensive-oriented coaches, 11 defensive-oriented, and 2 special teams-oriented; Matt Rhule seems to have origins on both sides of the ball.
Note: influences = coaches of note that candidate worked with/for and influence their philosophy
Former NFL Head Coaches
Coaches who are not currently head coaches in the NFL, but have previously been head coaches.
Jim Caldwell, 65
NFL Head Coaching Record: 62-50 (2-4 in playoffs)
Influences: Tony Dungy, Joe Paterno
103 coaches in NFL history have coached at least 100 games, and Caldwell has the 46th best winning percentage of the group (higher than coaches such as Mike Shanahan and Tom Coughlin). Sure he was the head coach of a Colts team with Peyton Manning that reached the Super Bowl, but more impressively, he had a WINNING RECORD IN FOUR (4) SEASONS WITH THE LIONS!
He was supposed to be a member of Brian Flores's staff last season before health concerns led to his departure. Health permitting, he should get another chance.
Jim Harbaugh, 56
NFL Head Coaching Record: 44-19-1 (5-2 in playoffs)
Influences: Jack Harbaugh, Bill Callahan
Things are getting ugly at Michigan, and it might be time for Harbaugh to consider a fresh start. Remember, during his first 3 seasons with the 49ers, the team went 36-11-1, appearing in 3 NFC Championship Games and one Super Bowl. It's a better resume than plenty of current head coaches have.
Marvin Lewis, 62 (NEW)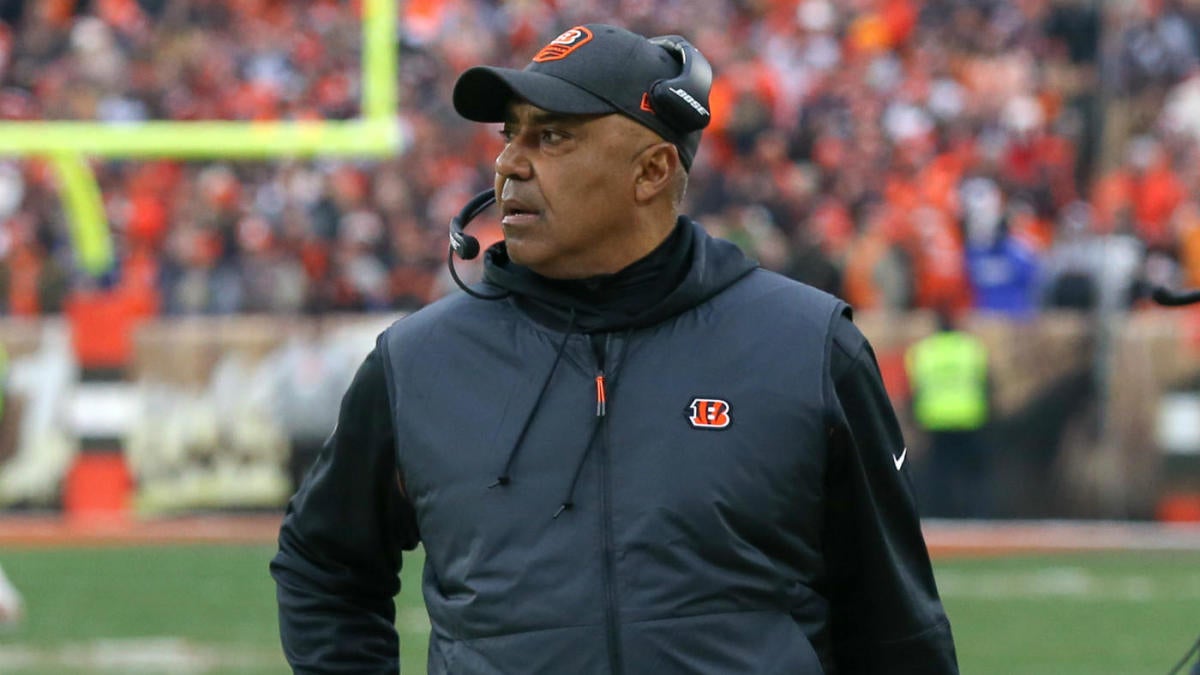 NFL Head Coaching Record: 131-122-3 (0-7 in playoffs)
Influences: Bill Cowher, Brian Billick
Lewis is best known for his 16 seasons as head coach of the Cincinnati Bengals. Given how the Bengals have won only 3 games in almost two full season since his firing, it should give one an appreciation for the fact he had a winning record with that organization. He's interviewed with the Texans already and seems ready to come back. Maybe a second chance with a more competent team could work.
Dan Quinn, 50
NFL Head Coaching Record: 43-42 (3-2 in playoffs)
Influences: Pete Carroll, Nick Saban, Joe Gardi
His last 3 seasons in Atlanta were ugly, but that doesn't mean all is lost for Quinn. Like Quinn, Tom Coughlin had success early on during his first head coaching stint but failed to make the playoffs his final 3 seasons. After a year away from the NFL, he was hired by the Giants in 2004 and had a successful 12-year run.
Maybe Quinn needs time some time away too, but he isn't irredeemable in my opinion.
---
Offensive Coaches
Coaches currently in the NFL, predominately as offensive coordinators, but also as other types of offensive assistants.
Eric Bieniemy, 51
Kansas City Chiefs offensive coordinator (2018-present)
Influences: Andy Reid, Brad Childress
This is a no-brainer. Bieniemy is in his 8th season in Kansas City with Andy Reid, most recently as offensive coordinator. In that role the Chiefs offense has thrived under the play of Patrick Mahomes and an assortment of talented skill players.
Many of Reid's former assistants have become head coaches, and he has vouched for Bieniemy repeatedly. He should be the first choice of every team this offseason.
Brian Daboll, 45
Buffalo Bills Offensive Coordinator (2018-present)
Influences: Bill Belichick, Nick Saban, Josh McDaniels, Charlie Weis
Daboll is in Year 3 as the Bills offensive coordinator, a key factor in the team's best season in decades. A lot of the credit for the jump Josh Allen and the offense have made this season should go to Daboll. Just 2 seasons ago Buffalo had one of the worst offenses in the NFL, now they boast a top 10 group.
Any team looking to develop a young QB this offseason should consider the Belichick/Saban disciple.
Nathaniel Hackett, 41 (NEW)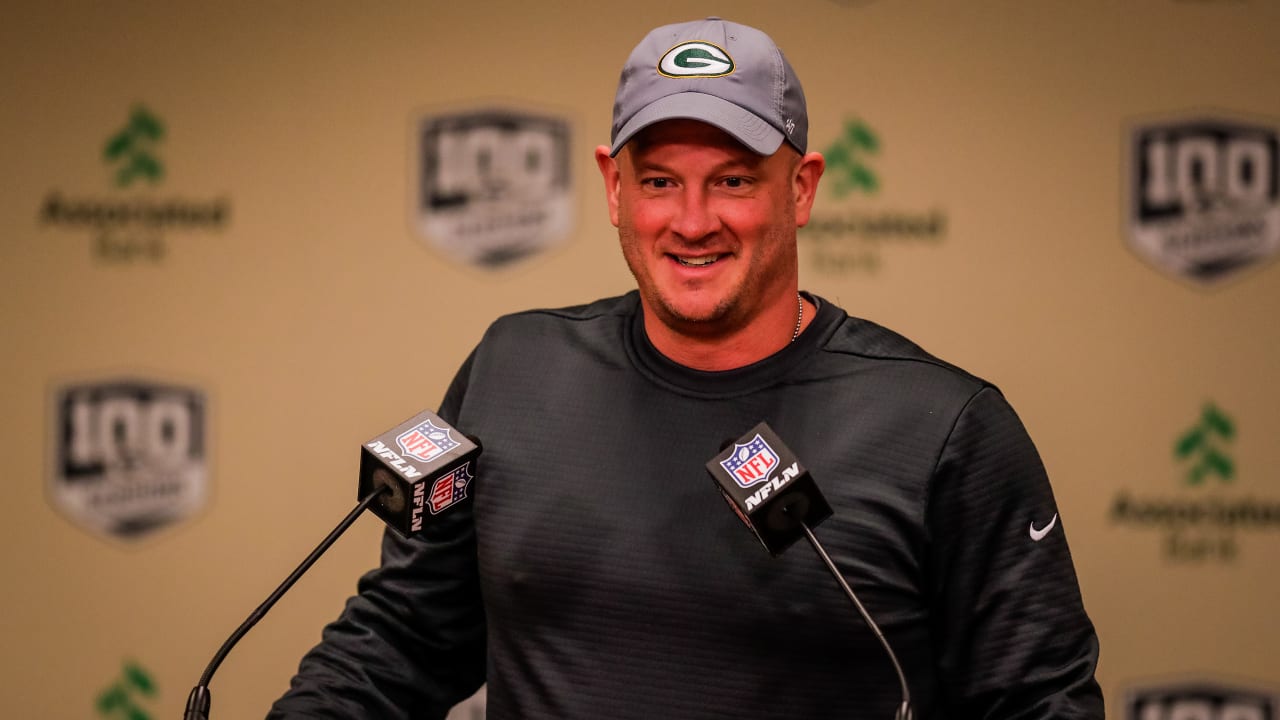 Green Bay Packers Offensive Coordinator (2019-present)
Influences: Doug Marrone, Jon Gruden, Matt LaFleur
Hackett could be the beneficiary of a successful Packers season, as Green Bay's offense looks like one of the best in the NFL. However, he doesn't have play-calling duties with the Packers, and his last OC stint ended with a midseason firing. Don't be too dismayed, he's had good moments as a play caller, such as his time in Buffalo with Doug Marrone (2013-2014), and the 2017 season with the Jags.
Hackett didn't have the best QBs under his arsenal when he was calling plays (E.J. Manuel, Kyle Orton, Blake Bortles), but he still schemed good rush offenses. Maybe there's some untapped potential here if he can work with a solid QB.
Mike Kafka, 33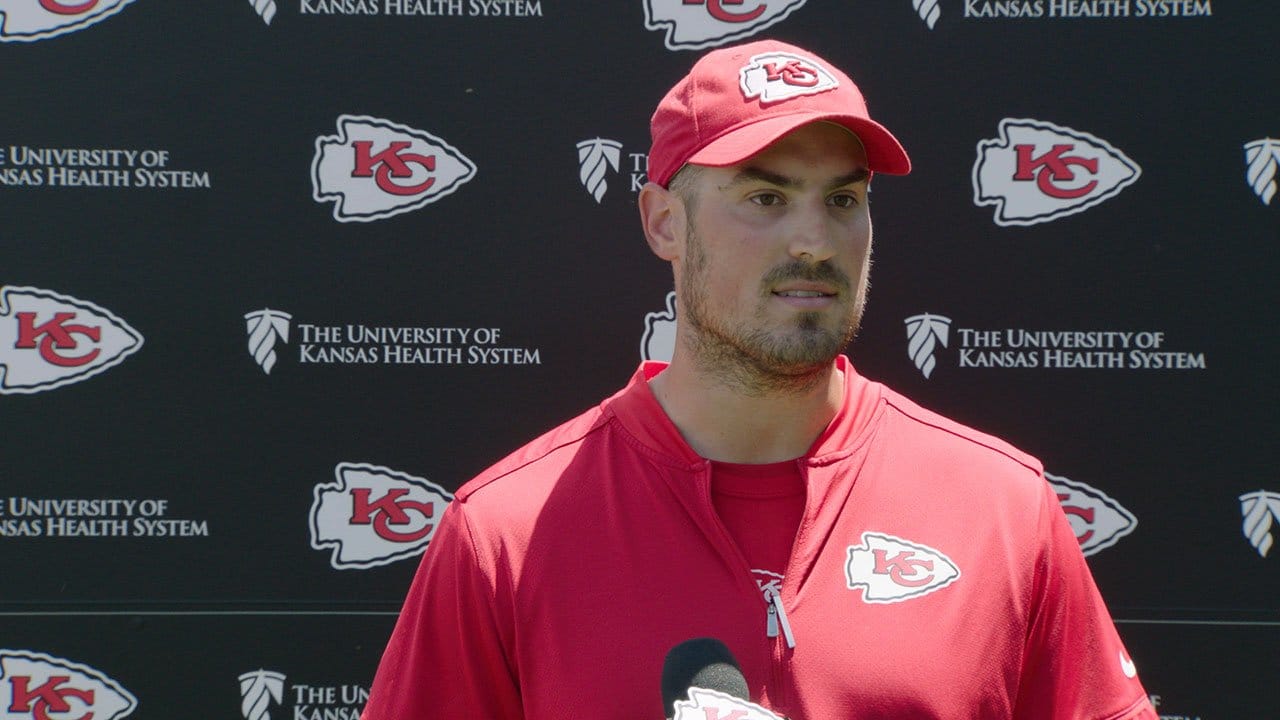 Kansas City Chiefs QBs Coach (2018-present)
Influences: Andy Reid, Pat Fitzgerald
You might remember Kafka from his college days at Northwestern, but he's quietly worked his way up the Chiefs coaching ladder the past 4 seasons. He'd probably be Bieniemy's replacement at offensive coordinator were he to leave, but a team could want to get ahead and hire the Andy Reid disciple a year early (think Cincinnati hiring Zac Taylor after the 2018 season).
Mike LaFleur, 33
San Francisco 49ers Pass Game Coordinator (2019-present)
Influences: Kyle Shanahan, Matt LaFleur
Yes, Matt LaFleur's brother. The 49ers passing game coordinator has been with San Francisco since Kyle Shanahan arrived in 2017, and worked with him in Atlanta (2015-2016) and Cleveland (2014). The "Sean McVay Effect" was a major trend two offseasons ago, but maybe it's time for a similar trend to develop for Shanahan assistants.
Kyle Shanahan offenses have a great track record, and when everyone is healthy for the 49ers, it's balanced and high-functioning.
Mike McDaniel, 37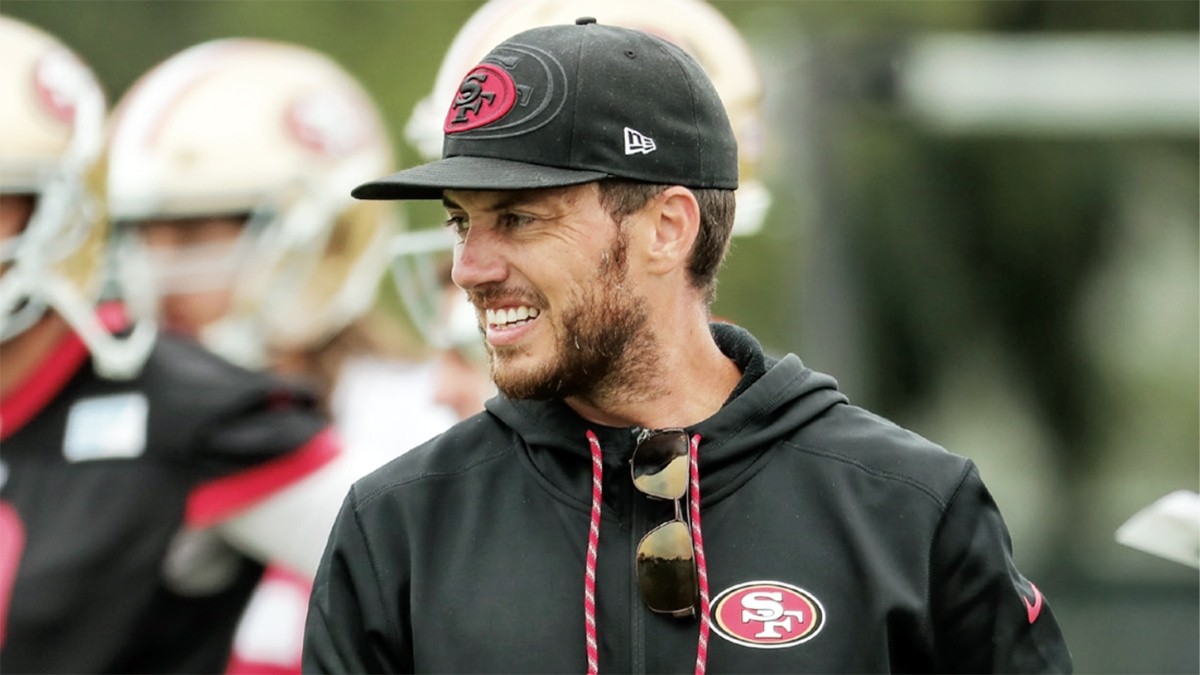 San Francisco 49ers Run Game Coordinator (2017-present)
Influences: Kyle Shanahan, Gary Kubiak, Mike Shanahan
McDaniel, like Mike LaFleur, is an assistant on Kyle Shanahan's staff. McDaniel is in his 10th straight season working with Shanahan in some capacity, as he was in assistant in Washington (2011-2013), Cleveland (2014), and Atlanta (2015-2016) during Shanahan's time with those teams.
The 49ers run game in particular seems to do well regardless of the RB. Shanahan has said it's much more intriguing to coach up a running game, and his main understudy the past 4 years in that department is McDaniel.
Josh McDaniels, 44
New England Patriots Offensive Coordinator (2012-present)
Influences: Bill Belichick, Charlie Weis
NFL Head Coaching Record: 11-17
McDaniels will always be on one of these lists, even if it feels like he's destined to be the heir apparent to Bill Belichick… or maybe replace Bruce Arians in Tampa. It seems like working with Tom Brady would be the only job worth leaving for, considering he's ultimately said no to every other job year-after-year.
If he ever leaves Foxboro again, it will come down to comfort with the fit.
Kevin O'Connell, 35
Los Angeles Rams Offensive Coordinator (2020-present)
Influences: Jay Gruden, Josh McDaniels, Sean McVay
Speaking of New England, does anyone remember 2008 Patriots QB Kevin O'Connell? O'Connell retired in 2012, and has been an offensive assistant since 2015. He's received a ton of praise and has been seen as an up-and-comer for a few seasons now. In Year 1 as the Rams offensive coordinator, the unit seems to be operating a bit more smoothly than 2019.
If the Sean McVay Effect still has any pull, O'Connell will have a busy interview schedule.
Greg Roman, 48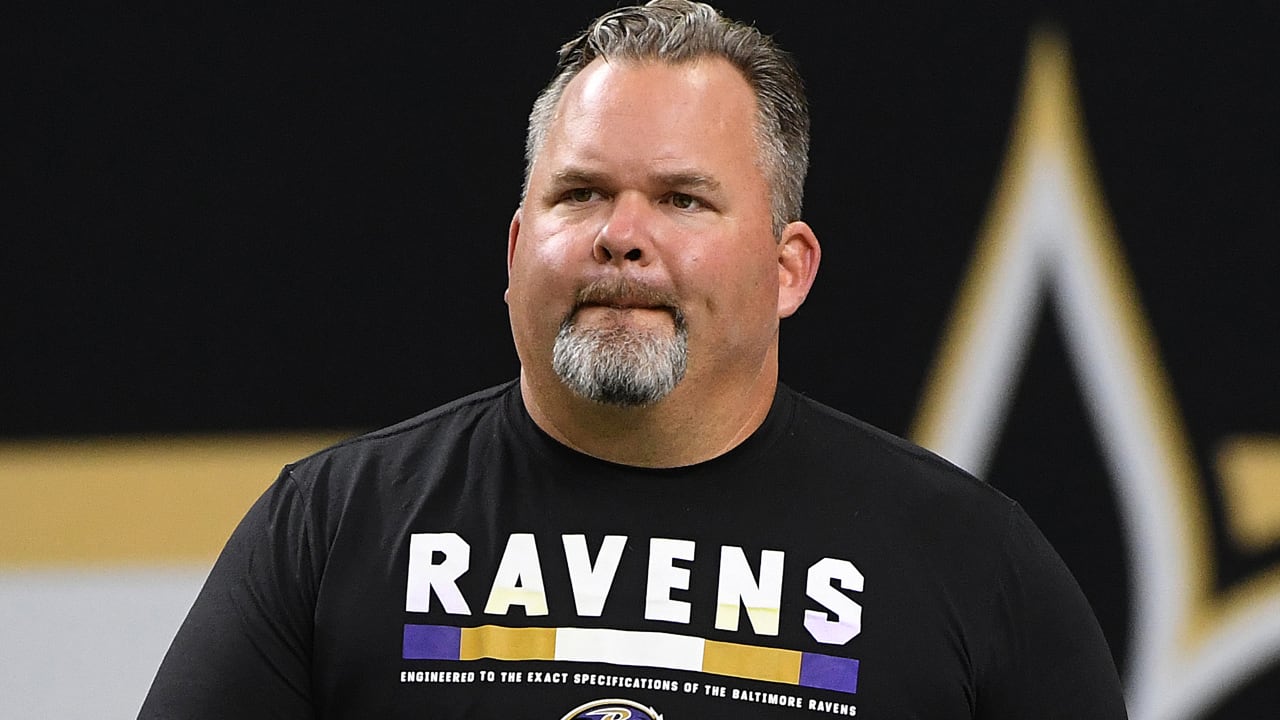 Baltimore Ravens Offensive Coordinator (2019-present)
Influences: Jim Harbaugh, John Harbaugh, Dom Capers
The Ravens offense is not as potent as it was in 2019, but they still boast a remarkably elite running game. Roman has arguably the best track record of any offensive coordinator working with mobile QBs, as seen with his success coaching Colin Kaepernick, Tyrod Taylor, and Lamar Jackson.
His body of work speaks for itself, but maybe there are doubts about his ability to coach a whole team versus one side of the ball.
Arthur Smith, 38
Tennessee Titans Offensive Coordinator (2019-present)
Influences: Mike Munchak, Mike Mularkey, Ken Whisenhunt
Ryan Tannehill started 6 seasons in Miami, and he was average at best; since he took over as the starter in Tennessee, he has been a top 10 QB. Arthur Smith, the offensive playcaller the past two seasons for the Titans, deserves credit for helping Tannehill thrive.
Smith's journey is similar to a candidate from last offseason: Kevin Stefanski. He's been in Tennessee since 2011, having worked under 4 different head coaches. He must be doing something right to have been able to work his way up under those circumstances.
---
Defensive Coaches
Coaches currently in the NFL, predominately as defensive coordinators, but also as other types of defensive assistants.
Dennis Allen, 48
New Orleans Saints Defensive Coordinator (2015-present)
Influences: Sean Payton, Jim L. Mora, Gary Gibbs
NFL Head Coaching Record: 8-28
Allen's first stint as a head coach was bad. Since then, he's been on the defensive staff for the Saints. The Saints defense is currently a juggernaut. The talent has gotten a lot better the past handful of years, and Allen has pieced the unit together beautifully.
For Allen, any team hiring him would surely offer more stability than the Raiders did when he was there.
Jack Del Rio, 57 (NEW)
Washington Football Team Defensive Coordinator (2020-present)
Influences: Mike Ditka, Marvin Lewis, John Fox
NFL Head Coaching Record: 93-94 (1-3 in playoffs)
Del Rio has proven to be one of the best defensive coordinators in the NFL over the years, and a decent head coach. He went to the playoffs twice when he was the head coach of the Jags, and got the Raiders back to the playoffs in 2016 for the first time since 2002.
His firing from the Raiders seemed premature and disappointing, especially since he called it his dream job, but maybe he's earned himself another chance given the success of Washington's defense this season.
Leslie Frasier, 61 (NEW)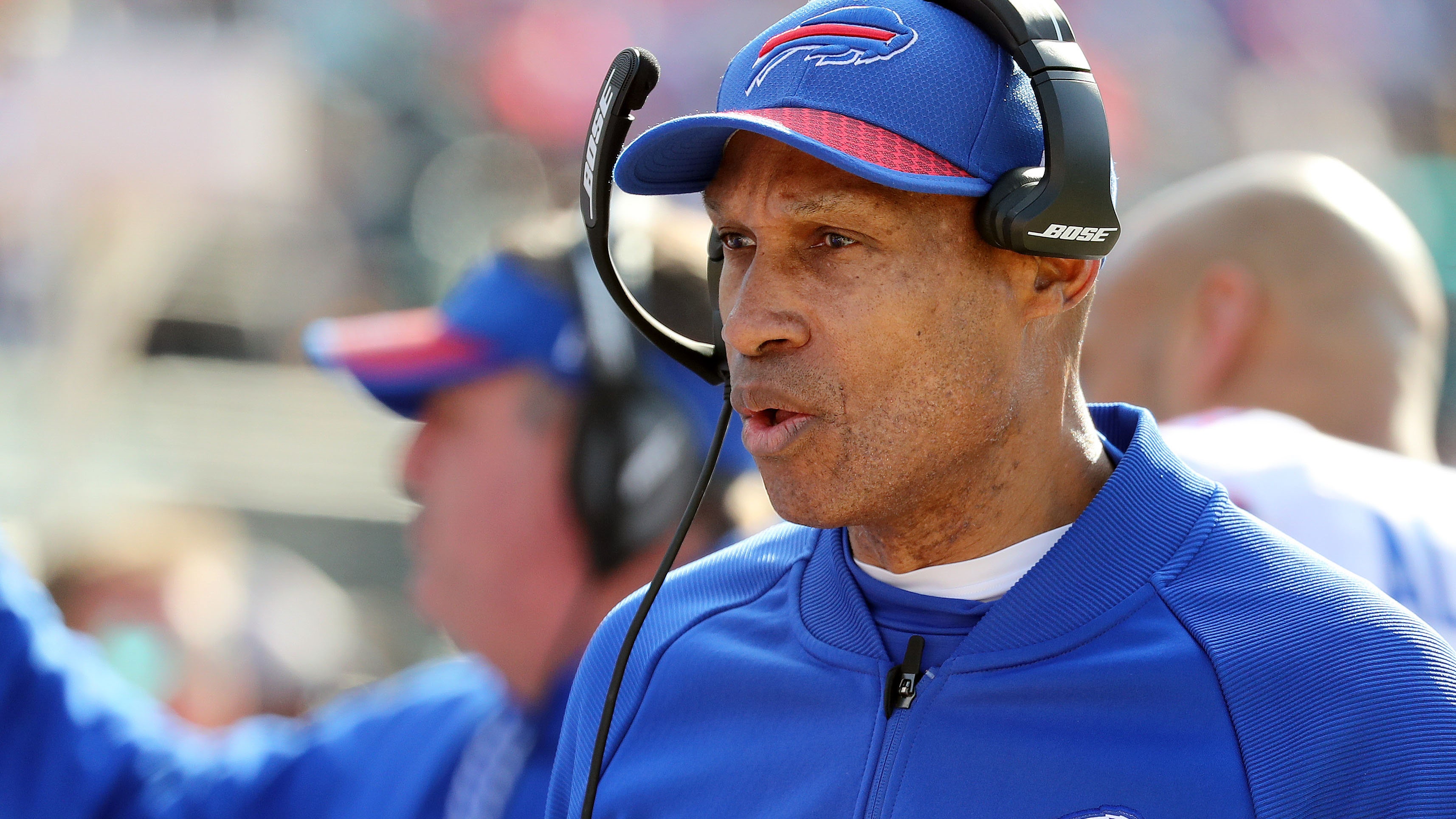 Buffalo Bills Defensive Coordinator (2017-present)
Influences: Jim Johnson, Brad Childress, Tony Dungy
NFL Head Coaching Record: 21-32-1
When I initially published this post, Buffalo's defense lagged behind their offense, and regressed from the success they had the past few seasons. Since then the unit has hit their stride and is beginning to look like the 2019 version of itself.
Frazier has been an excellent defensive coordinator over his career dating back to his work with the Vikings, but his head coaching tenure with the team was less than ideal. He's earning a second chance with the success of this Bills team.
Patrick Graham, 41 (NEW)
New York Giants Defensive Coordinator (2020-present)
Influences: Bill Belichick, Charlie Weiss, Brian Flores
I hadn't thought much of the Giants when I wrote this, but a few days later they held Seattle and Russell Wilson to 12 points and suddenly had won 4 straight. The defense ranks 9th in points allowed and 12 in yards allowed at the time of writing this, and a lot of that has to due with their young defensive coordinator.
Graham is a Belichick disciple, and has worked under former Belichick assistants the past two seasons (Brian Flores and Joe Judge). His work helping the Dolphins finish 2019 strong and putting together a solid defensive unit this season in New York show Graham has tons of potential.
Matt Eberflus, 50
Indianapolis Colts Defensive Coordinator (2018-present)
Influences: Gary Pinkel, Rob Ryan, Rod Marinelli
The Colts defense under Eberflus the past 3 seasons has been solid, and this season they have thrived. It was a unit he practically developed himself given the youth that he started with in 2018. This is a good sign for any team looking to rebuild through the draft soon.
What's funny was he was hired by Josh McDaniels when Josh was the "head coach" for two weeks. Frank Reich kept him in town and must be thankful everyday he did. He might be my favorite defensive coach candidate.
Jerod Mayo, 34
New England Patriots Inside Linebackers Coach (2019-present)
Influences: Bill Belichick, Matt Patricia
Did you know Mayo is the first former Patriot that played under Bill Belichick in New England to join his coaching staff? Mayo was the QB on defense for Belichick during his playing days, which has translated into his newest job.
Mayo has staunch admirers in the NFL, with a recent article citing someone in the league who believes he'll be very good as a head coach. He may lack experience, but he has the characteristics to thrive as the leader of a franchise.
Raheem Morris, 44
Atlanta Falcons Interim Head Coach (2020-present)
Influences: Monte Kiffin, Jon Gruden, Dan Quinn
NFL Head Coaching Record: 21-33
It's been a long road back to this point after his tenure in Tampa Bay, but his stint as interim head coach for Atlanta could not be going better. The team is 4-2 in 6 games under his watch.
He's putting himself back on the map this season. His time in Tampa may have been less than ideal, but it was so long ago (almost as long as Josh McDaniels's days in Denver). He's earning himself a second chance.
Robert Saleh, 41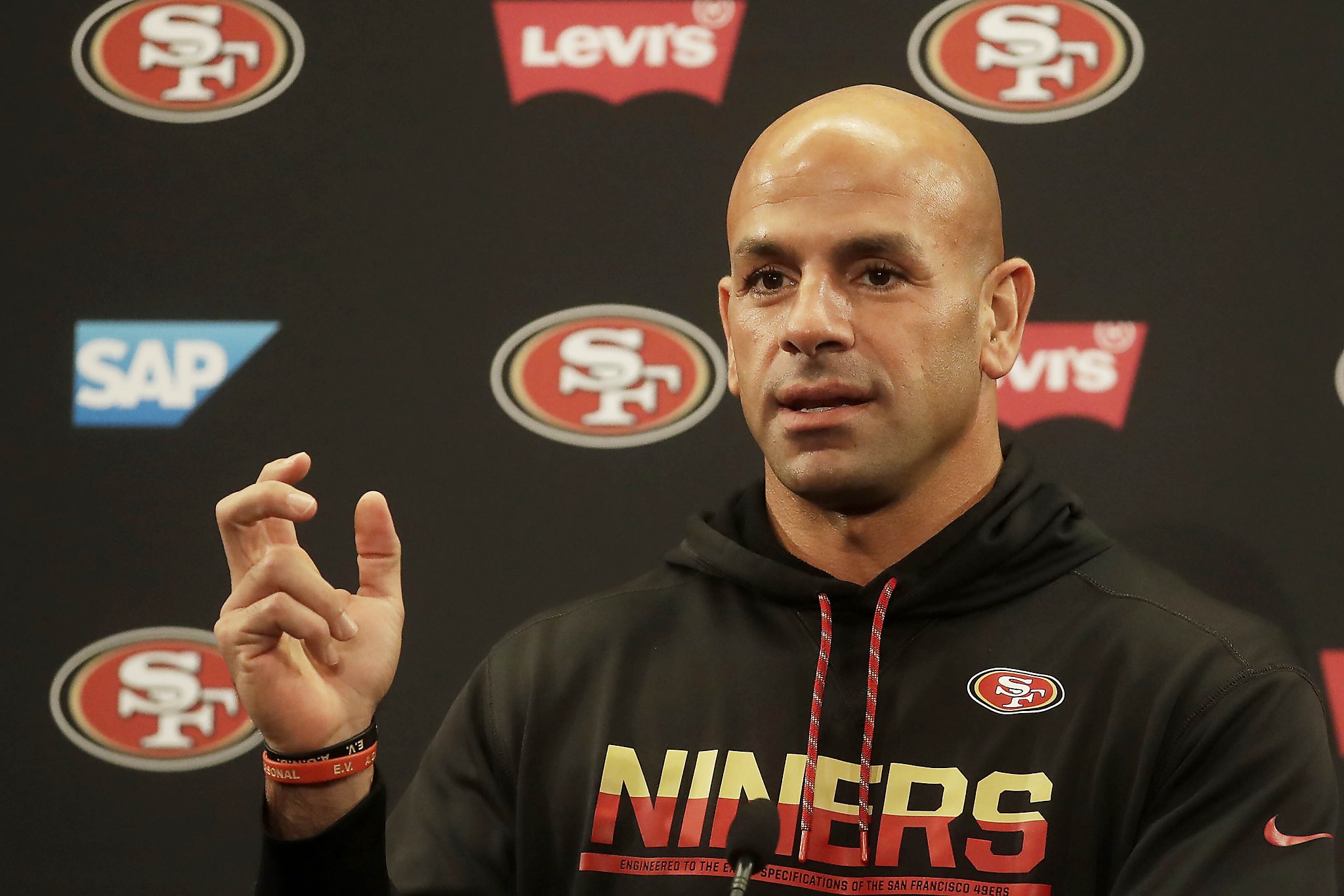 San Francisco 49ers Defensive Coordinator (2017-present)
Influences: Pete Carroll, Gus Bradley, Richard Smith
I'm surprised Saleh didn't get more calls last offseason. He should get more this year given the fact the 49ers still boast a top 10 defense with the losses the unit has sustained. That's just good coaching.
Maybe the emotion is a drawback, but Jim Harbaugh was very emotional and he did just fine. He's very good at what he does.
Steve Spagnuolo, 60
Kansas City Chiefs Defensive Coordinator (2019-present)
Influences: Jim Johnson, Andy Reid, Tom Coughlin
NFL Head Coaching Record: 11-41
The three seasons prior to his arrival in Kanas City saw the Chiefs defense become progressively worse. In the two seasons since, the team boasts a competitive group that makes the team that much more potent.
His first stint as a head coach with the Rams was very bad, but like Raheem Morris, that was a long time ago. He can clearly still coach a defense, question is has he learned from his mistakes as the sheriff?
Brandon Staley, 37
Los Angeles Rams Defensive Coordinator (2020-present)
Influences: Vic Fangio, Tom Arth, Sean McVay
Staley seems like the defensive version of Sean McVay, so it makes sense he works for him. I didn't think much of the Rams defense early on this season due to the inferior competition, but their performances against Seattle and Tampa gave the whole team credibility to me.
The smart football people I follow on Twitter really respect Staley. I don't think they're wrong, he knows what he's doing.
---
Special Teams Coaches
Coaches currently in the NFL who lead the special teams unit.
Dave Toub, 58
Kansas City Chiefs Special Teams Coordinator (2013-present)
Influences: Andy Reid, John Harbaugh, Lovie Smith
I've vouched for Toub for awhile now. Special teams coaches are not appreciated as head coaching candidates, yet unlike offensive and defensive coaches, they work with the majority of the team. Only two former primarily special teams coordinators are head coaches, but one was hired last offseason (Joe Judge).
Toub has fans in the league, and has interviewed for head coach openings in the past. If anyone deserves a chance from this side of the ball, it's Toub.
---
College Head Coaches
Coaches who are currently head coaches in the NCAA and have never been a head coach in the NFL.
Matt Campbell, 41
Iowa State Head Coach (2016-present)
Influences: Gregg Brandon, Larry Kehres
I brought up Campbell as a possible future head coach of the Patriots in 2018. For someone that is 41, he's been a full-time head coach since 2012 and has a solid body of work. He did well at Toledo and has made Iowa State relevant.
He got some calls after the 2018 season, and should hear more this offseason. Just a matter of how interested he is in making the jump.
Pat Fitzgerald, 46
Northwestern Head Coach (2006-present)
Influences: Gary Bennett, Randy Walker, Ron Vanderlinden
Fitzgerald has been the head coach at Northwestern for 15 seasons, and this year seems to be the best one yet. He has fans in the NFL, and interviewed for the Packers opening after the 2018 season.
Given his history at the school, he'll be at Northwestern as long as he wants. It'd have to be a good offer to make him consider leaving.
Lincoln Riley, 37
Oklahoma Head Coach (2017-present)
Influences: Mike Leach, Ruffin McNeill, Bob Stoops
Riley probably has a job for life at Oklahoma if he keeps churning out successful seasons at the rate he has thus far. With those successful seasons have come the development of QBs. Since becoming head coach, two of his QBs have become first overall picks (Baker Mayfield, Kyler Murray), while another (Jalen Hurts) went in the second round in 2020.
Kliff Kingsbury got hired in Arizona as a modern offensive mind and QB whisperer; one could argue Riley has more credibility in that department.
David Shaw, 48
Stanford Head Coach (2011-present)
Influences: Jim Harbaugh, Jon Gruden, Brian Billick
Shaw was an NFL assistant for a few teams between 1997 and 2005 before he went to work for Jim Harbaugh. He replaced Harbaugh at Stanford in 2011 and the program saw no drop off (except last season).
For years it seems like he could have had an NFL job when he decides to actively pursue one. Once he does, he'll get a lot of phone calls.
---
Updated December 26
Credit to top photo goes to the Kansas City Star/Youtube
Follow Hold My Drink Sports on Twitter (@holdmysporttake) and Instagram (@holdmydrinksports)