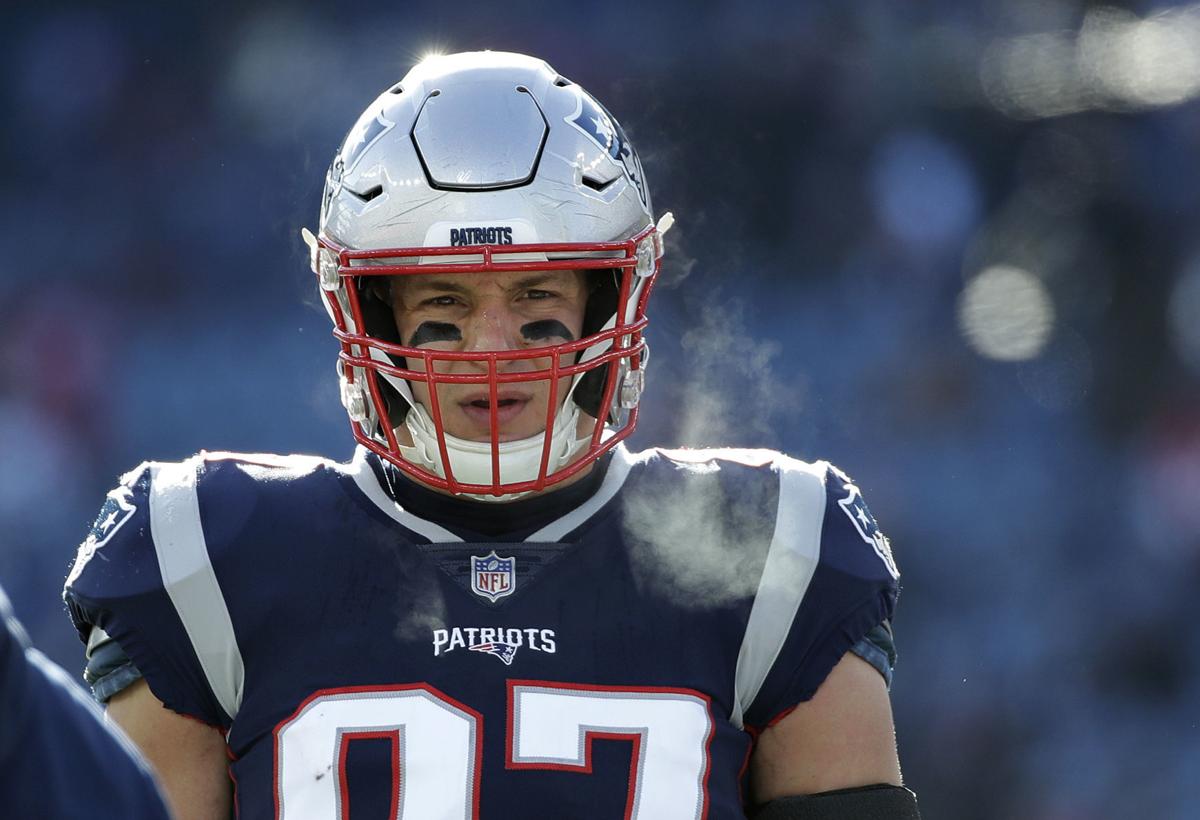 The end of an era.
We began to see this day was coming, and 7 weeks after winning his third Super Bowl, Patriots tight end Rob Gronkowski has announced his retirement from the NFL.
During his nine seasons in the NFL, "Gronk" became one of the most feared pass-catchers in the league. His 79 career receiving touchdowns are the most since he entered the NFL in 2010 (tied for 28th all-time).  In just his second season, Gronk broke the record for most receving TDs by a TE with 17.  He had double-digit receiving touchdown seasons in 5 of his first 6 years in the NFL.
Gronk played 16 playoff games in his career, finishing with 81 receptions, 1163 yards, and 12 touchdowns.  His 12 touchdowns are tied with John Stallworth for second in postseason history.
Gronk had an intimidating style of play, one that relied on brute force to overmatch his opponents.  His 6'6″ and 265 pound frame gave him an advantage in one-on-one matchups, an advantage Gronk used beautifully throughout his entire career.
As talented as he was, Gronk's body broke down due to the hits he took throughout his 9 seasons in the NFL.  Gronk became the modern-day Shaq, as even when he was being obviously hit and interfered with, he rarely got calls due to his supreme size.  Nevertheless, injures such as a broken left forearm (which became infected), a torn ACL and MCL, and a herniated disk wore on Gronk over the years.  His last season in New England showed that these hits were beginning to catch up with Gronk, as he only had 3 touchdown receptions during 13 games in the regular season (a career low), but that did not mean he was done.  Gronk still showed during the season he was a strong blocker, and in the biggest games of the year during the postseason, Gronk made clutch catches against the Chiefs and Rams, plays that led to scores on the drives they occurred, and wins for the Patriots.
In terms of accolades for Gronk, take a look:
 3-time Super Bowl champion (2014, 2016, 2018)
5-time Pro Bowler (2011, 2012, 2014, 2015, 2017)
4-time First Team All-Pro (2011, 2014, 2015, 2017)
NFL Comeback Player of the Year (2014)
I have a hunch that when the All-Decade team comes out for the 2010s, Gronk will be a member of it.
Another hunch? When the NFL announces it's Hall of Fame class prior to Super Bowl LVIII, Gronk will hear his name called.
To an absolute legend of the game, and to a great Patriot and great human being, cheers to an amazing career.
---
Follow Nick on Twitter (@Nick_Collins14)